Scholarship Recognition Dinner a Chance to Say Thank You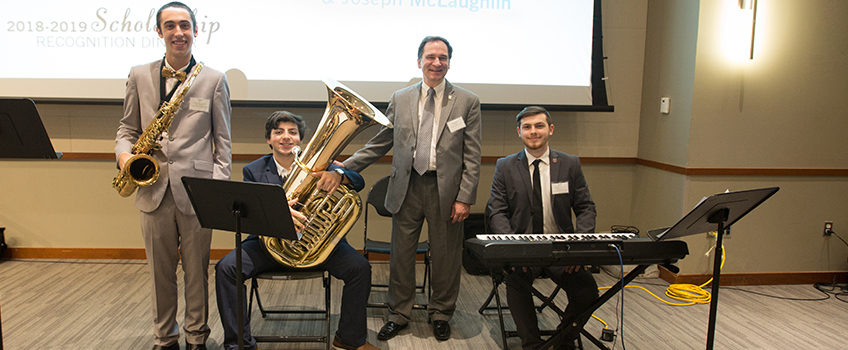 Galloway, N.J. – Guests at the annual Scholarship Recognition Dinner were greeted with music performed by Stockton University students Robert Fell, Sebastian Bonilla and Joseph McLaughlin.
But the three were more than just entertainment for the more than 300 guests; they were also recipients of the Woodruff Family Scholarship awarded each year to a student studying instrumental music.
"It's really a great honor and it shows our work is appreciated and that the arts are still important in schools," McLaughlin said of his award.
"The minute I came here, I knew this was my home," freshman Bonilla said of Stockton. "I felt so lucky to get the scholarship because I would have come here anyway."
The annual dinner recognizes both the students who receive the awards, and the donors who provide them. Chief Development Officer Daniel Nugent said helping make college more affordable is a core part of the work of the Stockton Foundation.
Nugent said this year 569 students received more than $800,000 in scholarships through the Foundation. That has increased from $173,000 just 10 years ago.
"The Foundation board works through the year to make this happen," Nugent said. The sc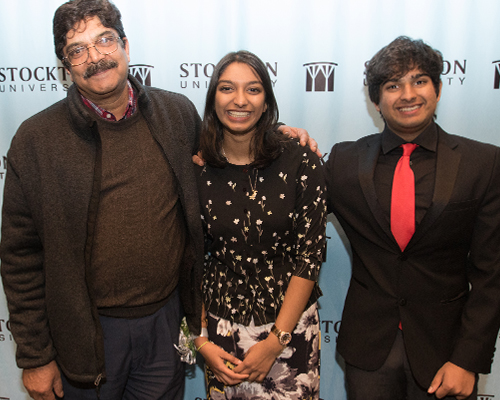 holarship selection committee reviewed more than 900 applications for the awards. This year's awards include new scholarships from Hard Rock, South Jersey Federal Credit Union and FantaSea Resorts.
"Tonight is our opportunity to celebrate those who have extended their generosity beyond their own homes and here to our students," President Harvey Kesselman said. "This dinner is a chance for students to say thank you and to establish a connection with their donor."
Kesselman said as enrollment at Stockton increases, so does the demand for scholarships.
"You are supporting the dreams of today and investing in the futures of tomorrow," he said.
Associate Professor of Music Christopher DiSanto said it is a thrill to have the small, but growing instrumental music department recognized with a dedicated scholarship from the Woodruff family.
Both Bonilla, who is from Heightstown, and McLaughlin, from Hammonton, hope to be music teachers. McLaughlin is already teaching a band program part-time at Bishop McHugh and Cape Trinity Catholic schools.
"That's what I want to do," said McLaughlin who plans to get his teaching certification through Stockton's alternate route program.
The event included a video of Stockton students and faculty talking about the impact of the scholarships.
Bob Woodruff Sr. and Jr. said in the video that anyone who has the opportunity and the assets should take it as a civic responsibility to help students.
Students in the video talked about the impact of the funds both financially and personally.
"It let me know there was a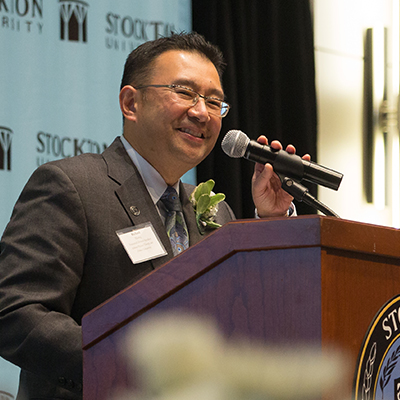 community of people willing to invest in me," said Frank Porcellini.
Kimberly Wilson said it meant someone believed in her, and that she would be able to take less money in loans.
"It made me feel accomplished," Donovan Braithwaite said.
Johanna Johnson, chairwoman of the Foundation said the funds make the lives of the recipient a little easier so they can focus on their studies.
Featured student speaker, Tahreem Rajput, a biology major and theater studies minor, received the G. Larry James Memorial Scholarship.
Rajput said she chose Stockton because it was close to home, and also because she could study both science and theater as she prepares to attend medical school.
"I have three siblings who graduated from Stockton and a fourth is applying now," she said. Her family came to America from Pakistan, and she said her parents worked hard to make sure the children had what they needed to thrive and pushed her to work hard to achieve her dreams.
"College is expensive," she said. "But when I got the scholarship I said, I can do this. Science is hard, but someone here actually believes in me enough to help pay my tuition. I thank all of the donors for giving me some breathing room. Our stories may be unique, but scholarships provide hope and opportunity."
Featured donor speaker Dr. Richard Maung, got his physical therapy degree at Stockton and founded Achieve Physical Therapy and Fitness. He said he loves the scholarship dinner because it speaks to the philanthropic spirit of Stockton.
"These are the future leaders, doers and creators who will make the world a better place because of scholarships," Maung said. "Attending Stockton educated, encouraged, shaped and inspired me to be not just who I am but to make sure that what I do has meaning. Scholarships have the opportunity to help shape someone else's future. A simple act of kindness can go a long way. So give back, and make an impact."
Johnson thanked the donors who embody the spirit of the Stockton Foundation and those they assist.
"These are all dedicated students whose burden is lessened by that support," she said. "The Foundation is proud of the work of the board members do to make this evening possible and to help students turn dreams into reality."
View a gallery of photos from the event.
# # #
Contacts:
Diane D'Amico
Director of News and Media Relations
Stockton University
Galloway, N.J. 08205
Diane.DAmico@stockton.edu
609-652-4593
609-412-8069
stockton.edu/media