John Bancheri Named First Full-Time Rowing Coach
Galloway, NJ – Stockton University has selected Atlantic City native John Bancheri as its first full-time head rowing coach, pending Board of Trustees approval Dec. 5. Bancheri returns to the Garden State with nearly 35 years of college coaching experience. He will direct the Stockton women's intercollegiate team and also work with the men's club team.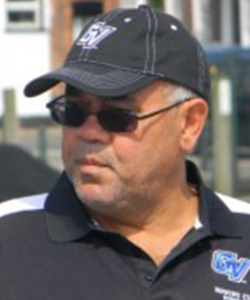 "I am beyond excited to come home and be part of the growth and success of the University and help Stockton build a rowing power," Bancheri said. "Everything that I've done in my career has prepared me for this role and I really believe that we have an opportunity to do great things at Stockton."
Bancheri, who will assume his new role at Stockton on January 22, was the head coach of the men's and women's club teams at Grand Valley State University (MI) for the last 13 years (2005-18). He led the Lakers to six consecutive American Collegiate Rowing Association (ACRA) team points championships from 2008-13.
Stockton President Harvey Kesselman said he looks forward to the development of Stockton's rowing program under Bancheri.
"I am delighted to welcome John back to Atlantic City and South Jersey." Kesselman said. "His record and reputation are impressive and will help attract competitive rowers to Stockton. We look forward to cheering them on for many successful seasons."
During Bancheri's tenure at GVSU, he was selected ACRA Women's National Coach of the Year four times (2009, 12-14) and ACRA Men's and Women's Regional Coach of the Year in 2018. He also was chosen Men's Coach of the Year by The Joy of Sculling national peer group in 2015.
Bancheri's rowers won the Women's Collegiate Eights at the Head of the Charles twice (2010, 2013). In addition, he coached Sarah Zelenka, who arrived at Grand Valley State with no previous rowing experience and went on to represent Team USA in the women's pairs at the 2012 Olympics in London.
Bancheri has a history of success at the prestigious Dad Vail Regatta in Philadelphia, leading Grand Valley State to the women's team points title in 2013 and two crowns in the Women's Collegiate Eights (2010, 2013). His men's rowers also finished in top three of the Collegiate Eights at the Dad Vail five times.
Prior to his arrival at Grand Valley State, Bancheri was the director of rowing and head men's coach at Marietta College (OH) from 1994 to 2005. He led Marietta to the men's points championship at Dad Vails and was named Dad Vail Men's Coach of Year in 2002. He coached Andrew Bolton, who later won gold for Team USA in the lightweight men's eight at the 2008 World Championships.
Bancheri also has experience as the head men's and women's club team coach at Wichita State University (KS) from 1987 to 1994 and as the varsity women's coach at the University of Charleston (WV), his alma mater, from 1984 to 1987.
After graduating from Atlantic City High School, Bancheri attended the University of Charleston, earning a bachelor's degree in History in 1983. He later was inducted into the Golden Eagle Sports Hall of Fame in 2006 for his success as a coach at Charleston. Bancheri obtained his master's degree from Marietta in 2003 with an emphasis in Liberal Learning and Coaching.
- Ospreys-
Contact:
Chris Rollman
Sports Information Director
Stockton University
(609) 626-6011
www.stocktonathletics.com