Remembering Anne Frank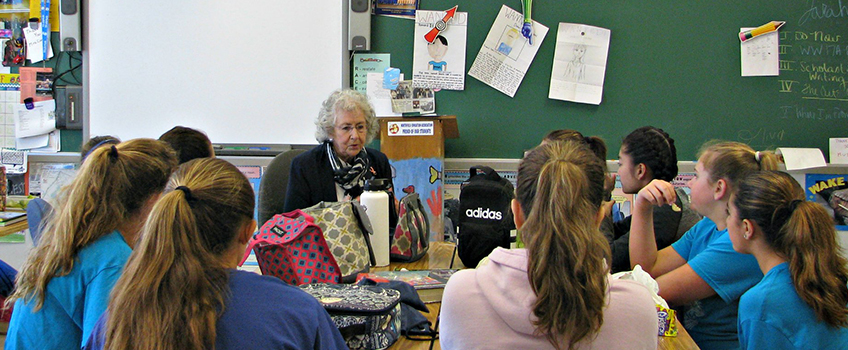 Galloway, N.J. _ The Sara and Sam Schoffer Holocaust Resource Center commemorated Anne Frank's 89th birthday June 12 with a program for eighth grade students at the Northfield Community School featuring Holocaust survivor, Maud Dahme of Flemington.
In the summer of 1944, when Anne Frank was four years old, the family's German citizenship was removed and as a result the Frank family moved to Amsterdam, Netherlands. There are parallel journeys between Dahme and Anne Frank's life. Both lived in the Netherlands and were Jewish children who were forced into hiding. Dahme was just six years old when her family sent her and her sister into hiding in 1942.
The eighth graders at Northfield had read Diary of Anne Frank, and were able to relate her story to that of Dahme, who shared her experience of survival, hope, and accomplishments.
Dahme is a past president of the New Jersey State Board of Education. PBS produced the documentary, "Hidden Child," about her life in hiding during WWII. The Writing as Witness Project at Stockton's Holocaust Resource Center also assisted Dahme in writing her memoir, Chocolate, the Taste of Freedom.
The Sara and Sam Schoffer Holocaust Resource Center, a joint project of Stockton University and the Jewish Federation of Atlantic and Cape May Counties, is located on the second floor of the Richard E. Bjork library at Stockton.
For more events and information on the Holocaust Resource Center, visit Stockton.edu/holocaust-resource
Click video to watch Maud Dahme's talk.
# # #
Contact:
Diane D'Amico
Director of News and Media Relations
Galloway, N.J. 08205
Diane.D'Amico@stockton.edu
609-652-4593
stockton.edu/media