Light and Shadow Create Diverse Photos at Noyes Arts Garage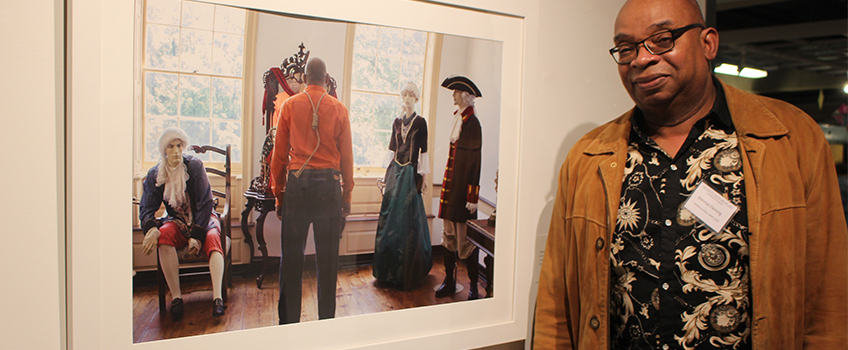 Atlantic City, N.J. _ A young child stands on a chair to brush her older sister's hair.
An African-American man, a noose around his neck, stands among figures in an exhibit at the Philadelphia Underground Railroad Museum.
Laser-cut images tell the story of WWII displaced person camps.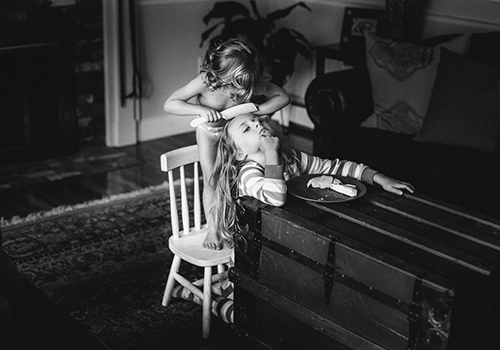 The three photos are very different and tell very different stories. They are among 53 images currently on display through Jan. 26, 2019 at the Noyes Arts Garage of Stockton University, 2200 Fairmount Ave., inside the Wave garage.
RAW 2018 is the fifth annual juried photography competition by the Noyes Museum of Art of Stockton, in which the top images have been selected for an exhibition at The Noyes Arts Garage of Stockton University in Atlantic City.
The theme for this exhibition is "Light & Shadow: Form, Metaphor, and Culture." Photographers could consider this theme in several ways: as the formal use of light in photography, as a metaphor (personal, spiritual, psychological, etc.), or as a representation of cultural concerns (social and political). Entrants submitted five photos and one was chosen for the exhibit.
The juror for the event, Michael Chovan-Dalton is a photographer and a professor and coordinator of Photography and Digital Imaging at Mercer County Community College in New Jersey, the JKC Photo Gallery director, and he is the creator of the podcast www.realphotoshow.com His podcast features artists with discussions about origins, influences, teaching, books, showing, tools, technology, and anything else that may come up in conversation. He was awarded a BFA from the School of Visual Arts in New York and an MFA from Columbia University.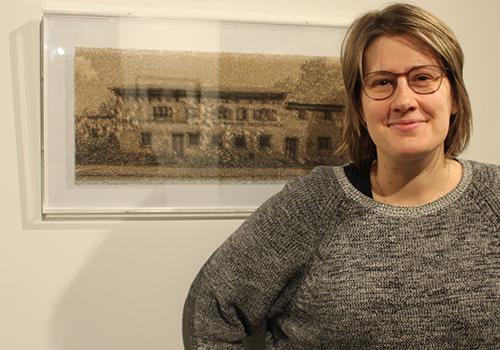 The opening reception for the show featured interviews with Noyes executive director Michael Cagno, education director Saskia Schmidt, and two of the winning artists.
The three winning photos were:
1st Place, Juror's Choice: Jessica Orlowicz, Caretaker
2nd Place: Krista Svalbonas, Eichstatt 2
3rd Place, Honorable Mention: Sherman Fleming, Invisible nOOse: Bearing witness at Underground Railroad Museum
Orlowicz, of Cape May, said in her artist statement: These images shows my daughter, Anna, who has Autism Spectrum Disorder. She wants to know how to connect with people, but doesn't know how. Photographing her moments of loneliness and moments of joyful connection has been therapeutic."
Svalbonas' laser cut pigment print captures traces of former World War II displaced person camps, laser cut with plea letters refugees were sending. The Philadelphia resident said she said her family was displaced and were part of a long history of uprooted peoples for home the idea of "home" is in flux, undermined by political agendas beyond their control.
"My parents were in a camp for two years before coming to the U.S." she said. "Records were not well archived, but I found refugee plea letters asking for asylum."
Sherman Fleming's work is part of an 18-month project, which began in 2015, when he work a hangman's noose around his neck while performing daily activities. The series Invisible nOOse evolved from that, and works to frame resistance as an action to bear witness to locations of systemic oppression and terror.
"I see it as documentary in nature," he said. "I was seeing discrimination and racism in 2015. I was getting upset and didn't know what to do. But my background is in performance and social justice."
Chovan-Dalton said he was impressed with the diversity of the images entered in the show and how photographers interpreted the theme.
He said context is key in what makes a photo stand out for him,
"I am looking for proficiency, but also someone who is pushing the medium. I want to see what they are trying to do."
Noyes Arts Garage hours are 11 a.m. to 6 p.m. Wednesday through Sunday. Closed Monday and Tuesday.
Noyes Arts Garage: 2200 Fairmount Ave., Atlantic City, N.J. 08401 • (609) 626-3805 • http://www.artsgarageac.com
_ Reported by Diane D'Amico
# # #
Contact:
Saskia Schmidt
Noyes Museum Director of Education
Hammonton, NJ 08037
education@noyesmuseum.org
(609) 626-3420