GLJ Legacy Bike Ride Celebrates 10th Year with Special Quilt
Galloway, N.J. - The 10th annual G. Larry James Legacy Fund Bike Ride will be held at 8 a.m. June 2 starting at the Stockton University Campus Center.
This year's ride will also celebrate the 50th anniversary of James' gold and silver medal awards at the 1968 Olympics. James was a longtime administrator at Stockton.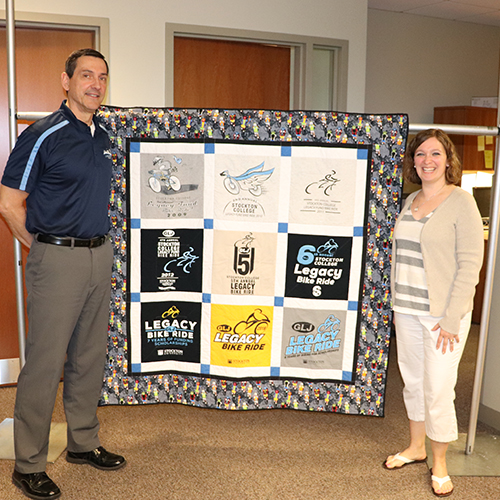 As a special tribute for his hard work on the event, Jennifer Radwanski, director of new student and family programs at Stockton, surprised ride organizer Craig Stambaugh, associate dean of students at Stockton, with a quilt made using t-shirts from the nine previous rides, bordered in a pattern of bike riders.
Dean of Students Pedro Santana said the quilt is a perfect tribute to both James and Stambuagh.
"It acknowledges your work in keeping Larry's memory alive and also helping students," Santana told Stambaugh at the presentation. "You've been very dedicated for the last 10 years."
The event has raised more than $150,000 for student scholarships at Stockton. More than 30 staff and students volunteer at the event.
Stambaugh thanked Radwanski, and said the ride is a great reason for him and others to get out and ride their bikes. He said so far more than 110 people have registered for this year's event.
"The reason we started the ride was to continue Larry's legacy of helping students succeed," Stambaugh said. He admitted he was a bit stunned that Radwanski took so much time to make him the quilt.
Radwanski said she wanted to try making a t-shirt quilt, but wanted it to be for something she cared about. She contacted ride supporters to track down the nine previous ride t-shirts. The first one was the most difficult to locate, but Stambaugh's wife, Jenny, found it when Stambaugh wore it one day to mow the lawn.
"She washed it and got it to me," Radwanski said.
The ride offers a choice of 12-mile, 30-mile or 62-mile routes over low-traffic scenic roads.
Registration for the ride is online at Legacy Fund Bike Ride. The cost is $60 and includes an event t-shirt and custom bike towel, road support, rest stops on the route, a DJ and lunch. More information is available from Stambaugh at craig.stambaugh@stockton.edu.
This year's Gold level sponsors are W.S. Goff Company, Inc., SupplyWorks, Quality Products & Services, Quantum Capital Management and RFK Wealth Partners. Silver level sponsors ae Jostens, Jersey Shore Cycle Club, Galloway Printers, Dee McNeely-Greene, Spay & Neuter, and Petrosh's Big Top Party Rentals. Bronze level sponsors are Tuckahoe Bike Shop, Just4Wheels, Glenn Insurance, TwinBoro Physical Therapy, TIAA, Beacon Cycling, The Argo, Polisano Construction Services, and Boardwalk Hall.
# # #
Contact:
Diane D'Amico
Director of News and Media Relations
Galloway, N.J. 08205
Diane.D'Amico@stockton.edu
609-652-4593
stockton.edu/media