Alumna Sandra J. Mueller Honored at Psychology Conference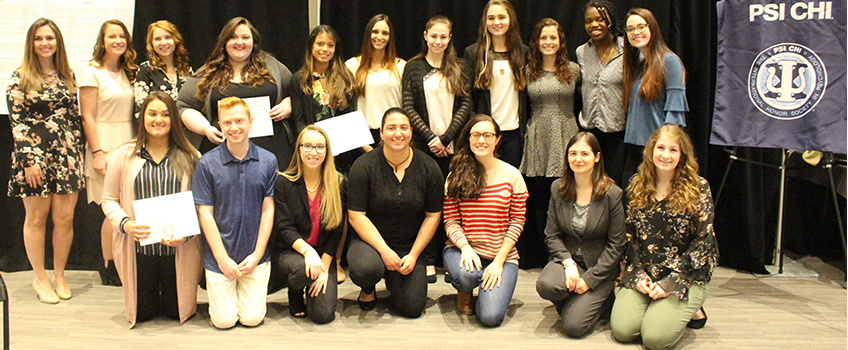 Galloway, N.J. - Sandra J. Mueller, Warden of the Ocean County Department of Corrections, discussed Stockton University's impact on her career at the Stockton University Research in Psychology Conference on April 20.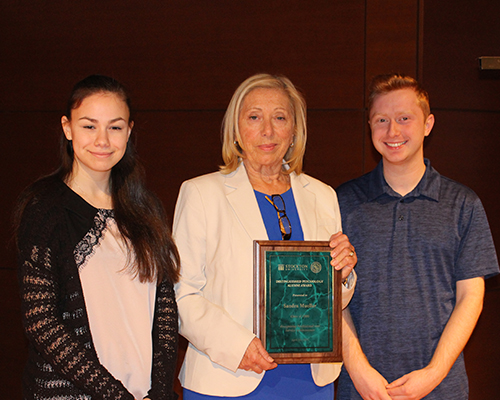 "Everything I studied at Stockton is important to where I am," said Mueller, who received the Distinguished Alumni Award. "I arrived on this campus as one person and left completely changed. That is a sign of a great education."
Mueller had worked in the casino industry and as a construction worker in Atlantic City prior to becoming an inmate counselor in Ocean County. In the late 1970's, inmates began successfully suing the jail system over conditions there. Mueller discussed the creation of inmate counselors as a response.
"I didn't know what I wanted to do for a long time," she said. "I never thought I would be a warden. When I became an inmate counselor, I was viewed as a political spy. There was resistance, but I found my niche. I wasn't backing down."
Mueller also discussed the importance of research, the deinstitutionalization of the mentally ill, the Bail Reform Act of 2017 and her journey to finding a fulfilling career.
"Break barriers and take challenges," said Mueller. "I was told there could never be a woman warden. Barriers to accomplishment are mostly in our minds. Never let the voices in your head tell you otherwise."
Mueller also encouraged students to be open to new opportunities.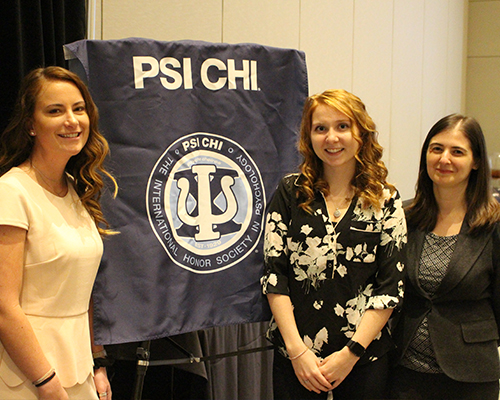 "You may not end up where you thought you would be, but you will end up exactly where you belong. See what's out there and follow your passions," she said.
The conference, hosted by the Stockton chapter of the Psi Chi International Honor Society in Psychology, also featured program distinction research presentations from students Madison Chant, Ryan Giannuzzi and Ryan Pletcher. Additional presentations were displayed during lunch.
About 100 students from Egg Harbor Township High School's Advacned Placement classes also attended the conference.
The conference also honored students with scholarships and induction into the Psi Chi Honor Society. The Hughes Family Fund Award was given to Molly Arnold and Danielle Quinn. Students Naimah Bell, Ryan Lentz and Rukayat Olunlade were awarded the Keith B. Williams Psychology Merit Scholar Award. Ryan Gianuzzi was awarded both scholarships.
Students inducted into the Psi Chi Honor Society are: Roxanne Canfield, Katharine Casario, Angelina Chinnici, Liam Connery, Brittany Corti, Christina Crenny, Emma Donahue, Patricia Delgado, Elizabeth Douglas, Brooke Hallett, Lauren Moran, Ruka Olunlade, Danielle Quinn, Jazmin Torres, Bernadetter Trendler, Lieren Tyira and Amber Wisting.
Keynote speakers at the conference included Dr. Lily Brown, Assistant Professor of Psychology and Psychiatry at University of Pennsylvania, Dr. Michael Smyer, Professor of Psychology at Bucknell University and Dr. Rachel Pruchno, Professor of Medicine at Rowan University and the Director of Research at the New Jersey Institute for Successful Aging.
The conference was co-sponsored by Provost Funds, the Psychology Program, the Psychology club, the School of Social and Behavioral Sciences, Stockton Center on Successful Aging and the Sustainability Studies.
A gallery of photos of the event can be viewed on flickr.
- Reported by Jessica Jacob
# # #
Contact:
Diane D'Amico
Director of News and Media Relations
Galloway, N.J. 08205
Diane.D'Amico@stockton.edu
609-652-4593
stockton.edu/media