Naturalists Explore New Perspectives in the Pines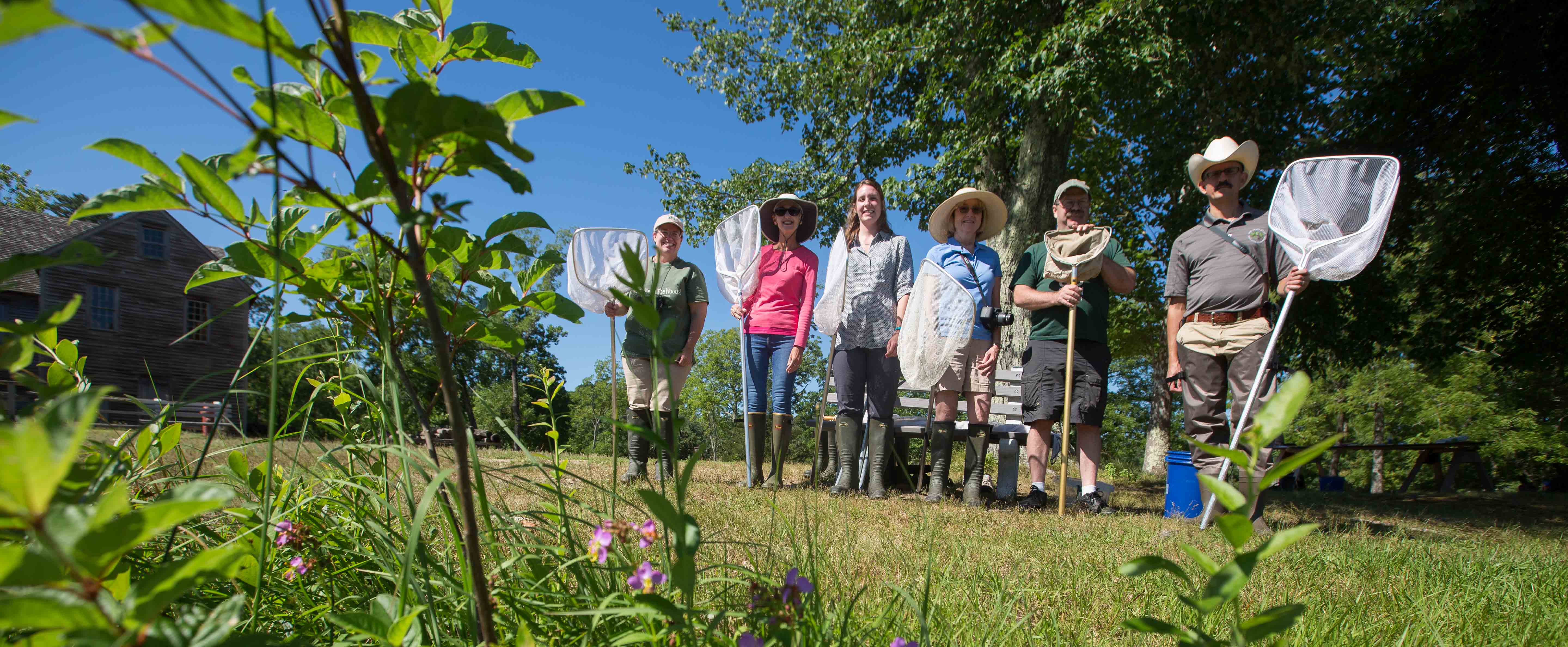 Michael Hogan has observed some of the state's rarest and most endangered wildlife while paddling and hiking hundreds of miles of New Jersey's stream systems. In determining a watershed's health, he looks no further than its macroinvertebrate population for answers.
Macroinvertebrates are aquatic creatures lacking a backbone, and the variation in species' tolerance to pollution helps scientists evaluate water quality.
Hogan, a habitat assessment and volunteer coordinator for the South Jersey Land and Water Trust, shared knowledge from his extensive explorations and sampled the macroinvertebrate population of Batsto Lake with a group of naturalists attending the Pinelands Summer Short Course.
The short course is a collaborative event between Stockton University Continuing Studies and the New Jersey Pinelands Commission and was hosted by Stockton's Kramer Hall in Hammonton.
Wearing hip waders and rubber muck boots, participants waded into the lake with dip nets to catch the species that indicate water quality. Macroinvertebrates are classified into three groups—pollution intolerant, pollution sensitive and pollution tolerant—and based on the abundance of species collected in each group, habitat monitors can follow a simple formula and rating system that describes water quality.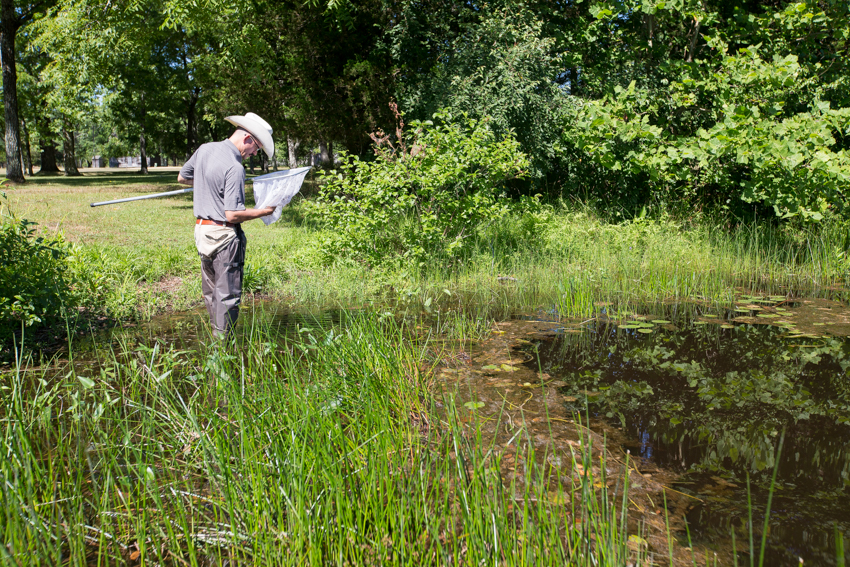 After filling Tupperware containers and ice cube trays with aquatic insect larvae, tadpoles and freshwater shrimp, the group sorted the species into tolerance groups and identified them with field guides. Some specimens were so small that magnifying glasses were used.
In the short sampling session, both pollution tolerant and sensitive species were collected. Hogan noted that if more time was spent, it's likely that intolerant species may have been caught.
Hogan is also a photographer and a botanist. He's earned the nickname Mr. Swamp Pink for the work he's done to grow the threatened lily species.
"Be curious. Be a kid," he said to the participants, encouraging them to explore their own local watersheds.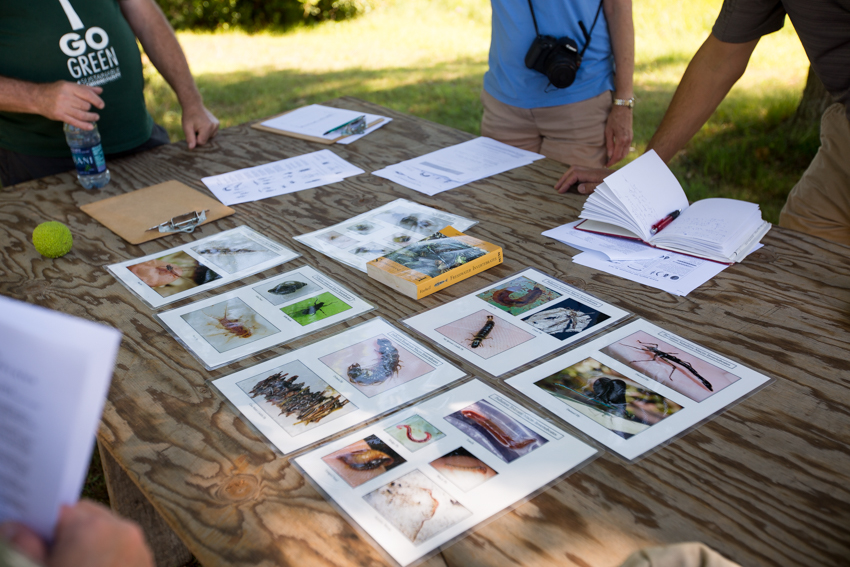 Christine Dunbar, of Sparta, N.J., teaches environmental science at Pope John High School and plans to do just that. She attends the short course each year to "learn more about a special place that is most intriguing and precious in terms of its natural resources."
"The Pine Barrens have a special place in my heart," she said.
Learning about water quality assessment was especially exciting for Dunbar because a new watershed alliance is forming to protect and monitor the Paulinskill River. She hopes to involve her students in collecting and recording data at the river's headwaters, just a short distance from the high school.
Back at Kramer Hall, Stephen Mason Jr., a 2009 Environmental Science graduate, delved into the impact of fire on insect biodiversity in the Pine Barrens and how to make local research valuable to conservation managers globally.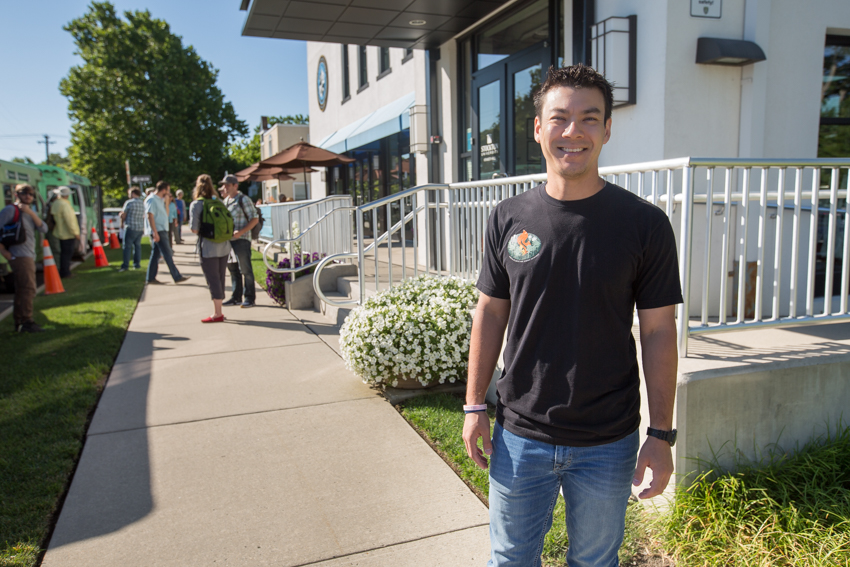 One million insects have been described, but scientists estimate that there are 5-30 million insect species globally, making them by far the most biodiverse animal group in the world, Mason explained.
"Why are insects so successful?" he asked the audience.
They have protective exoskeletons that help them control moisture content, their small size makes them inconspicuous and they have a short lifecycle allowing them to evolve quickly.
Other key innovations include folding wings for widespread travel and escape from predation, and complete metamorphosis, which eliminates competition for food between larvae and adults, since various stages feed on different plants.
Mason is currently a graduate research associate at the Academy of Natural Sciences of Drexel University in Philadelphia and is working on his PhD.
Mason's research looks at the aftermath of a forest fire and the interactions between plants and herbivorous insects. Following a fire, nutrients and sunlight increase allowing plants to grow bigger and faster, but Mason looks deeper into this ecological picture, noting that the plants invest less into their chemical and structural defenses. Mason's research seeks to determine if plants become more susceptible to herbivorous insects that become more biodiverse after a fire.
Although his research centers in the Pine Barrens, global comparisons can be made by focusing on the broader functionality of fire on herbivores rather than species endemic to the pines.
Mason strives to get people to think about fire and insects from new perspectives.
Insects are often overlooked, but both Hogan and Mason's presentations illustrated how they are helping scientists assess environments and answer questions about fire ecology.
George and Mary Beth Campion came all the way from Newark, DE to tour the heart of the Pine Barrens. Seeing native orchids in the wild for the first time excited Mary Beth, who sees the beginning of a new journey to explore the unique flora of our region.
The Atlantic Blueberry Company and Hammonton Lake were additional field trip sites, and moths, dragonflies, damselflies, the Battle of Chestnut Neck and New Jersey's wine industry were some of the other topics explored at the short course.
Paul Leakan, communications officer for the New Jersey Pinelands Commission, noted that the short course continues to grow with more than 100 participants attending this summer's workshops. The summer offers unique opportunities to see rare orchids and wildlife that can't be seen during other seasons, he added.
Save the Date: The 30th Annual Pinelands Short Course is on Saturday, March 9, 2019.
View more images on Flickr.
Story and photos by ___Susan Allen