Patrick Kennedy Calls for More Funding to Fight Addiction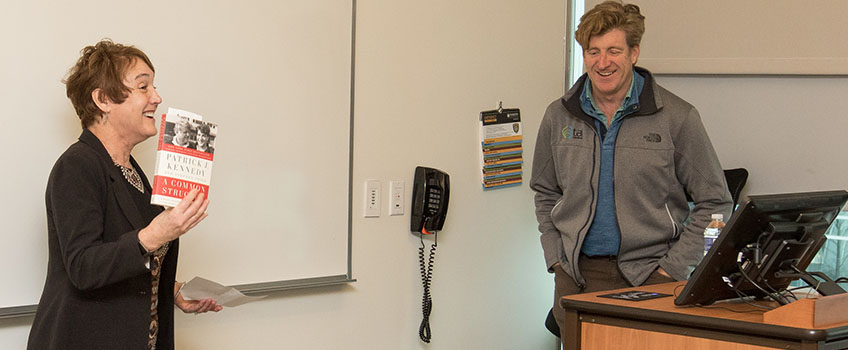 Galloway N.J. _ Increased federal funding to combat the opioid addiction crisis is good, but not nearly enough, former Congressman and mental health advocate Patrick J. Kennedy told students at Stockton University Thursday.
"During the AIDS crisis the annual spending was $24 billion," Kennedy said, comparing it to the $4.6 billion allocated in the federal budget to fight the opioid crisis. "The advocacy is still anemic and I think that is the result of the denial we are all still in."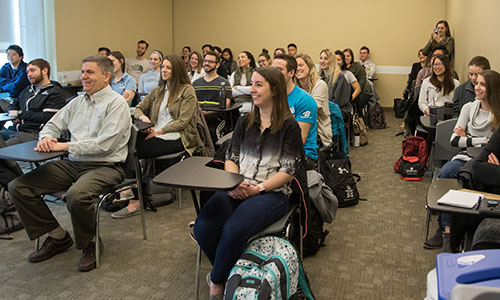 As a recovering addict, Kennedy also opposes legalized marijuana, saying that today using marijuana means not just smoking a joint but eating a brownie or a "pot tart."
"No one really knows how much THC they are getting," he said of tetrahydrocannabinol, the chemical compound in cannabis responsible for the euphoria users feel. "We all want relief from stress, but watch how you do it."
Kennedy said opioids is only one part of the national addiction problem.
"What we have today is not just an opioid crisis, but an addiction crisis," he said, citing alcohol as still a leading cause of death that is largely under-reported because of the other health issues many alcoholics face.
Speaking to physical therapy doctoral students in Lee Ann Guenther's Community Wellness class, Kennedy said there are still not enough people trained to work with addicts, and he praised the students for their interest in the issue.
"If only the country had more people like you who want to help others, that is the spirit we need now," he said.
Kennedy, who has battled his own addiction to OcyContin and mental health issues, was a chief sponsor of the federal Mental Health Parity and Addiction Equity Act, or MHPAEA, of 2008, which requires most group health plans to cover treatment of mental illnesses comparable to coverage for physical illnesses. The former Democratic representative from Rhode Island now lives in Brigantine and serves on President Donald Trump's opioid epidemic commission.
Kennedy said he is not satisfied that the law is being implemented well by insurance companies, but believes they will support better mental health services when they realize that it can lower overall health insurance costs.
"Mental health is the secret solution," he said. "We're just not getting there fast enough."
Kennedy spoke of his own struggles, and how addition can rewire the brain and take years to overcome, or learn to live with.
"It is just one day at a time, but it is hard," he said. He cites his family, his work and exercise as keeping him focused.
"It has to be up to you, and it's just small steps," he said of recovery. "You won't notice it at first, but over time, others will notice, and then you notice."
Kennedy is the author of "A Common Struggle," which discusses his own battles with mental health and addiction and links them to national mental health care policy.
# # #
Contact:
Diane D'Amico
Director of News and Media Relations
Galloway, N.J. 08205
Diane.D'Amico@stockton.edu
609-652-4593
stockton.edu/media