"Ospreys Give" Raises $101,949 in 1,969 Minutes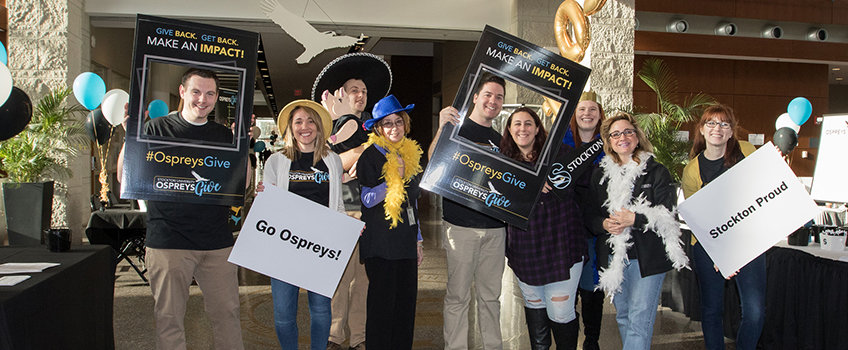 Galloway N.J. _ Stockton University Bursar Tom Roth won't have to jump in the ocean, but his willingness to do so helped raise more than $2,300 for Stockton students at the first Ospreys Give marathon fundraiser.
The fund-raising marathon, which started Sunday afternoon and ended at 11:49 p.m. Monday, raised $101,949 from 643 gifts, exceeding the 500-gift goal set for the inaugural event.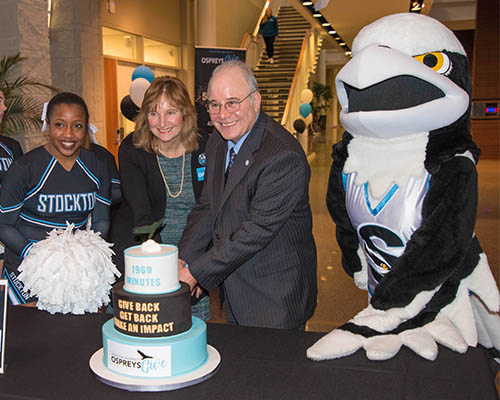 "The results of the day, both in number of gifts and total dollars raise, exceeded our expectations," said a tired, but happy Nick Sena, executive director of development and alumni affairs, who coordinated the event with Kelly Brennan, assistant director of annual giving.
Events throughout the day Monday also encouraged student involvement. Students wrote notes thanking donors for "changing my life" "supporting my love of music" and "giving me a place to call my second home."
Several donors offered matching challenges or targeted their gifts to specific programs or projects on campus.
The 1,969-minute event marked the year that Stockton was founded. Donations started coming in at 3 p.m. Sunday and remained steady through the next 33 hours, with gifts coming in from 23 states.
Among the more than 75 beneficiaries are the Atlantic City Scholarship Fund, the Student Relief Fund, the Stockton Center for Community Engagement, several athletic teams, and a variety of scholarship programs.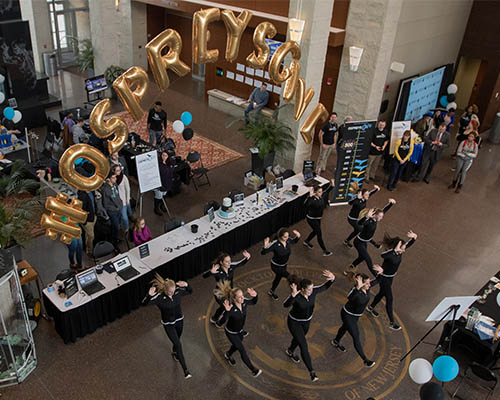 Roth's was one of the most closely watched challenges. Donors got to choose whether Roth, a Stockton alumnus, would have to jump into the ocean in front of the new Atlantic City campus this week. The tally changed throughout the day, but by Monday night, Roth was safe with $1,495 raised for "not jumping," compared with $825 raised for him to jump.
Stockton President Harvey Kesselman and wife Lynne agreed to donate $5 for every gift made, up to $5,000. They celebrated the first 500 gifts by writing a check for $2,500 on the spot, then cutting the celebratory cake to mark having achieved the goal by early evening on Monday.
"This incredible outpouring of support for Stockton is nothing short of amazing," said Kesselman, whose final gift totaled $3,215.
He noted that while the campaign ended, gifts to help students are always welcomed.
"You can still give after the day is completed," he said.
Stockton's new Interim Chief Development Officer and Executive Director of the Stockton University Foundation Dan Nugent said participating in the event was the perfect welcome to Stockton.
"It was wonderful to share the energy and enthusiasm of the Stockton community and its supporters," Nugent said. "I look forward to building on this success."
Detailed results from Ospreys Give can be found at https://ospreysgive.stockton.edu
A gallery of photos from the event are on flickr.
# # #
Contact:
Diane D'Amico
Director of News and Media Relations
Galloway, N.J. 08205
Diane.D'Amico@stockton.edu
609-652-4593
stockton.edu/media