Thirty Nursing Students Pinned at Spring Ceremony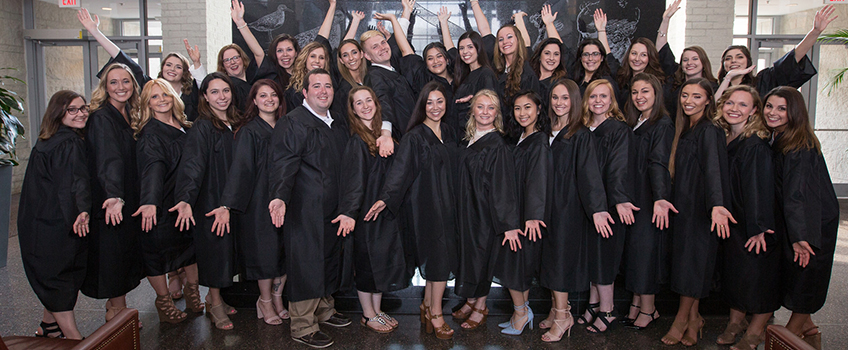 Galloway, N.J. – Stockton University's School of Health Sciences hosted the Bachelor of Science in Nursing Pinning Ceremony for the class of 2018 on Thursday, May 10th at the Campus Center Theater.
"You are going to have a front row seat to some of the most intimate and impactful aspects of people's lives," said Coleen Rossi, RN, MBA, CCM and keynote speaker for the ceremony. "Don't take it for granted."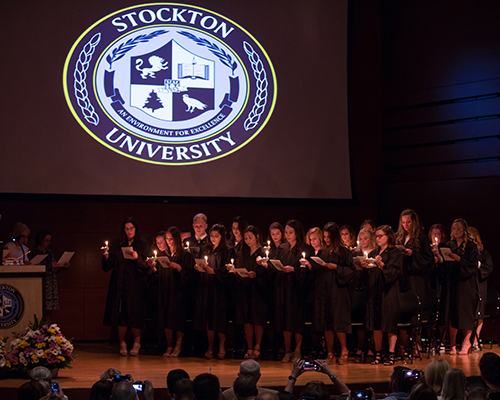 Michelle McDonald, Associate Vice President for Academic Affairs, opened the ceremony and congratulated the students. Associate Professor of Nursing and Coordinator of the BSN Program Mary Padden-Denmead introduced guests and students while Krystyn DiLuigi, Stockton student and Nursing Club president, introduced Rossi.
Nursing students Shannon Pilsbury, Melanie Crisafulli and DiLuigi presented Rossi with an award, followed by the pinning of graduates, lighting of the candles and the Nightingale Pledge.
A few graduates also received awards for their achievements. Pilsbury was awarded the Academic Achievement Award for Nursing. The Leadership Award for Nursing was given to DiLuigi, and Charles Elsea was awarded the Dr. Mary Ellen Florence Professionalism Award.
"Remember what drew you to Nursing for that will help you through the difficult times," said Elizabeth Calamidas, Interim Dean for the School of Health Sciences. "Remember that learning is lifelong, especially in healthcare. But most of all, stay passionate about your profession and compassionate in your care. Someone's life will depend on it."
Students awarded the Bachelor of Science in Nursing for the class of 2018 are:
Samantha Alberga, Samantha Anastasi, Emily Bergonzi, Victoria Chiodo, Beth Anne Cottrell, Melanie Crisafulli, Krystyn DiLuigi, Amanda Dupras, Charles Elsea, Samantha Harvey, Megan Lowe, Samantha Malsbury, Molly McElwee, Melanie McGowan, Francis McLaughlin, Stephanie Morgado, Victoria Neill, Sasha Ostapenko, Jay Pamfilo, Shannon Pilsbury, Karly Raebiger, Cody Rasmussen, Sarah Raynor, Anora Redzepi, Jordan Sedotti, Amanda Sherin, Amanda Siino, Kelly Southavong, Amy Vester and Melissa Weikel.
For more information on Stockton's program, click Nursing.
View a gallery of photos from the event on flickr.
# # #
Contact:
Diane D'Amico
Director of News and Media Relations
Galloway, N.J. 08205
Diane.D'Amico@stockton.edu
609-652-4593
stockton.edu/media