Ten Artists Exhibit at Kramer Hall in Hammonton
Hammonton, N.J. - When a red oak tree fell on Glen Guarino's furniture workshop, he didn't get mad, he got to work.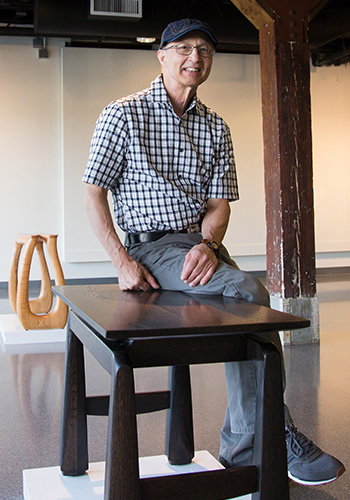 After aging the wood, Guarino made it into a table called "Sweet Revenge," a name suggested by a friend.
"I'll get quite a few pieces out of that tree," Guarino said, as he displayed the ebonized red oak table now on display at Stockton University's Kramer Hall in Hammonton.
The table, and 28 works by nine other artists, are included in the Noyes Signature Artist Exhibition which runs through Sept. 2. The participating artists are all members of the Noyes Museum of Art at Stockton University.
Noyes Executive Director Michael Cagno said the exhibit intentionally features a variety of artistic styles and helps introduce the artists and their work to the public.
"We do what we can to help them promote their work," he said. "An artist today also has to do their own marketing, and they don't always have that skill set."
Guarino, who taught woodworking at Mahwah High School, Kean University and William Paterson University is the only artist showing furniture. He sells his pieces through his web site, guarinofurnituresdesigns.com. He said he prefers working with recycled wood.
"Instead of putting it in the wood chipper I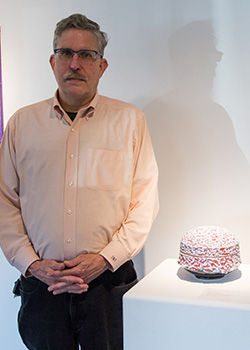 can use it," he said. He's been experimenting with ebonizing and bleaching techniques. Another piece called the Shanghai Table is made of one plank of wood.
Skeffington Thomas of Monroeville, a ceramics artist who teaches at Rowan University, is displaying two pieces using a glaze he has been working on that gives the items a distinct texture based on a Japanese style. He said he was inspired by his teacher, the late Toshiko Takaezu
"I worked with the chemicals and recipes until I got the right composition," he said. "There were a lot of failures."
Other artists in the show are Bette Blank, Zenna Broomer, Lou Storey, Marie Natale, Lucretia McGuff-Silverman, Vincent Nardone, Anthony Migliaccio and Karen Starrett.
The exhibit is open to the public during Kramer Hall summer hours, 8:30 a.m. to 5 p.m. Monday through Thursday and 8:30 a.m. to 4:15 p.m. Friday. The gallery will also be open until 9 p.m. Thursdays through July 25. Kramer Hall is located at 30 Front Street in Hammonton across from the train station. Call 609 626-3840 or visit Stockton.edu/Kramer or noyesmuseum.org.
_ Reported by Diane D'Amico