Swap, Shop and Save at the New Stockton Trading Post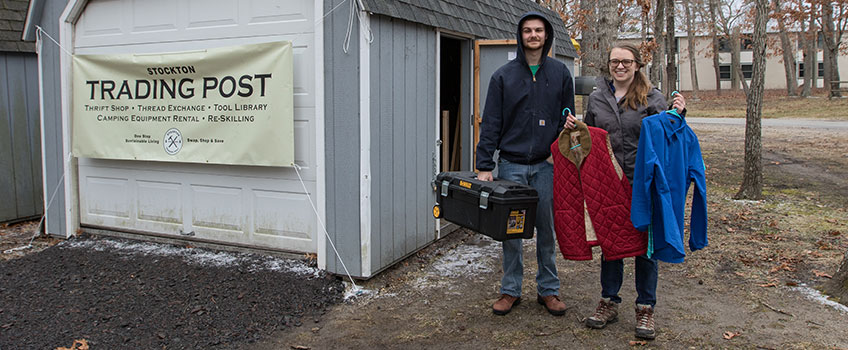 A team of Sustainability students has converted a campus shed into a trading post, where lightly-used clothing, accessories and household items can be exchanged and reused by new owners.
The new Stockton Trading Post offers sustainable shopping through a thread exchange and thrift store, camping and tool rentals, and a reskilling workshop series that will teach students how to change a tire, make a fire, pitch a tent and more.
The trading post is located next to the Lodge at Lakeside off of Laurel Lane in Shed 31, which received a makeover from Anthony Fetherman, a junior Environmental Science major from Fredon, N.J. He used his carpentry skills to turn a former storage space into a welcoming store front.
Sydne Hunter, a senior Sustainability major from Clermont, N.J., has taken the lead in organizing the team's efforts and publicizing the sustainable initiative to students.
Richard Vetter, a junior Sustainability major from Roxbury Township, N.J. is using his technology savvy to program an online inventory.
"Swap, shop and save" is the team's motto.
In the first workshop, participants will make DIY t-shirt bags on Thursday, April 12, 11-2 p.m., with Sydne Hunter. Supplies will be provided.
On Thursday, April 19, 11-2 p.m., Richard Vetter will teach participants how to prepare for a camping trip and how to properly pack a backpack.
On Thursday, April 26, 10-2 p.m., Stockton alumnus Dave Malka will lead a woodworking session where participants will transform wooden pallets into coffee tables.
The concept for the trading post has been in Caitlin Clarke's imagination since she began noticing the need for a space to establish a reuse initiative on campus. Clarke is Stockton's Sustainability coordinator and an Environmental Science graduate.
When students move out at the end of the semester, items that don't fit into their cars sometimes end up in dumpsters, Clarke explained. She acted on these observations by partnering with passionate students.
"Students are showing interest in living more sustainable lives," said Clarke.
The rental program grew from a small tool library that offered kits to students interested in working on cars, electronics and carpentry projects.
The Stockton Trading Post will be open on Tuesdays, 1-3 p.m., and Thursdays, 11 a.m.-3 p.m. during the school year. Workshops will be held outside Shed 31 on Thursdays.
The team is currently accepting donations of gently-used clothing, small appliances and almost anything else that could be reused. Visit the Stockton Trading Post at their website. Please email Caitlin.Clarke@Stockton.edu or stocktontradingpost@gmail.com for drop-off information.
Story and photos by_ Susan Allen