New Citizens Take Oath at Naturalization Ceremony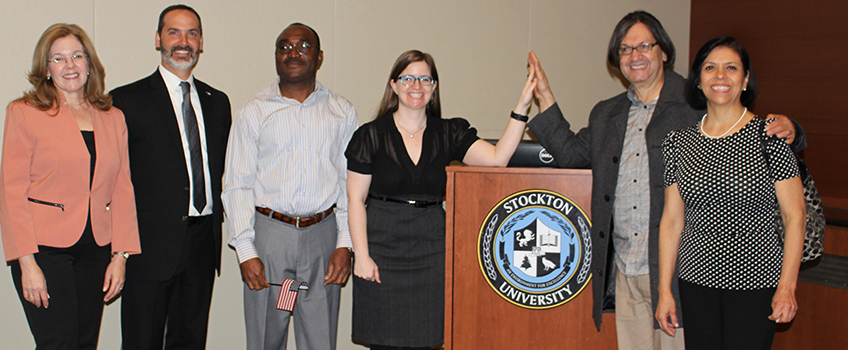 Galloway, N.J. - Leon Gonzalez Barrio came to the United States in 1991 to find a better life.
"I wanted prosperity for everyone in my family," the Ventnor resident said.
His wife, Gloria Gonzalez Bedoya joined him in 1995, and admitted she was at first scared to come to a new country.
On Friday they were no longer nervous as both confidently took the Oath of Allegiance as naturalized citizens of the United States in a ceremony at the Stockton University Campus Center.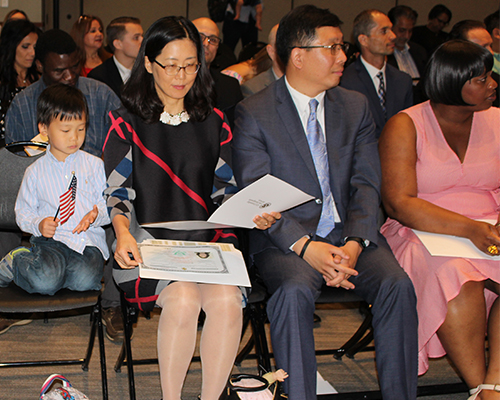 The couple was among 32 people who became citizens at the event. Both had taken naturalization classes offered at 6 p.m. on Tuesday evenings through the Stockton Center for Community Engagement at the Carnegie Center in Atlantic City. In the fall those classes will move to Stockton's new Atlantic City campus.
"We are witnessing freedom in action," Stockton provost Lori Vermeulen said in welcoming the guests. "You have the right to speak your mind, and the responsibility to listen to others."
Assistant Professor of Sociology Jessie Finch, who assists with the classes along with students Jessica Perez, Bryan Gonzalez-Mejia, and Alejandra Londono, said she knows what a long process the road to citizenship can be.
"Over the last three years, I have been inspired by the devotion you have shown in coming to class, perfecting your English, and learning about America," she said "Leaving home can be scary, but you did it. You have worked so hard to earn these rights."
Merydawilda Colón, Executive Director of the Stockton Center for Community Engagement, said 14 people in Stockton's naturalization courses have become citizens, and there are currently 12 people in the class. The classes run through the end of May, then will start again in September.
Keith Dorr, supervisor of the Mount Laurel Field Office for the U.S. Citizenship and Immigration Services announced the 20 different native countries of the new citizens. They ranged from Bangladesh to Belarus, Peru and Tunisia.
"You have all worked so hard to get here," he said in congratulating them.
Tamika Gray, deputy district director, USCIS Newark Office, administered the Oath of Allegiance, and then all of the new citizens recited the Pledge of Allegiance.
Ikechukwu John of Pleasantville, a native of Nigeria, graduated from Stockton with a degree in psychology in 2017 and is now studying for a master's degree in mental health counseling. He wants to help people struggling with opioid addiction.
He said he wanted to become a citizen so he can vote.
"Now I can make a decision to choose political leaders," he said.
Voter registration forms in multiple languages were made available at the ceremony through Director Daniel Tomé and Diana Strelczyk from Stockton's Office of Service Learning.
Stefania Martinez and her two children, Melanie, 4, and Sofia, 1, came to watch her parents, Leon and Gloria, take the oath. Leon said he has achieved his goals. His daughter graduated from Stockton in 2010 with a degree in accounting, and his son is studying medicine at Johns Hopkins University.
"I came for my family," he said.
View a gallery of photos from the ceremony on flickr
# # #
Contact:
Diane D'Amico
Director of News and Media Relations
Galloway, N.J. 08205
Diane.D'Amico@stockton.edu
609-652-4593
stockton.edu/media