Stockton Student Recognized as National Transfer Student Ambassador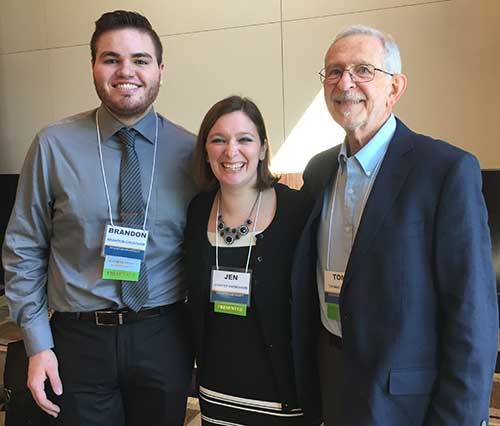 Brandon Cheatham of Mullica Township, N.J., a senior Health Science major at Stockton University, was recently recognized as one of four 2018 National Transfer Student Ambassadors by the National Institute for the Study of Transfer Students (NISTS).
Cheatham was selected through a national competition intended to recognize outstanding students who represent the heart of NISTS's work advancing transfer student success. He was honored on Feb. 7 during the opening session of the 16th Annual Conference of the National Institute for the Study of Transfer Students at Loews Atlanta Hotel in Georgia.
It was not until Cheatham transferred to Stockton from Rutgers University that he became involved in co-curricular activities, assuming leadership positions in several organizations. He also serves as an intern in the Office for New Student and Family Programs. Cheatham is passionate about helping new transfer students acclimate to Stockton and has channeled that energy and enthusiasm into implementing TRANSFERmation, a pre-Orientation leadership retreat specifically designed for transfer students.
"As a transfer student and student leader, I saw the need for more transfer programming at Stockton and with the help of Tom Grites and Jen Radwanski, I was able to move forward with my proposal for TRANSFERmation. We will now be able to launch the first year of TRANSFERmation this June," Cheatham said. "Aside from this program, I have worked with transfer orientation as well as worked to implement a transfer specific track for transfers during Welcome Week."
Cheatham previously served as one of the head mentors of T.A.L.O.N.S. (The Activity Leaders Of New Students), S.O.A.R.(the Stockton Outdoor Adventure Retreat) and Welcome Week.
Cheatham, Tom Grites, assistant provost of Academic Support Services, and Jen Radwanski, director of New Student and Family Programs, also presented "Collaborative Efforts to Engage Transfer Students in Their Own Success" at the conference, which focuses exclusively on research and programming for transfer students. Tom and Jen both agree that this conference is unique and very informative.
They discussed how Stockton has re-assessed its strategies, approaches and services in order to improve the University's enrollment efforts.