Murphy Writing Celebrates 25 Years of Inspiring Writers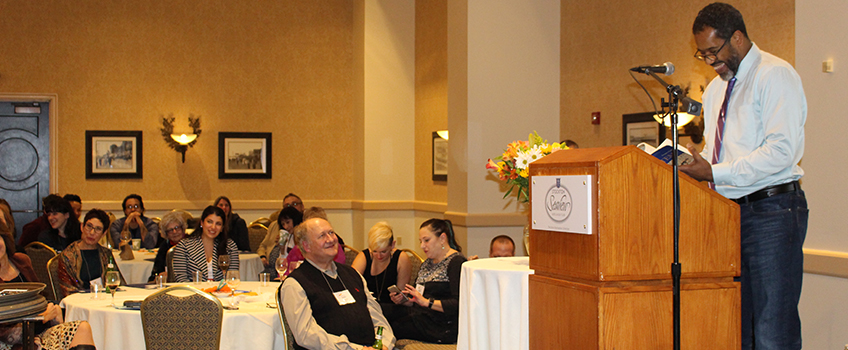 Galloway, N.J. _ For 25 years, Peter Murphy has been making the wishes of aspiring writers come true.
It started back when Murphy was teaching English at Atlantic City High School. When he needed time away to write, he would occasionally rent a hotel room and go away for a weekend.
"People would ask how I found time to write, and I would tell them, and they would say they wished they could come with me," he said.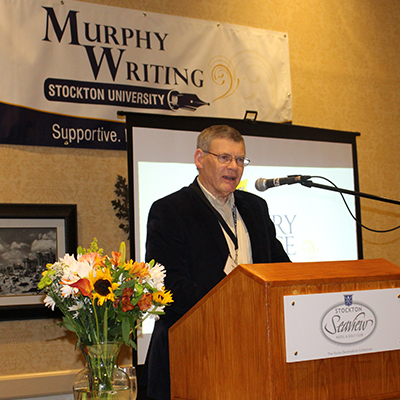 So he figured out a way to take them.
The first Murphy Writing Winter Poetry and Prose Getaway was held in freezing temperatures in Cape May. Murphy retired from teaching in 2005, but kept the Getaways going. His daughter Amanda joined the program, and it grew, moving to Stockton Seaview Hotel and Golf Club in 2012 where, in January, Murphy presided over the 25th anniversary Winter Getaway.
Now a part of Stockton University, the 25th Getaway attracted more than 200 people who came from all parts of the nation and the world. On opening night Murphy read off a list of states and countries represented, which this year included Australia, Canada, the Virgin Islands and 20 states. Held on Martin Luther King, Jr. holiday weekend, it includes an emotional closing ceremony that pays tribute to the Civil Rights leader.
Eight participants this year were among the 25 people at the very first Getaway in 1994.
"And I've been to every single one since," said Martha Landy of Colonia, a retired special education teacher who has also traveled to Murphy Writing workshops in New Hampshire, Scotland and Wales. She first met Murphy when she took his poetry class while getting her master's degree in creative arts education.
"He's a great teacher," she said. "There's a method to his madness that just clicks with me. He inspires you to take risks and just put it out there"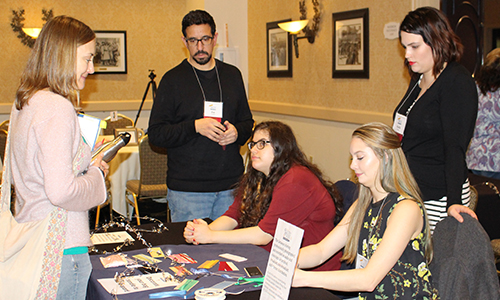 Landy arrived at Seaview early Friday evening to make sure newcomers would feel welcomed. She has had a few of her poems published in magazines and described them as having messages that make people see themselves and smile.
After some Get-Acquainted Bingo, and a warning that Murphy would tell terrible puns, the crowd moved to the Seaview ballroom for their official welcome. Along the way were tables of donated books by the guests and free for the taking.
Evan Yavne of New York sat with his wife, Rosalie Wallis, who came along for the weekend, but not to write. This was Yavne's fifth Getaway and he is working on a novel.
"I started here four years ago with a blank page," he said. "It is starting to come together and I am determined to finish."
He said coming to the Getaway frees him from other obligations so he can focus on writing.
"We all have well-documented excuses," he said. "But Peter gives encouragement, suggestions, steers me in directions I hadn't thought of."
Wallis said she did a lot of research and spoke to Amanda before choosing the Murphy workshop.
"I spoke to Amanda, and she was just so real and welcoming and encouraging. I just knew this would be the best place," she said.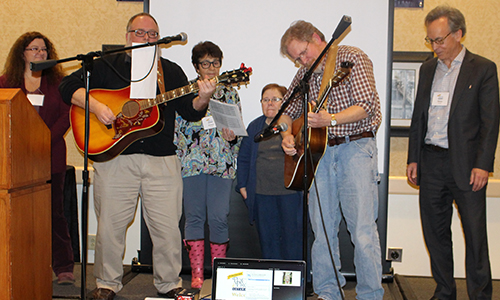 In his welcome speech Murphy reminisced about what has happened in the world over the last 25 years.
"This is a place where all are welcomed and all will be better writers by the end of the weekend," he said.
The welcome feels like the reunion of a large extended family.
Murphy credited Amanda's marketing and management skills for the program's growth, noting they have almost outgrown Seaview. Small vials of sand from Cape May were presented to the eight participants who were at the first Getaway.
A former student of Murphy's, who became a poet, songwriter and Getaway faculty member, but who was ill and could not attend this year, was paid tribute with a song from the songwriters' class.
Pulitzer Prize-winning poets Stephen Dunn and Gregory Pardlo were among this year's faculty. Pardlo whetted the writers' appetites with a reading of his poem Double Dutch, in which girls "bob & weave like boxers pulling punches, shadowing each other, sparring across the slack cord, casting parabolas in the air."
Gail Mitchell of Lawrenceville came to help celebrate the 25th anniversary, but also to meet Pardlo, whose autograph she got on a copy of one of his books.
"I used to come when it was in Cape May," she said "I just love Peter Murphy. I'm a follower."
And then, because it is a writing workshop, Murphy had everyone write for five minutes about, well, anything they wanted, though there were masks on each table to serve as inspiration, should it be needed.
"We are creating community by writing together," Murphy said. "It's going to get better."
Murphy Writing hosts several workshops and getaways throughout the year. Murphy is also the author of two books of writing prompts, "Challenges for the Delusional" and the just published "More Challenges for the Delusional" released at the Getaway.
His next workshop will be a one-day retreat on getting published to be held from 9:15 a.m. to 4:30 p.m. March 3 at Stockton's Kramer Hall in Hammonton.
More information is at Murphy Writing of Stockton University or stockton.com/murphywriting
# # #
Contact:
Diane D'Amico
Director of News and Media Relations
Galloway, N.J. 08205
Diane.D'Amico@stockton.edu
609-652-4593
stockton.edu/media