Stockton Remembers Martin Luther King, Jr.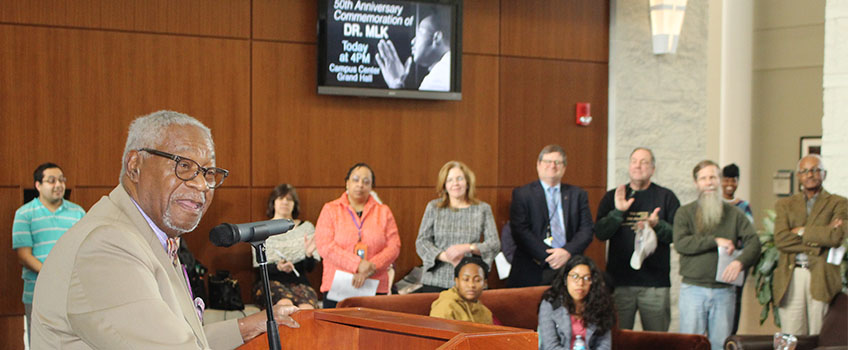 Galloway, N.J. - The 50th Anniversary of the assassination of Martin Luther King, Jr. was remembered at Stockton University with messages of sorrow and hope.
"(King's) mission of hope, equality and justice for African Americans and all who were marginalized couldn't be bought or silenced, even in the most turbulent of times," President Harvey Kesselman said.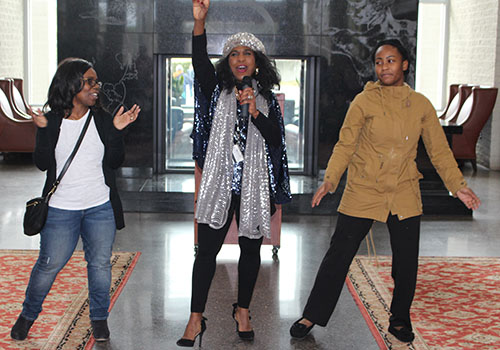 "But as I stand here today with all of you, in reflection of Dr. King's death, I am extremely moved and I am extremely encouraged. Because I know the legacy of Dr. King does not end on the balcony of Room 306 of the Lorraine Motel in Memphis, Tenn., but it remains rooted and grounded in the hearts of so many and I believe will live on forever."
Ralph Hunter, founder of the African American Heritage Museum in Buena Vista Township and at the Stockton Arts Garage in Atlantic City, urged the audience to get involved in Atlantic City and their communities.
"Martin Luther King, Jr. made American strong," he said. "Do what Martin would have done. Volunteer to help."
Hunter also paid tribute to the late Atlantic City attorney and civil rights activist James Cooper, who as a young attorney went to Mississippi to assist those being beaten during civil rights demonstrations, even though he was "scared as hell."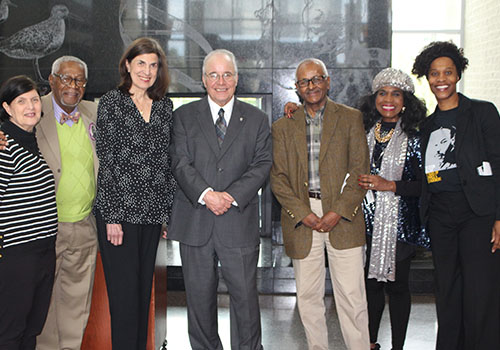 Professor of Social Work Diane Falk said she remembered being devastated and discouraged by the assassination, but the Civil Rights Movement inspired her to get involved.
"I felt the hatred in the eyes of people who shouted obscenities and threw rocks in Selma," she said. "My dream was to work to advance social justice and social work seemed to offer that."
Professor Melaku Lakew, a native of Ethiopia, said he learned about King when he came to Berkeley, California, and that his message of voting rights resonated with him and others fighting for the same rights in Africa.
"I began to learn more, and it was also the era of the Vietnam War and the Women's Movement," he said. "(King's) death became a moment that changed my life. I am a symbol of that change and a beneficiary of that change. Martin Luther King died, but his cause lived on. "
Gail Rosenthal, executive director of the Sara and Sam Schoffer Holocaust Resource Center recalled being a student at Temple University when the news came in. She was student teaching in a neighborhood near a refinery, and she remembers a professor who gave her and the others hope.
"He said, 'you have the best profession because you will teach others', "she said. "We can all make a difference and share the message."
The program ended with Professor of Music Beverly Vaughn leading a chorus of "Don't Let Nobody Turn You Around."
"Who better to leave us with a message of joy," said Donnetrice Allison, Faculty Senate President, Professor of Communications and coordinator of the Africana Studies Program, who organized and moderated the event.
A gallery of photos from the event is on flickr.
# # #
Contact:
Diane D'Amico
Director of News and Media Relations
Galloway, N.J. 08205
Diane.D'Amico@stockton.edu
609-652-4593
stockton.edu/media