Menendez, Booker Announce $226,299 for Stockton University Regional Marine Debris Removals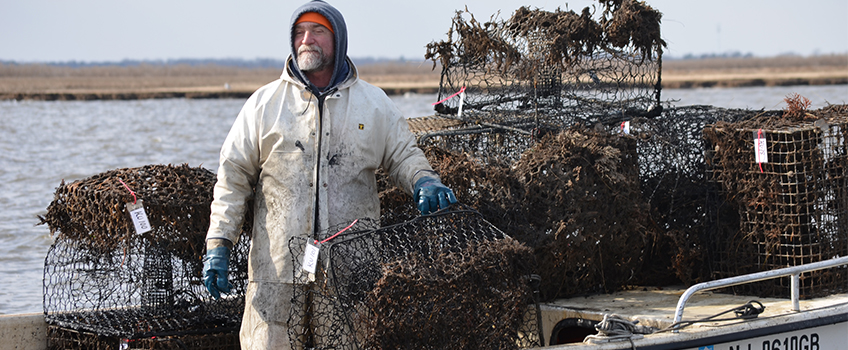 Galloway, N.J. _ U.S. Senators Bob Menendez and Cory Booker have announced the awarding of $226,299 in federal funding from the National Oceanic and Atmospheric Administration (NOAA) to support Stockton University's efforts to break the cycle of lost and abandoned crab traps in New Jersey coastal bays.
The funding will also go towards recruiting the next generation of commercial crabbers to participate in this program, learn about fishing gear loss prevention, and incorporate best practices into their fishing behavior.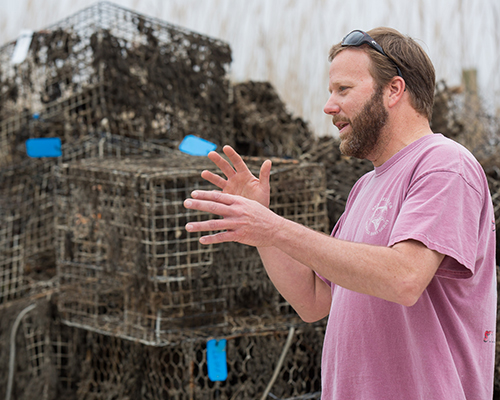 Over the past 5 years, Stockton University scientists have engaged southern New Jersey commercial crabbers to break the cycle of crab trap loss in a network of coastal bays covering 36 km of coastline. These bays and rivers account for 42% of the State's 10.5 million dollar blue crab fishery. To date, more than 2,000 items of lost fishing gear have been removed off-season through these efforts, supplemented by hundreds of in-season recoveries by previously trained commercial partners.
This academia/industry partnership has demonstrated the potential for multiple coastal stakeholders to work together for the improvement of the ecological and economic value of our marine resources. To date, over $60,000 has been returned to the southern New Jersey commercial crabbing community through the direct and indirect benefits of the Stockton-led programs.
After an initial, successful two-year program in the Mullica River–Great Bay estuary, the NOAA Marine Debris Program awarded Stockton University additional funding to expand the project to the Atlantic coastal bays behind the barrier islands from Little Egg Inlet south to Great Egg Harbor bay, behind Ocean City, and provide sonar training to local crabbers to prevent further trap loss.
"This is the third round of funding to Stockton and the Marine Field Station directly for this project with spinoff projects shared with Rutgers and other groups," said Peter Straub, dean of the School of Natural Sciences and Mathematics and professor of Biology. "The Marine Debris projects also directly engage and partner with the local commercial fishing community to restore marine habitat and cleanup the coastal bays. Successfully competing for sponsored projects like these depend in great part to the commitment and support of the University in developing and maintaining outstanding marine facilities and academic programs."
These grants grew directly out of observations made during Stockton undergraduate "Scientific Diving and Underwater Survey Methods" courses dating back to 2007. As students were learning to use marine technology in the field, they repeatedly came across lost crab pots. An opportunity to recover these accidental hazards and restore habitats to a healthier state presented itself.
Mark Sullivan, associate professor of Marine Science, Steve Evert, manager of Stockton Marine Field Station in Port Republic, and Straub began this initiative. The Stockton team has also partnered with the Conserve Wildlife Foundation of New Jersey, New Jersey Audubon, Great Egg Harbor Watershed Association, and the Jacques Cousteau National Estuarine Research Reserve of Rutgers University.
Since Stockton University scientists first made efforts to stop crab trap loss, commercial industry partners have experienced economic benefits and the model has been duplicated in other areas of New Jersey and Delaware.
"The fishing industry is a crucial part of New Jersey's economy and we must ensure that our fishermen have the best available resources," said Sen. Menendez. "I'm proud of Stockton University for taking the initiative to protect our marine ecosystems, invest in our coastal economy, and give our fishermen the tools they need to succeed."
"Ensuring New Jersey's commercial fishing industry continues to thrive depends on innovative research and educational programs like those established by Stockton University," said Sen. Booker. "This federal investment will help reduce the potentially adverse economic and environmental impacts of abandoned fishing gear, protect our sensitive marine ecosystems, and strengthen New Jersey's coastal economy."
Commercially licensed crabbers who are interested in getting involved can contact Steve Evert at 609-652-4486 or Steve.Evert@stockton.edu. The sonar and recovery work will be completed outside the crabbing season over the winter, from November through April, with consistent interaction between Stockton partners and local crabbers.
For more information, visit NOAA's marine debris blog, which announces all of the grant recipients across the nation, and the local project's website, We Crab NJ.
# # #
Contact:
Diane D'Amico
Director of News and Media Relations
Galloway, N.J. 08205
Diane.D'Amico@stockton.edu
609-652-4593
stockton.edu/media