Mayflower Reunion Celebrates Stockton's Return to Atlantic City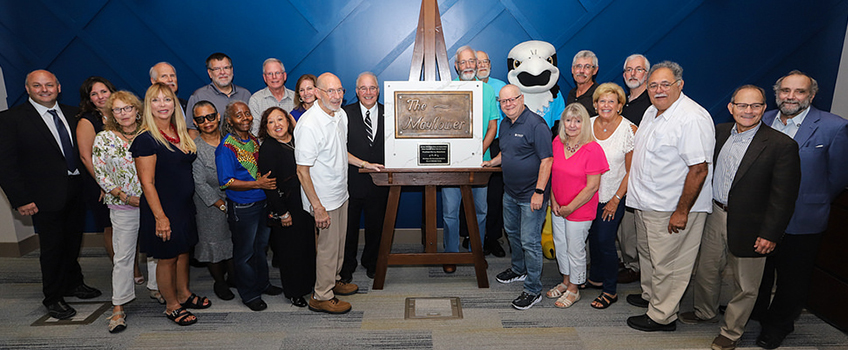 Atlantic City, N.J. _ "It's amazing to be here. I think I'm going to cry," said one alumna as she approached the registration table.
"I can't believe we are back here, it's surreal," said another.
Alumni, faculty and staff members who spent time at the Mayflower Hotel during Stockton's very first semester in the fall of 1971 echoed those sentiments as they entered the new Stockton University Atlantic City Academic Center for a reunion on October 7, 2018. The event, part of University Weekend, was a celebration of Stockton returning to its roots in Atlantic City, and, for many, a family reunion.
The day featured tours of the new Atlantic City Academic Center and Residential Complex, a question and answer session with Stockton Atlantic City staff, and time to reminisce and share stories with friends new and old.
Dr. Harvey Kesselman, Stockton president and a former Mayflower student himself, served as the event's host and welcomed his former classmates back to Stockton. During the program, Kesselman invited participants to share their Mayflower memories. Alumni spoke about meeting friends, spending time at the beach, and bonding with faculty members. Faculty and staff remembered their excitement at meeting those first students, and the challenges and benefits to teaching in the Mayflower.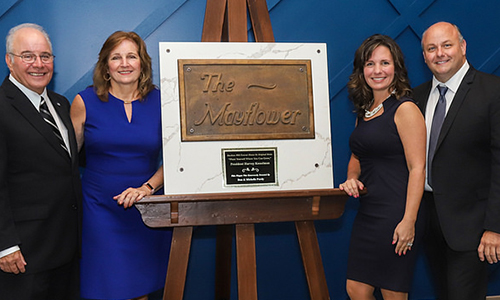 Professor Emeritus Bill Daly shared stories of the strong ocean breezes forcing open windows at the Mayflower overnight, leaving professors to find their papers blown around the room the next morning. He also proudly remembered having the privilege of being a founding faculty member and having the opportunity to help found a college.
"We were delighted to build a brand new college, built on principles that hadn't been used before," he said. "Stockton has been one of the few times in my life that things worked out the way that I had hoped they would work out."
Daly also spoke about serving as Kesselman's preceptor.
"I made him everything he is," Daly joked.
Perhaps the most special moment of the day came when Don Purdy, former mayor of Galloway, came forward to make a much-anticipated presentation to the University. Purdy shared that while getting a haircut he overheard other patrons talking about Stockton. As they chatted, one of them mentioned that her father owned a special piece of Mayflower history, the hotel's original brass sign. Following several conversations and some negotiations, Purdy acquired the piece. Thanks to Purdy's extraordinary generosity the sign, which he had restored and mounted over a plaque that reads "Plant yourself where you can grow," will now be prominently displayed at Stockton Atlantic City.
Attendees also took part in an oral history project being prepared to mark Stockton's upcoming 50th anniversary.
If you or someone you know is a Mayflower alumnus/a, faculty member or staff member who did not attend this event, please contact Alumni Relations to be added to the Mayflower list for future events and communications.
Photo Gallery: Mayflower Reunion Brunch Photos
# # #
Contact:
Sara Faurot Crowley
Director of Alumni Relations
Stockton University
101 Vera King Farris Drive
Galloway, NJ 08205
Sara.Faurot@stockton.edu
Phone: 609-652-4974