Conversation Addresses Challenges of Legalized Marijuana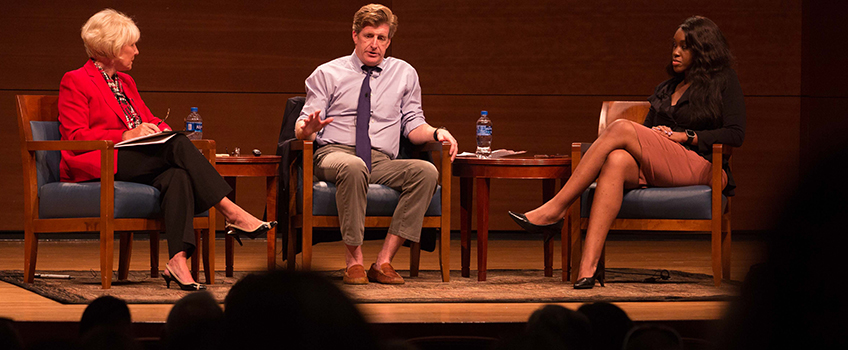 Galloway, N.J. _ Marijuana legislation should proceed with caution and more discussion of the potential impact speakers said during a discussion at the Stockton University Campus Center Theater.
The conversation, titled "Marijuana Legislation: Are We Sure?" was moderated by Mary Pat Angelini, CEO of Preferred Behavioral Health Group, and featured former U.S. Congressman and mental health advocate Patrick J. Kennedy and Ijeoma Opara, a doctoral research fellow at Montclair State University.
Kennedy and Opara discussed how legalization and commercialization of marijuana will lead to more access and that de-risking harm corresponds with an increase in use.
"There's a battle to treat mental health the same way as other diseases of the body," Kennedy said. "While this is happening, you see debate over legalizing another drug even after witnessing the money behind our opioid crisis. A profit motive combined with addiction affects our community health."
Kennedy said the death rate due to mental illnesses is now decreasing life expectancy in the United States.
"Often when I talk to youth, they think 'if it's regulated by the government how bad can it be,'" said Opara. "Perception of lowered risk increases the first use by individuals already in communities where mental health services are lacking."
"Not only have I heard it before in respect to Big Tobacco, but I have also heard it before with OxyContin: 'It must be okay if my doctor prescribes it,' " said Kennedy. "A percentage of our population who are prone to addiction will experience additional problems from this legislation. This is going to be something that takes them out of the game of life."
Kennedy said neuroscience shows that human brains are not fully developed until the mid-20's. The speakers emphasized the potential impact of marijuana legalization on public health and youth.
"We already have a growing epidemic of anxiety in youth and communities experiencing economic hardship," Kennedy said. "They are going to be the groups most likely to start self-medicating. We need to ask ourselves if that's for the good of the country."
Opara said since legalization was passed in Colorado, the arrest rate among youth of color has gone up 60 percent and communities of color have higher rates of dispensaries in the state.
"The big issue is adults vs. kids," Kennedy said. "For this right to exercise our civil liberty, are we willing to risk the public health of our youth? They will be the ones exposed to advertising the most. The government won't be able to regulate it at the same rate as advertising (can promote it)."
The conversation also addressed the consequences of commercialization in a depressed economy, decriminalization, medical use and recreational use, the effects on under resourced, urban communities and the debate of legalization as a social justice issue.
"The marijuana industry is selling potent levels of THC associated with psychosis and memory development that can be a potentially dangerous component. It's not just a plant anymore," said Opara.
"If we are interested in reducing the disproportionate level of people of color in the prison system, we should focus on real criminal justice reform rather than legalizing this drug and thinking it will reduce arrests of people of color," said Kennedy.
"It's insulting to say legalization will help people of color while not addressing the systemic issues that are truly hurting us," said Opara. "There are more liquor stores in urban and underserved communities than other areas. I know legalization is meant to be for the adults, but youth are looking at us. We need to be their leaders and role models."
Opara works with two federally funded programs: Paterson Coalition Against Substance Abuse (P-CASA) and Project Community Organizing for Prevention Education (Project COPE). P-CASA aims to reduce adolescent access to alcohol, tobacco, and drugs. Project COPE provides a community based HIV/AIDS, substance abuse, and viral hepatitis educational intervention to ethnic minority youth in Paterson.
"We are allowing money to fuel addiction," Kennedy said. "The only way legalization can accomplish what is being promised to us is by encouraging heavy use. It is important for us to push future initiatives for research on brain development and how to treat neuropsychiatric and neurodegenerative disorders instead. Are we going to rise to the challenge and instead make mental neuro-health a top priority? At the end of the day, we as a society pay a big price over this."
"If it does become legalized, let's at least do this safely," Opara said "Talk to your legislators about public health. We need to take our time to address legalization the right way. If this is about social justice, let's work on decriminalization first."
_Reported by Jessica Jacob
# # #
Contact:
Diane D'Amico
Director of News and Media Relations
Galloway, N.J. 08205
Diane.D'Amico@stockton.edu
609-652-4593
stockton.edu/media