Pride Alliance Raises Rainbow Flag for LGBT History Month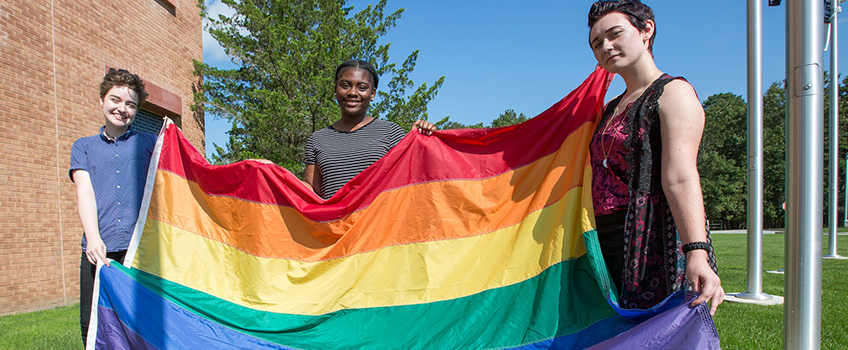 Galloway N.J. - The Stockton Pride Alliance celebrated the beginning of LGBT History Month on Oct. 1 with the raising of the rainbow flag at the Arts and Sciences building circle.
"Displaying this flag is important," said Pride Alliance President Bo Hall, of Franklinville, a junior majoring in criminal justice. "Knowing we are accepted is a beautiful thing. Looking at the flag makes the Stockton experience even better than it is."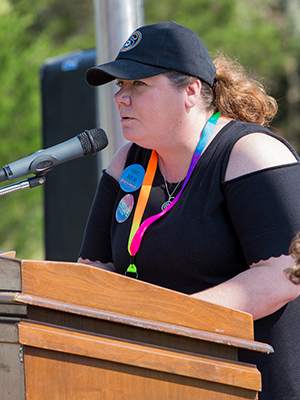 Provost and Vice President for Academics Lori Vermeulen said there has been a lot of progress in the acceptance of the LGBT community since she was in school, but there is still much work to do.
"We've seen so much change," she said. "But there is still so much to change."
Vice President for Student Affairs Chris Catching said that the first "Gay Peoples Union" at Stockton was founded in 1975.
Students Laurel Hester and Kevin Cathcart started the group. Hester went on to become a police officer in Ocean County who fought a legal battle to have her pension benefits transferred to her partner after she was diagnosed with terminal cancer. Cathcart became executive director of Lambda Legal which helped fight gay rights cases before the U.S. Supreme Court.
"There is a long history here for LGBT students," Catching said adding he has seen students arriving at Stockton ready to be advocates.
"Stockton is an affirming place," he said. "But that would not happen without our clubs and groups who support our programs."
Laurie Dutton, director of the Women's, Gender and Sexuality Center at Stockton encouraged students to "create a future where everyone is recognized for their worthiness."
"Be an activist, be an advocate, vote," she said. "However you get involved, do it with gusto," she said. "In the end, we all want out life's work to have mattered. I believe in you. Stockton believes in you. You are worthy."
Junior Meghan Casper of Jackson, vice president of the Pride Alliance, said when she came to Stockton and saw the Pride Alliance she was immediately comforted.
"The flag means so much to me," she said. "It means I'm welcomed here. I feel safe here. I want to feel like this all the time. I plan to dedicate my life fighting for people who feel like they can't be themselves."
The Pride Alliance is open to all students and meets at 8 p.m. Mondays in L104. A Rainbow Rave is planned for this month, but no specific date has been announced.
# # #
Contact:
Diane D'Amico
Director of News and Media Relations
Galloway, N.J. 08205
Diane.D'Amico@stockton.edu
609-652-4593
609-412-8069
stockton.edu/media