Stockton Says Bienvenidos to Latino Students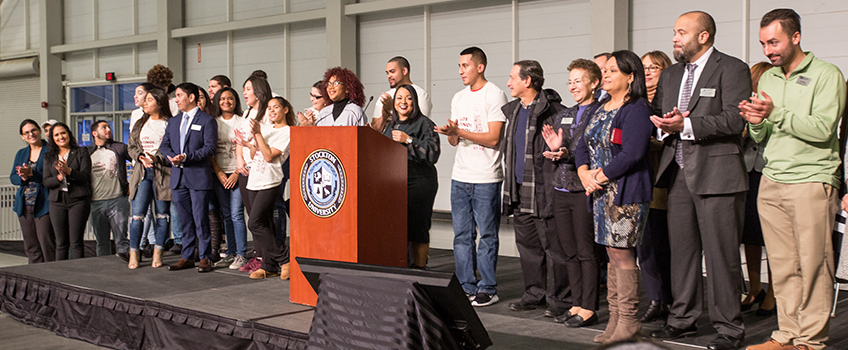 Galloway, N.J. – In 1982, freshman student Nelida Valentin arrived at Stockton from Newark with a commitment to making a better life for herself.
"My mom was a single mom and from the age of seven I was her interpreter," Valentin told several hundred high school students at Stockton's annual Latino Visitation Day. "I knew there had to be something better for my future."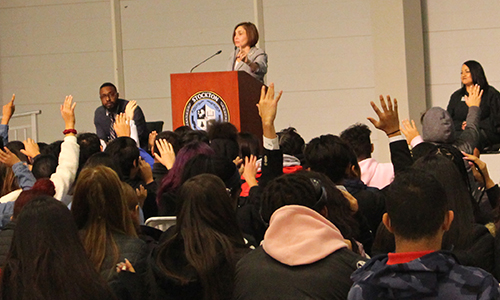 Today, Valentin, a member of the Stockton Board of Trustees, is committed to helping other young people build a successful future. But, she told them, they also have to believe in themselves.
She encouraged them to be curious, do well in school, ask questions, and take the opportunity to meet new people and learn from new experiences.
"Make a commitment to yourselves," she said. "I exhort you to seriously think about a college education as a pathway to your future."
Students got tours of the campus and information from admissions and financial aid staff. Assistant Director of Admissions Heather Medina, who coordinates the event, outlined financial aid programs like the Educational Opportunity Fund that can help students pay for college.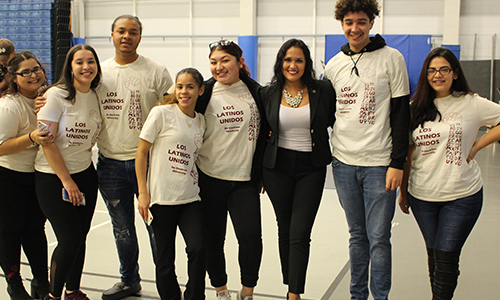 Stockton Chief Enrollment Officer Robert Heinrich welcomed the students to the Stockton family. He said in addition to classes, students also have opportunities for internships and research that will give them real-life career experiences.
"Think of college as an investment," said Assistant Director of Admissions Ryan Terrell, who told the students that if they can operate a Snapchat account they have the skills to fill out the FAFSA federal financial aid form that can provide thousands of dollars in grants. He said 86 percent of Stockton students receive some type of financial aid.
Officials also promoted the new dual-admissions Transfer Pathways program, which allows eligible students to attend partner community colleges then seamlessly transfer to Stockton while also taking advantage of Stockton campus services. Currently Atlantic Cape Community College, Cumberland County College, Camden County College and Brookdale Community College are partners in the program.
Los Latinos Unidos president Carolina Paula of Newark welcomed students and club members led tours of the campus. The day ended with lunch of empanadas, arroz con pollo and churros. Participating high schools included Atlantic City, Absegami, Bridgeton, Egg Harbor Township, Oakcrest Atlantic County Institute of Technology, Camden Academy Charter High School and Freedom Prep Charter School in Camden.
# # #
Contact:
Diane D'Amico
Director of News and Media Relations
Stockton University
Galloway, N.J. 08205
Diane.DAmico@stockton.edu
609-652-4593
609-412-8069
stockton.edu/media