Come Speak Another Language at Weekly Event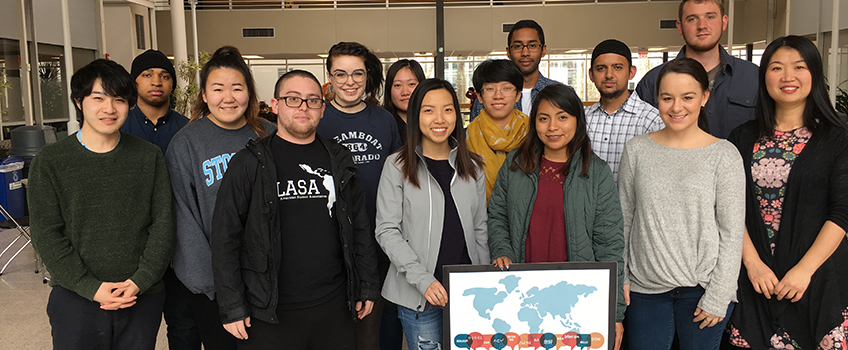 Galloway, NJ _ Stockton University health sciences student Ewelina Truchel grew up speaking Polish.
"I went to Polish school every Saturday and I still go to Polish mass," she said.
She is sharing her language and culture as one of more than a dozen Stockton students participating in Language Table lessons and conversations in the C-D Atrium at Stockton every Thursday from 12:30-1:30 p.m. through April 19.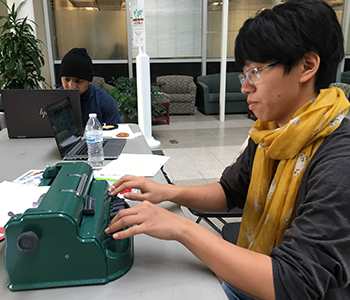 The student-run sessions give native speakers the opportunity to practice their language, but also introduce students to a new language in a low-key, friendly environment.
This year's participants speak Mandarin, Cantonese, French German, Japanese, Polish, Serbian, Spanish, Russian, Ukrainian, Urdu, and American Sign Language. There is also a student who will practice English with non-native English speakers, and a student teaching Braille.
Aimee Balint, a disabilities studies major, brings her Braille machine to the event to demonstrate and teach basic skills.
"People come over because they see the green machine," she said as she showed student Janna Finan how words are converted into the series of raised dots that people with visual impairments can read with their fingers.
Professor JY Zhou, who advises the group, said area residents are welcome to participate.
"Last year we had some people who spoke Serbian come," she said. She said the project shows the diversity among students at Stockton and she is proud of the students for their willingness to share their language and heritage.
"This is a student driven activity," she said.
The students participating this year include: Jenna Finan, Aimee Balint, Amanda Zhou, Yi Gu, Dylan Carr, Ando Randrasana, Lea Fischer, Sunny A. Harris, Mizuki Komatsu, Ewelina Truchel, Miroslava Hall, Lorena Hernandez, Nataliia Maciejewski, Usama Chaudhri, Tom Bybee, Tomoki Sugimoto, and Axavier Dennis.
# # #
Contact:
Diane D'Amico
Director of News and Media Relations
Galloway, N.J. 08205
Diane.D'Amico@stockton.edu
609-652-4593
stockton.edu/media