Students Tell Story of Casinos in "Just One More Hand"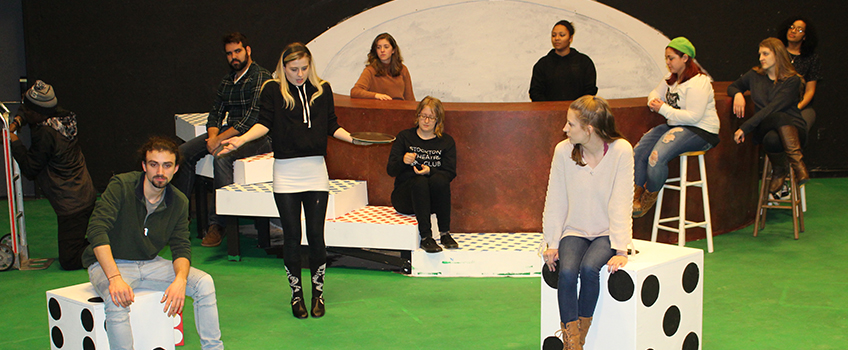 Galloway, N J. _ The history of casino gaming in Atlantic City will be told through the eyes of casino workers in a new play "Just One More Hand," which will debut at Stockton University's Experimental Theatre from Feb. 14-18.
The play is based on the 2015 book "Just One More Hand: Life in the Casino Economy" written by Stockton Professors of Economics Ellen Mutari and Deborah M. Figart.
The two talked to Professor of Theater Pamela Hendrick about turning the book into a play. Last semester Hendrick used the book for a special course on how to develop dramatic text from non-dramatic work.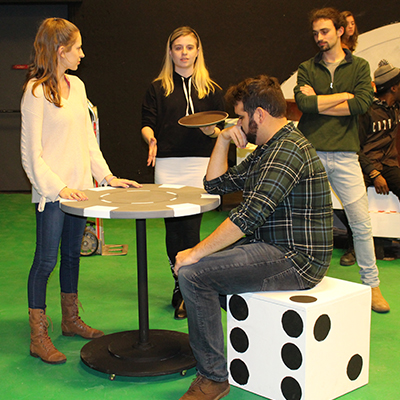 The 40-page script, developed by the students, addresses the highs and lows of the law that brought casino gaming to a then dying Atlantic City in 1978.
"We concentrated on the personal narratives of the workers," Hendrick said. "The students did a lot of brainstorming on how to sequence the play and come up with a script."
The 12-member cast includes a narrator played by Randy Stormes who begins with the question "What is a good job?"
The first act of the play addresses the lure of big tips and the booming period when casinos thrived and many made a decent living.
But it also addresses the price of that living. For every big tipper there was a sore loser. Sexual harassment is part of the job. Casino expansion in other states shrinks the job market in Atlantic City and employees face only part-time work and layoffs.
Some of the characters include:
Inez came from El Salvador and started in a kitchen, but learned English, observed, and was promoted to steward, helping to prepare for banquets and parties. She earns $14 per hour, or about $500 a week.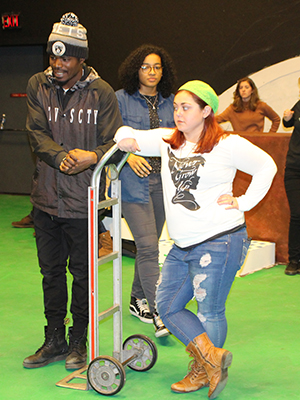 Lily, a cocktail waitress in a revealing uniform, can made $200 a shift just in tips.
Terrence, a technician, has worked his way up to a $25 per hour job that can support a family.
Caroline, a dealer, dreamed of becoming an accountant, but ended up in dealer school. She works tournaments and high-action pits with high rollers, or "whales" and once got tipped a $5,000 chip.
Peter started as a busboy, but with hard work and a good personality rose to become a server team captain. His base salary is low, but the tips gave him a decent living.
Arpana, a housekeeper, is, after 12 years, still a housekeeper, making $12 an hour plus tips.
The play's stage manager, Nia Pitts, said it was interesting creating the characters from the book.
"It's like we are bringing people back by telling their stories," she said.
The cast includes: Anthony George, Ally Varga, Randy Stormes, Josh Dutko, Desiree Gibson, Lea Matarazzo, Gabby Bibus, Amira Lee, Celine Fleenor, Alexis Vaxman, Mariah Fabel and John C. Wood. Ryan Gorman is student director, Christian Jimenez is doing sound design, Erica Delbury is costume design, Timothy Simon is doing lighting and Josh Dutko designed the set.
Performances will be held in the Experimental Theater at 7:30 p.m., Feb. 14-17 and at 2 p.m. Feb. 17-18.
Tickets are $12 for adults and $10 for children, students, seniors and staff. They can be purchased online at stockton.edu/pac or by calling the Box Office at 609-652-9000. The Box Office is also open Monday-Friday from 9 a.m. to 3 p.m. and 90 minutes before each performance.
# # #
Contact:
Diane D'Amico
Director of News and Media Relations
Galloway, N.J. 08205
Diane.D'Amico@stockton.edu
609-652-4593
stockton.edu/media