Trustees Honor Foundation member Jo Frances Stow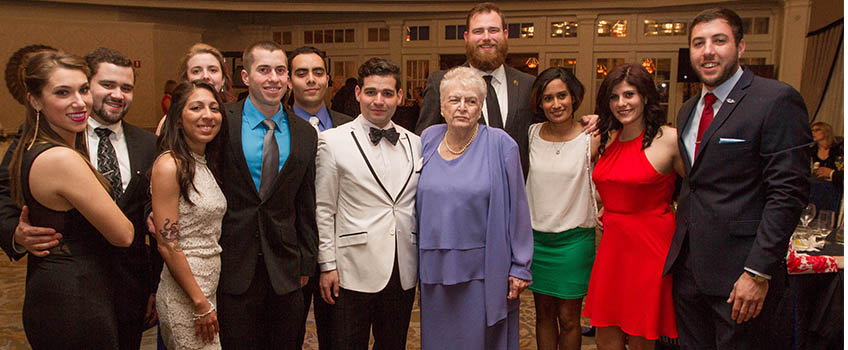 Galloway, N.J. – Stockton University will name the Office of Development and Alumni Affairs in honor of longtime faculty and Foundation member Jo Frances Stow of Atlantic City.
The Board of Trustees approved the naming at the board meeting Wednesday. Stow was an assistant professor of public health from 1979 through 1988. In 1981 she joined the Stockton Foundation Board of Directors and has served continuously as a member, receiving Emerita status in 2016.
A strong advocate for students, Stow chaired the Scholarship Selection Committee, established endowed scholarships, helped secure scholarship funding from others, and was a sponsor of the Scholarship Benefit Gala
"She is a very special human being and a treasure to this institution," Stockton President Harvey Kesselman said.
The resolution approved by the board says that: "As chair and a member of the Scholarship Selection Committee, her faithful review of every student essay and every faculty letter of recommendation ensured that all students received a reasoned and objective opportunity to be awarded a Foundation Scholarship."
In other business, the Board authorized the administration to negotiate the sale the former president's home at 300 Shore Road in Linwood. The three-bedroom ranch home was purchased by the state in 1970 for use by the new college's president. Stockton's first three presidents lived there, but both Herman Saatkamp and Harvey Kesselman chose to live in their own homes. Stockton has maintained the property since it was purchased.
The board also approved a special 20 percent discount rate for law enforcement and criminal justice full-time employees who enroll in either the Master of Arts in Criminal Justice of Post Baccalaureate Certificate in Criminal Justice Administration Program.
A $228,000 contract was approved with DumontJanksLLC to provide consulting services to assist with the development of a comprehensive university strategic plan through 2025.
# # #
Contact:
Diane D'Amico
Director of News and Media Relations
Galloway, N.J. 08205
Diane.D'Amico@stockton.edu
609-652-4593
stockton.edu/media