International Education Week Features Exchange Program with Universidad del Rosario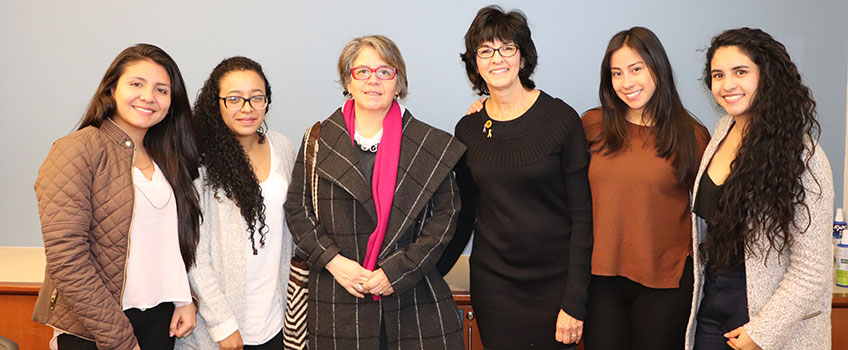 Galloway, N.J.-- Four exchange students from the Universidad del Rosario in Colombia, and Victoria Schindler, professor of Occupational Therapy, had the opportunity to share their experiences here and abroad with fellow students and staff on Nov. 12 during Stockton's International Education Week.
Stockton's collaborative exchange relationship in Colombia began four years ago with Universidad del Rosario and also the Escuela Colombiana de Rehabilitacion, a second smaller university. Since Fall 2015, Stockton has hosted a group of four exchange students annually.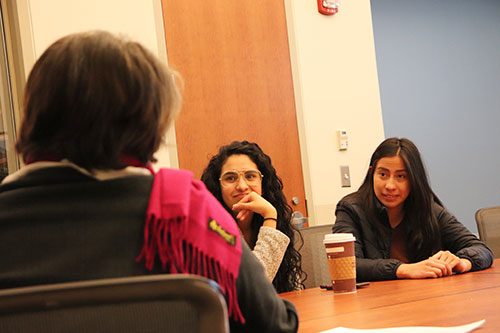 Schindler shared the many benefits Stockton students receive visiting the Universidad del Rosario in Colombia, and how these experiences help shape not only their educational perspectives, but their cultural ones as well.
"In 2012, we began a small collaborative journey with occupational therapy programs in Colombia, South America. Now our journey has expanded into mutual and virtual exchange programs with two universities, clinical sites and cultural sites. More than 100 Stockton students and faculty have visited this beautiful country within our exchange program," Schindler said.
Exchange students Laura Sepolveda, Occupational Therapy; Saray Salas, Physical Therapy; Yuliana Guzman, Occupational Therapy; and Diana Saenz, Occupational Therapy, spoke about their nine-week stay in South Jersey and their learning experiences at Stockton.
"This has been such an amazing experience while we have been here," Guzman said.
In attendance were some students from an Honors Global Community Class that had the opportunity to ask the exchange students some questions. They learned that pumpkin-picking was especially exciting for the international students, as they do not have those type of pumpkins in Colombia to celebrate Halloween.
Rocio Del Pilar Pena Huertas, assistant professor of Law at Universidad del Rosario, also attended the presentation. She is one of three panelists for Stockton University Office of Global Engagement's "Finding Peace in Colombian Politics: Lessons Learned and Challenges Ahead" symposium being held on Nov. 14.
View a gallery of photos on Flickr.
Reported by Mandee McCullough