Stockton Donates Railroad Tracks to Philadelphia Holocaust Memorial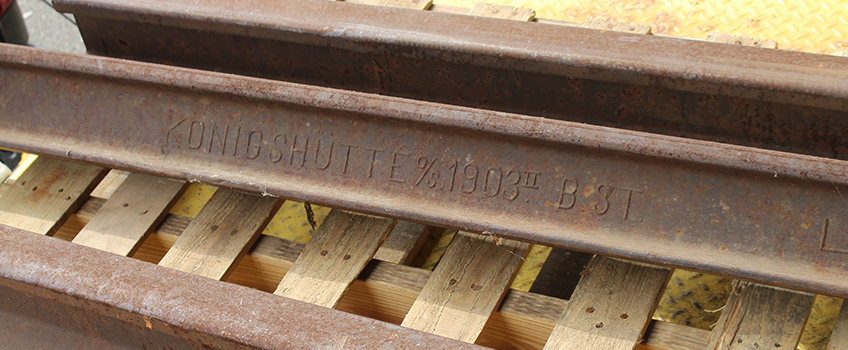 Galloway, N.J. - In October 2008, Stockton University obtained railroad tracks from Bialystok, Poland, a central point in the network of rail lines that moved Holocaust victims to the Auschwitz-Birkenau, Treblinka, Theresienstadt and Majdanek concentration camps.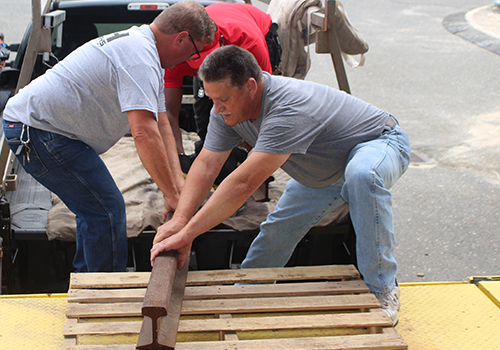 The tracks were used in the powerful design of the entrance to the Sara and Sam Schoffer Holocaust Resource Center at Stockton.
On Friday Sept. 7 at 10 a.m., almost a decade later, three additional segments of track that were not used were donated to the Philadelphia Holocaust Remembrance Foundation for use in the city's new Holocaust Memorial Plaza currently under construction and opening to the public in late October.
Bob DiFerdinando of AP Construction, the general contractor on the Philadelphia project and Ed Hladczuk of EH Ironworks loaded the segments with the help of Stockton's Gary Suhr, Stockton assistant supervisor of building repairs, who also assisted a decade ago when the rails first arrived at Stockton. A ceremony was held at the time attended by area Holocaust survivors.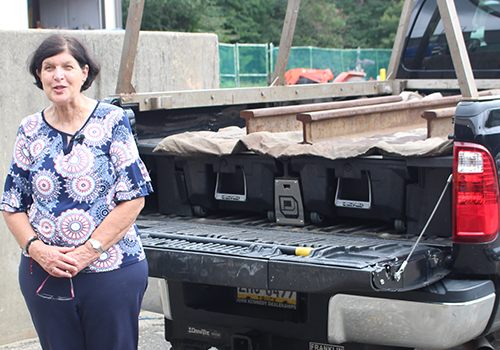 Gail Rosenthal, executive director of the Holocaust Center at Stockton, said the tracks remind today's generation of the horrors of the Holocaust.
"Railroads were crucial to the Holocaust," she said. "That was how six million Jews and four million other victims were transported to the death and work camps."
She said there as fewer survivors of the Holocaust remain to tell their story, the railroad segments can inspire questions that keep the history alive. The Holocaust Center is happy to share the segments with the Philadelphia memorial to promote its educational mission of teaching about the Holocaust and genocide.
"People see them and ask 'what are they and why are they here?' " Rosenthal said. "From generation to generation we can use lessons from the past to make a better future."
"We are grateful for Stockton University's Holocaust Center for their generous contribution to the Philadelphia Holocaust Memorial Plaza. The train tracks will be embedded in the paving of the Plaza to remind all visitors of the systematic persecution and mass deportation orchestrated by the Nazi regime," said Eszter Kutas, Director of the Philadelphia Holocaust Remembrance Foundation.
View the Holocuast Center's video on Facebook.
# # #
Contact:
Diane D'Amico
Director of News and Media Relations
Galloway, N.J. 08205
Diane.D'Amico@stockton.edu
609-652-4593
609-412-8069
stockton.edu/media