Stockton Freshman Named 2018 Hero of the Year
Galloway, N.J. _ Shelby Gribbin, 18, of Brigantine, a freshman at Stockton University, was named the 2018 Hero of the Year by Stockton in partnership with the John R. Elliott Hero Campaign for Designated Drivers® at a ceremony in the Stockton Art Gallery on April 12.
Gribbin's photo will now be featured on a Hero Campaign billboard on the Atlantic City Expressway, donated by Clear Channel Outdoor, which promotes the use of designated drivers to reduce drunk driving.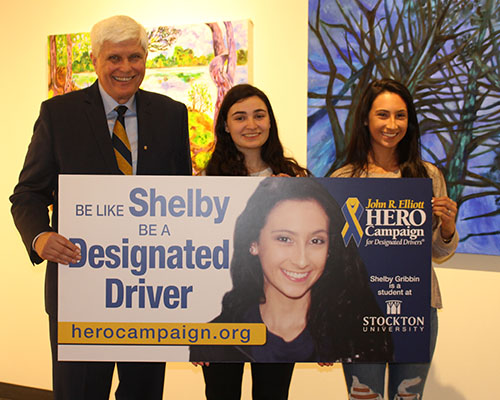 Gribbin said she first became involved in the campaign while a student at Holy Spirit High School in Absecon when she got involved in a commercial for the campaign. She has also been involved in the fund-raising walk and said she supports the goal of the program.
"I'm always the mom of my group, telling them to be responsible in everything, and use your head," she said.
The Hero Campaign is named for Ensign John R. Elliott, a graduate of the United States Naval Academy, who was struck and killed by a drunk driver on his way home for his mother's birthday in 2000. His family started the John R. Elliott Foundation and Hero Campaign that year.
Elliott's father, Bill, urged the public to spread the message and support the campaign.
"The key to success is participation, even if it's doing something small like displaying the Be a HERO car window decal," he said.
Other nominees also honored at the event were Stockton students Abdullah Bukhari of Ventnor, and Jonathan Schwartz of Spotswood.
Gribbin replaces Vanessa Francesco of Somers Point, a Stockton senior who will graduate in May and enter the Doctor of Physical Therapy program at Stockton. She said it was humbling to be the face of the Hero Campaign for 2017.
"You are a role model," she said. "I don't mind being the designated driver, but it doesn't always have to be me. Everyone should be aware."
Elliott said services like Uber have made it easier for people to avoid driving home, but the awareness of the dangers of driving while under the influence is still crucial.
More information about the Hero Campaign is online at HERO Campaign.org
Photo caption: Bill Elliott with 2017 Hero of the Year Vanessa Francesco and 2018 Hero of the Year Shelby Gribbin.
# # #
For more information:
Pam Tyson or Denise Hladun
-609.626.3880
pamtyson@herocampaign.org
dhladun@herocampaign.org