'Beautiful Soul' Lives on in Stockton Award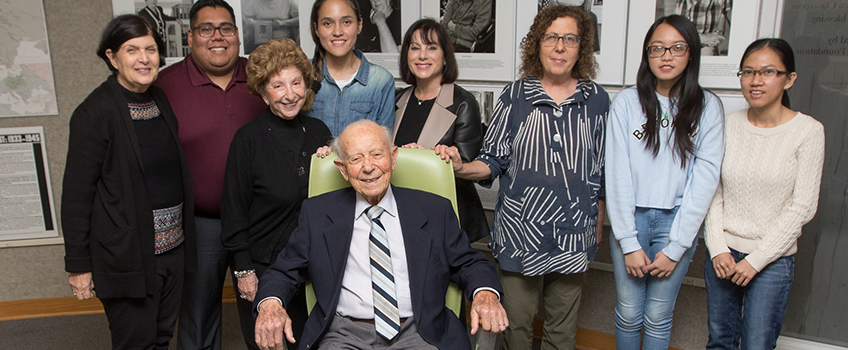 Galloway, N.J. – A Holocaust survivor's story continues to inspire Stockton students through an annual award started by her family.
Barbara Roth's mother met Bella Kurant when they were children in Poland. They were both prisoners in the Radom Ghetto. After World War II they reunited and became like sisters because both of their families had been murdered. Kurant survived the Radom Ghetto, Auschwitz-Birkenau, and Bergen-Belsen. She was one of only seven survivors of the village of Skrzynno, Poland.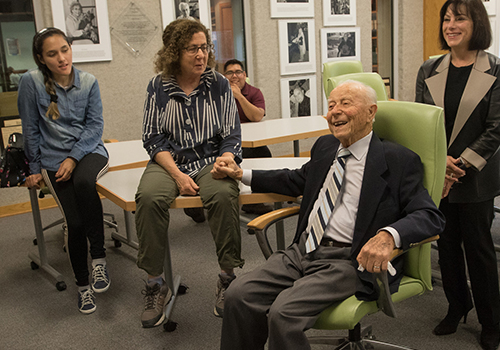 Gail Rosenthal, director of the Sara and Sam Schoffer Holocaust Resource Center, said relationships within concentration camps like the one between Bella and Roth's mother were common and helped victims in their struggle to survive.
When Barbara Roth's parents passed away, Bella and her husband, Henry Slamovich, told her that she wasn't alone and treated her as if she were their own daughter.
Before Bella died, she gave Barbara her notes from the war. Barbara, a member of executive committee of the Sara and Sam Schoffer Resource Center at Stockton University, brought the notes to Stockton's Writing as Witness Project, headed by Maryanne McLoughlin, who in 2015 made them into a book titled "Beautiful Soul: Bella Kurant's Memoir of the Nazis."
In honor of the book, the Bella Kurant Fox Slamovich Award was established by the friends and family of Henry and Barbara Roth, Elizabeth Roth, and Ed and Judy Roth for the benefit of Stockton University students with a demonstrated interest in Holocaust and Genocide Studies.
In October Bella's husband, Henry Slamovich, of San Francisco, visited Stockton with his daughter Dr. Rochelle Blumenfeld and a friend Susie Julius (also a Holocaust survivor) to see the center and meet the current recipient of the award, Diana Sanchez-Zevallos of Galloway Township, a junior who hopes to be a physician.
Slamovich was one of some 1,200 Jews rescued by German industrialist and Nazi Party member Oskar Schindler, who is credited with saving their lives by employing them in his factories during the war. His story was made into the 1993 movie "Schindler's List" directed by Steven Spielberg. This year marks the 25th anniversary of the movie, which will return to theaters in December.
Slamovich, 91, is one of the few remaining "Schindler Jews."
During his visit, Slamovich spoke about his experiences during the war, recalling how "the ground moved" with the arms and legs of dying victims piled in a heap at the Plaszow concentration camp.
"There are no words in the dictionary that describes the brutality," he said. "Human life meant nothing (to the Nazis)."
View a gallery of photos from the event on flickr.
# # #
Contact:
Diane D'Amico
Director of News and Media Relations
Stockton University
Galloway, N.J. 08205
Diane.DAmico@stockton.edu
609-652-4593
609-412-8069
stockton.edu/media