G.Larry James Legacy Bike Ride Cyclists Pedal for Scholarships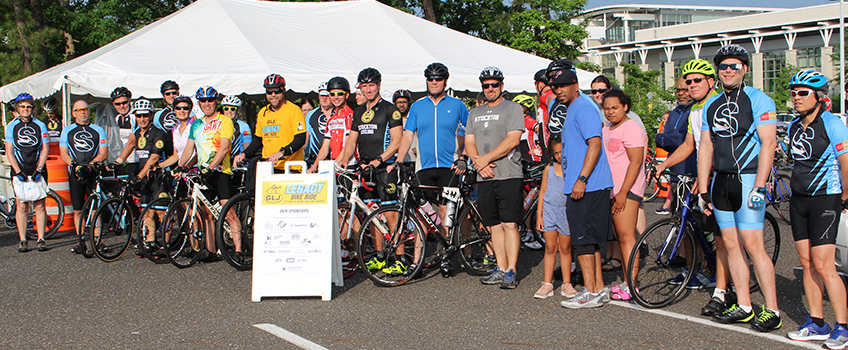 Galloway, N.J. – Robert Kernan, '93 came to Stockton University on June 2 to ride his bike and give back to his alma mater.
"Stockton was very good to me, and I am now in a position to give back," said Kernan, whose firm, RFK Wealth Partners in Northfield, is a sponsor of the G. Larry James Legacy Bike Ride. "It's really amazing to see how the campus has grown."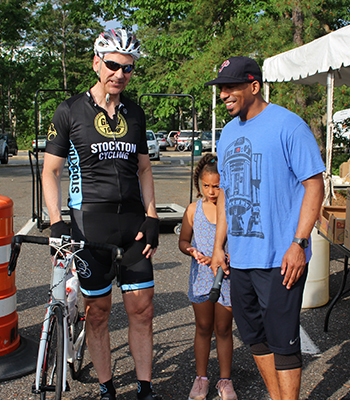 Kernan was one of 160 people who registered for the ride, which celebrated its 10th anniversary this year. The event raises money for scholarships in memory of 1968 Olympic gold medalist G. Larry James, who was a longtime staff member at Stockton.
This year's ride raised more than $25,000, bringing the total raised in 10 years to about $180,000 said Associate Dean of Students Craig Stambaugh, who organizes the race each year with help from a crew of volunteer staff and students from Stockton.
Student Megan Bralski of Linwood, a biology major, is a recipient of a scholarship and she thanked the riders for their support.
"My dad's a cyclist," she said.
Stambaugh said the number of $1,000 scholarships awarded each year has climbed from 15 to 18 as the fund grows.
"We have Larry's legacy to thank for this," he said.
James' son, Larry, attended with his daughters Zoe and Simone. He took a selfie with the riders then formally sent them on their way.
"To have been doing this for 10 years is amazing," James said. "It doesn't seem like my dad has been gone so long. It feels like he's still around. I want to thank you all for the support. We really appreciate it."
Jerry Behney from Quality Products and Services in Reading, Pa. has been a sponsor since the first year and came out to ride the 30-mile loop. Riders have a choice of 12, 30 and 62-mile rides.
"I bike, and this is a good fund-raiser for scholarships," Behney said.
Mitch and Susanna Rovins from Beacon Cycling in Northfield provided tech support for the event. Students from the Circle K Club provided assistance on the route and the Shore Cycle Club helps provide insurance. Chartwells provided lunch.
Other sponsors this year were Gold level sponsors Quantum Capital Management, W.S. Goff Company, Inc., and SupplyWorks; Silver level sponsors Jostens, Galloway Printers, Dee McNeely-Greene, Spay & Neuter, and Petrosh's Big Top Party Rentals; and Bronze level sponsors were Tuckahoe Bike Shop, Just4Wheels, Glenn Insurance, TwinBoro Physical Therapy, TIAA, Beacon Cycling, The Argo, Polisano Construction Services, and Boardwalk Hall.
View a gallery of photos from the event on flickr.
# # #
Contact:
Diane D'Amico
Director of News and Media Relations
Galloway, N.J. 08205
Diane.D'Amico@stockton.edu
609-652-4593
stockton.edu/media