Faculty Host Discussion Panel on the History of Garment Workers in South Jersey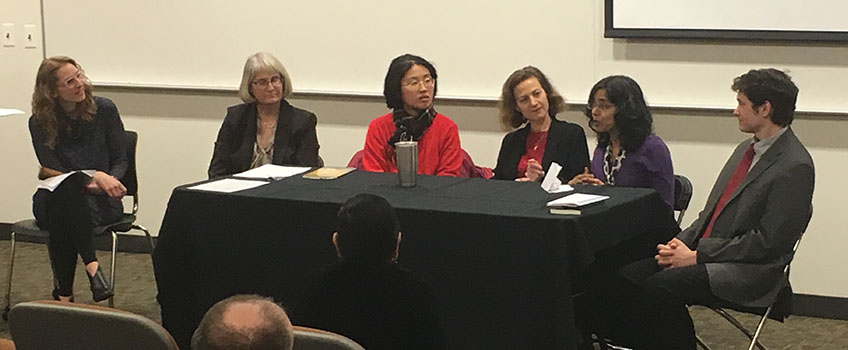 Associate Professor of Literature Adalaine Holton organized a discussion panel focusing on the history of garment workers in South Jersey on March 20 as a celebration of Women's History Month. The event was part of the ongoing programming for the "Why the Humanities Matter Institute for Teachers."
"Three years ago, a group of Stockton University students, enrolled in a graduate level social work class about 'Aging,' embarked on a project to learn about local history from retirees who formerly were garment workers," Holton said. "The project, led by Professor of Social Work Lisa Cox as a SCOSA research fellow, gave students a set of probing questions to elicit stories from individuals who were proud to be connected to the South Jersey garment industry of yesteryear."
The garment industry was an important part of the South Jersey economy throughout much of the 20 century, especially in the town of Hammonton, N.J. The book, "Garment Workers of South Jersey: Nine Oral Histories," includes a collection of informative interviews with nine former garment workers or their family members. Their stories describe a way of life that balanced hard work in the factories with the demands of a caring home life.
During the lecture, panelists contextualized the oral histories collected in the book. The 25 audience members in attendance included K-12 teachers, Stockton students, staff and faculty, and community members. Panelists included Cox, Sharon Ann Musher, associate professor of History, Ramya Vijaya, professor of Economics, Zora Chau, a Stockton alumna, and Shawn Riggins, history teacher at the Cumberland County Technical Education Center and a Stockton alumnus.
After the panel, everyone in the audience received a copy of the book. K-12 teachers present received professional development credit and a set of coordinating lesson plans.
Copies of "Garment Workers of South Jersey: Nine Oral Histories" are sold on Amazon and through Thomas Kinsella, director of the South Jersey Culture and History Center.
_Reported by Marielena Dottoli