Scholarship Gala Raises More than $500,000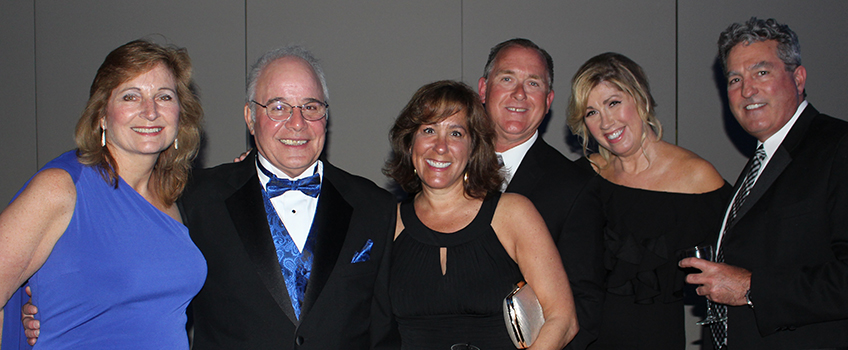 Galloway, N.J. – More than 700 people supported Stockton University's 38th Annual Scholarship Gala at Borgata Hotel Casino Saturday, which along with sponsorships and donations, raised over $500,000.
Stockton President Harvey Kesselman thanked the guests, sponsors and donors for their support, both at the gala and throughout the year.
"Our guiding principle is 'students first,' " Kesselman said. "That is why you are here. Every scholarship makes it easier for our students to succeed."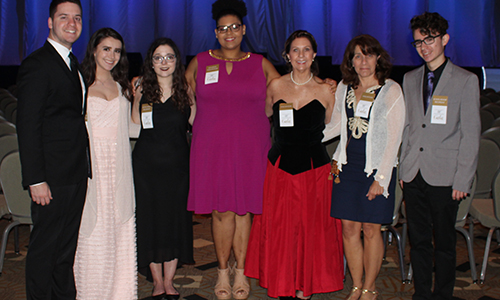 Kesselman also announced that he and his wife Lynne would double their $25,000 commitment to the Lynne and Harvey Kesselman Endowed Scholarship Fund, established in 2015.
Net proceeds from the event support the Stockton University Foundation Benefit Gala Endowed Scholarship Fund, which provided more than $112,000 in scholarships to over 100 students last year.
Almost nine of every 10 students at Stockton receive some type of financial aid. Several students who have received scholarships from the gala fund attended the event Saturday.
Utah Adams of Hope, N.J. will graduate in May with a degree in environmental science and is hoping to get a job working in pollution regulation.
"The scholarship really shows that people care about us," he said. "I felt like I mattered."
Student Kayla Langborgh of Chatham, who will graduate in May with a degree in hospitality and tourism, said the scholarship allowed her to worry less about money.
"It was an opportunity to keep learning and not worry so much about the financial burden on me and my family," she said.
Daniel Nugent, Stockton's Interim Chief Development Officer and Executive Director of the Stockton Foundation, thanked the gala committee, volunteers and all who assisted in making the event a success.
"Most importantly, this directly benefits students," he said.
Guests began the evening with a wine and champagne reception followed by a special performance by tenor Christopher Macchio.
Following Macchio's performance, guests enjoyed a strolling reception then danced to party band Legacy.
Throughout the evening guests bid on auction items. Tito's Handmade Vodka, a primary partner for this year's event agreed to match the first $10,000 raised through the auction.
Dolce Hotels & Resorts and International Brotherhood of Electrical Workers (IBEW) Local 351 are this year's Chairs' Circle sponsors.
Other top sponsors include: ACUA; AtlantiCare; Avalon Flooring; Azeez Foundation; Barberio and Rich Financial Services; Bonnie D. Putterman, Esq; Borgata Hotel Casino & Spa; Bricklayers & Allied Craftworkers; Capaldi Pelosi & Reynolds; Chartwells; Cooper Levenson; Mr. & Mrs. Tony Coppola Dr. Howard and Gayle Gross; FantaSea Resorts; Follett Higher Education Group; Fox Rothschild; Fulton Bank of New Jersey; Glenn Insurance; Hard Rock Casino & Hotel; Kramer Beverage; Local Union #322 Plumbers & Pipefitters; Marathon Engineering & Environmental Services; Michelle Lenzmeier Keates, Janney; Northeast Regional Council of Carpenters & Carpenters Local 255; Pennoni; Pennsylvania Trust; Pepsi Beverage Company; Quantum Capital Management; Resorts Atlantic City; Rothman Institute; Saul Ewing Arnstein & Lehr; Shore Medical Center; SOSH Architects; South Jersey Industries; Tito's Handmade Vodka; and Townsquare Media.
Since 2007 the Benefit Gala has added more than $3.8 million to the endowment in support of student scholarships. The endowment is a part of the Foundation, which has grown its net assets from $3 million in 2003 to nearly $35 million today. More than $640,000 was awarded by the Foundation to deserving students this year.
# # #
Contact:
Diane D'Amico
Director of News and Media Relations
Galloway, N.J. 08205
Diane.D'Amico@stockton.edu
609-652-4593
stockton.edu/media