Forest Management Returns Fire to the Forest Ecosystem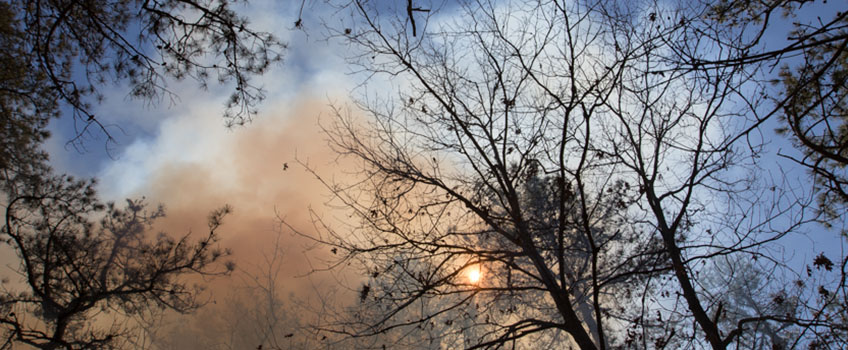 The controlled burn on Stockton's campus March 18 was part of the university's 10-year Forest Management Plan--the first comprehensive plan by a state entity approved by The Pinelands Commission in 2013. Stockton students participated to collect data for forestry research.
Active management of Stockton's forest began in 2015 to protect and restore its Pinelands forest ecosystem from threats such as the encroaching Southern pine beetle and to cultivate a future of enhanced education, recreation and healthy habitat for wildlife.
The plan also returns fire to the ecosystem. Years of fire suppression resulting in dense turf on the forest floor has prevented pine seedlings from sprouting and beginning a new generation of trees.
Robert Williams, of Pine Creek Forestry, was hired to develop the plan in coordination with George Zimmermann, professor of Environmental Studies and an expert in the ecology of the Atlantic white-cedar. Faculty members in a variety of fields from hydrology to wildlife conservation are conducting research within the managed forest.
Those who aren't in a forestry course can still experience the management firsthand by walking the two interpretive trails, one along Delaware Avenue and another in the northeast campus forest, that are labeled with a series of QR codes explaining the forest management treatments. The trails and educational videos are also available online.
Below is a photo story by Susan Allen capturing highlights from the controlled burn.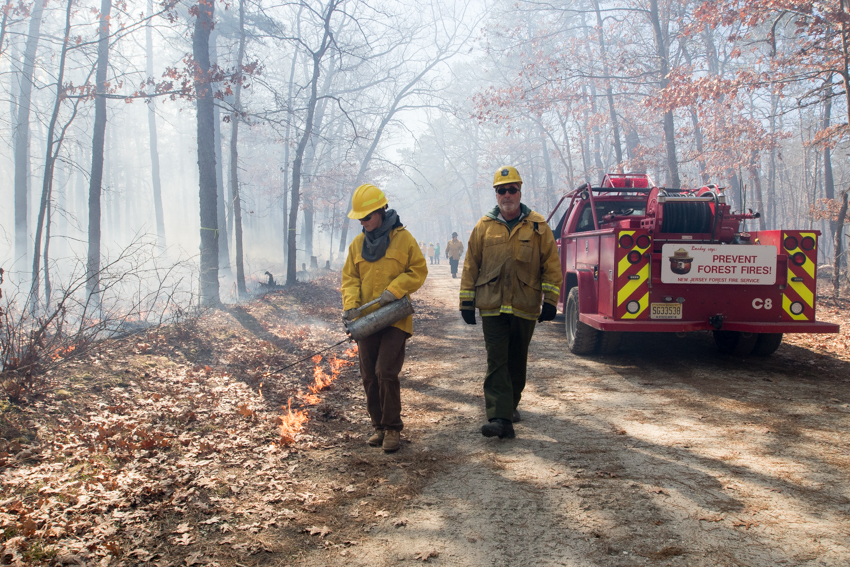 Criminal Justice freshman Ashley Emmell draws a line of fire to begin burning a designated plot along Delaware Avenue. She was working for the New Jersey Forest Service with her father, Bill Emmell, a district warden (not pictured).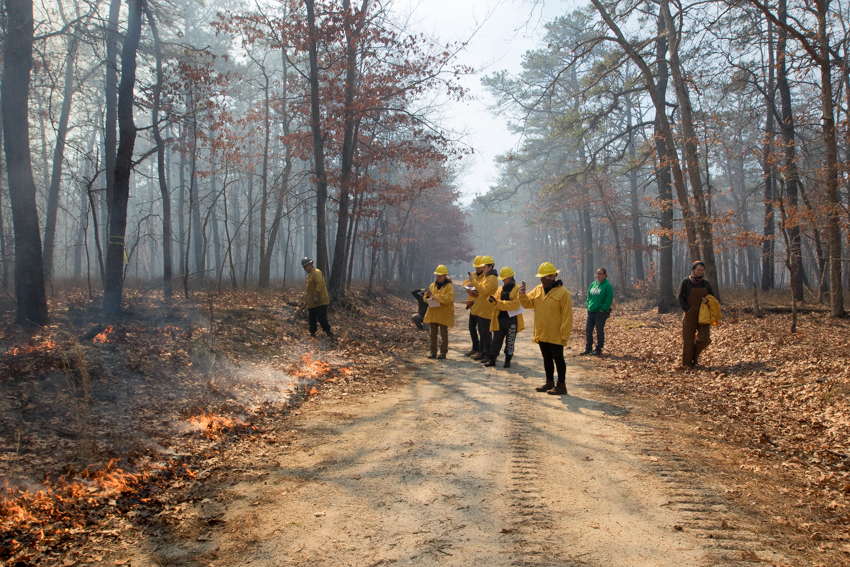 Students taking the Forest Measurements course had front row seats to witness the fire. They buried thermocouples (temperature sensors) to record flame heat and speed, and used infrared guns to measure heat within the forest. Fire fuel loads will be measured before and after the burn, and tree and understory growth will be measured over the long term.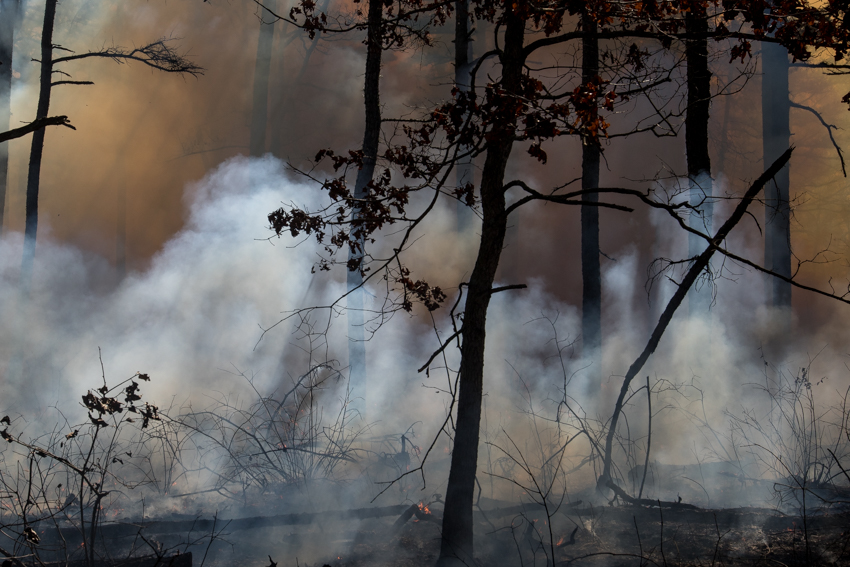 Smoke rises as fire removes fuel from the forest floor. "Fire is essential to the health of the forest," explained Robert Williams, of Pine Creek Forestry, who worked with Professor George Zimmermann to develop a plan for Stockton.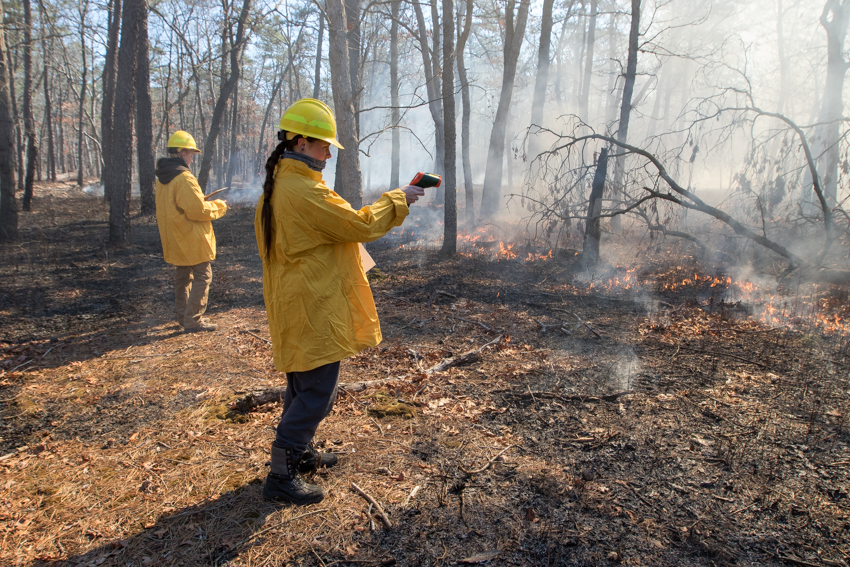 Alexis Everland, a senior Environmental Science major with a concentration in Forest Management, uses an infrared gun to measure the temperature next to the flames. Holly Seelman, a junior Environmental Science major, records the reading.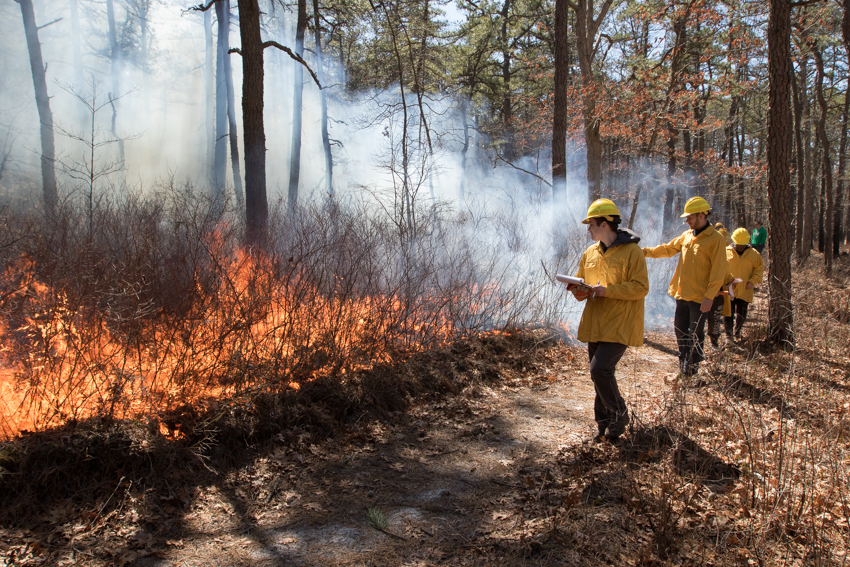 Stockton is analyzing how prescribed fire affects three different forest treatments: small patch clear cut with variable retention (where the healthiest trees remain untouched to accelerate recovery), low thinning (removal of the weakest tress in the lower portion of the canopy) to prevent southern pine beetle infestation and reduce the threat of wildfire, and a controlled area left untouched for comparison to the forest condition prior to management.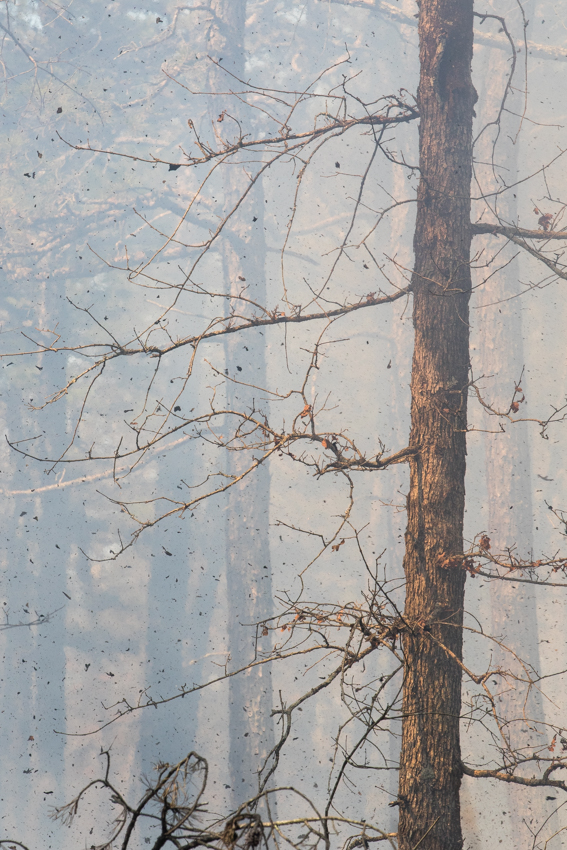 While walking through the woods during the burn, Robert Williams explained, "We have some individual pine trees here that are approaching 150 years old, so it's important to us that we manage them to allow them to grow maybe another 150 years. You don't see many old trees in New Jersey, so that old growth structure is important. We've cut trees that were competing with the old trees. The old trees want to be burned. Their bark is thick and they can handle this fire, but they want a more open forest. They don't want to have to be stressed to compete for the nutrients and water in the soil."
Watch a video featuring Robert Williams here.