Sheila Oliver Says U.S. Needs More Fannie Lou Hamers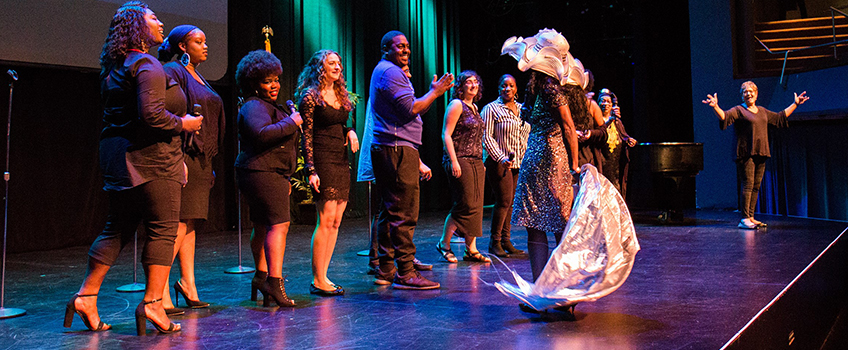 Galloway, N.J. - Women have been in the forefront of caring for communities all through time, New Jersey Lt. Gov. Sheila Oliver told participants at the 15th annual Fannie Lou Hamer Symposium on Oct. 9. But today they are becoming more political, and being taken more seriously.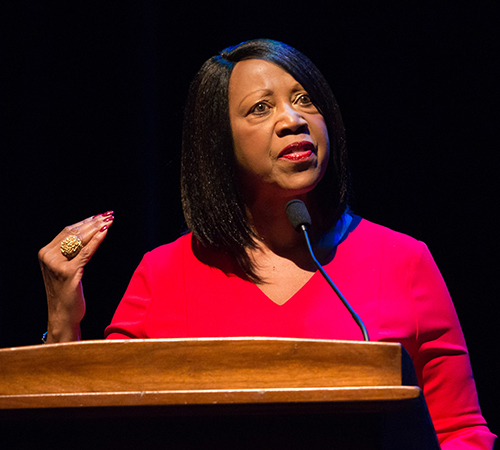 "The country is beginning to pay attention to the networks of black women who have stood and said they are sick and tired of being sick and tired," Oliver said, using the phrase Hamer made famous at the 1964 Democratic Convention in Atlantic City.
In her talk, titled "Having Our Say: Women of Color in the 2018 Election," Oliver cited Stacey Abrams, who is running for governor in Georgia, and Congressional candidates Ayanna Pressley in Massachusetts and Alexandria Ocasio-Cortez in New York, as examples of women of color who have broken through the barriers of establishment politics.
But, she said, it was women like Fannie Lou Hamer, who fought for voting rights in Mississippi in the 1960s, and Shirley Chisolm, the first black woman elected to Congress is 1968, whose influence continues today.
"I remember Fannie Lou Hamer at the Democratic Convention in 1964," Oliver said. "She was a poor black woman living in the belly of Jim Crow and segregation. But she was an extraordinary community organizer. For her to have the audacity in the 1960s to rise up and participate was the most courageous thing she could have done."
Oliver said it is not time for her generation to being grooming the next group of leaders, but those young leaders must come forward and get involved.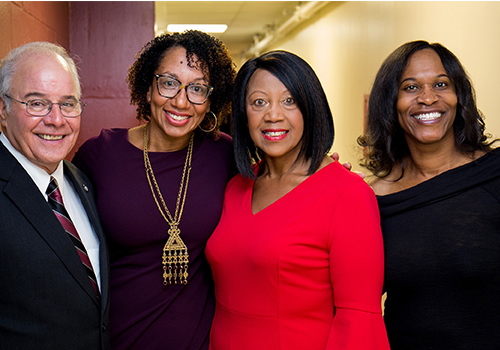 "If your voice is not in the room, you cannot change anything," she said. She warned that politics is not for the faint-hearted, and it takes an alligator hide to survive.
"I like the phrase that leadership is the only ship that does not return to port in a storm," Oliver said. "Let us stop the political divisiveness. Let us band together and we can change the course of history in this country."
Panelists in a discussion after the talk stressed that young people must not just get involved, but stay involved, to make change.
"You have to keep working between elections," said Atlantic City Councilman Kaleem Shabazz, who noted that Republicans spent decades slowly working to identify and place conservative justices into positions across the country.
Christabel Cruz, director of the Center for American Women and Politics noted how under-represented women of color are in all levels of politics. She said having someone like Oliver as a role model is important.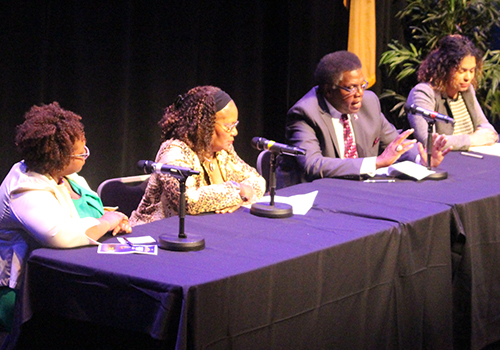 "There is an impact to seeing someone who likes like you at the front of the room," Cruz said. "The more women get involved, the more women will get involved."
Distinguished Professor of Social Work Patricia Reid-Merritt said "sister power" is important if used in the right way to social justice and in ways that benefit all of society.
The 15th anniversary celebration featured a video of past symposium speakers talking about Hamer, performances by a choir led by Professor of Music Beverly Vaughn and a tribute to Aretha Franklin by the Afro-One Dance Group coordinated by Professor Patricia Reid-Merritt.
"If Fannie Lou Hamer were here today, she would be in the trenches, on the front line, leading the way to the polls" Stockton president Harvey Kesselman said.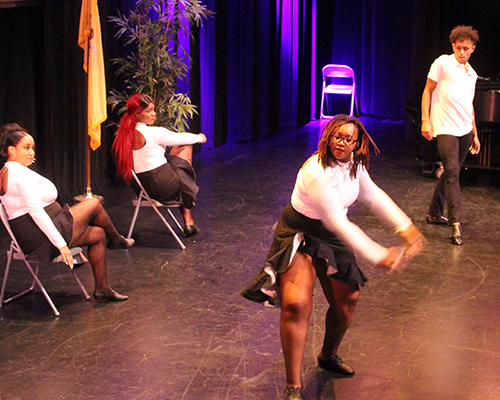 "Allow your voice to be as fearless."
The annual event is co-sponsored by the Africana Studies Program, the Unified Black Students Society, the Office of the Provost, Council of Black Faculty and Staff, Office o the President, Office of Institutional Diversity and Equity and Office of Student Development.
UBSS President Haashiam Smith-Johnson said people like Hamer and Oliver are role models who provide hope for the future.
Professor of Communication Donnetrice Allison, who organized the symposium said Hamer is not as recognized nationally as she should be, but at Stockton, she is remembered every year.
"You should not leave Stockton without knowing who she is," Allison said.
# # #
Contact:
Diane D'Amico
Director of News and Media Relations
Galloway, N.J. 08205
Diane.DAmico@stockton.edu
609-652-4593
609-412-8069
stockton.edu/media