High School Students Dance Around Stockton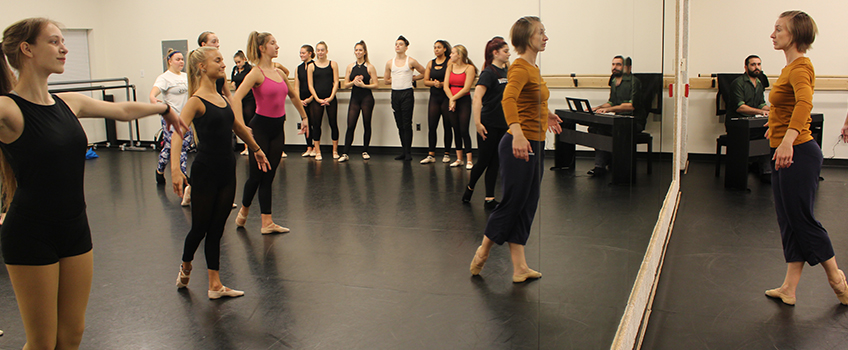 Galloway, N.J. – More than 200 area high school students danced their way around Stockton University at the annual Experience Dance Day Oct. 26.
The annual event gives high school juniors and seniors the chance to experience what it would be like to study dance at the college level. Participants took a variety of movement classes with Stockton faculty and guests, alongside current Stockton dance program students.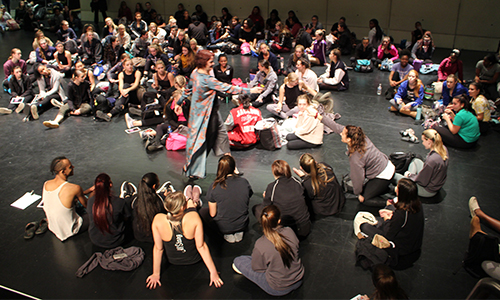 Classes were taught by Stockton dance faculty: Associate Professor of Dance Rain Ross; Assistant Professor of Dance Caitlin Quinn Pittenger; Assistant Professor of Dance Beau Hancock; Chandra Moss-Thorne, and Visiting Artist in Dance Chandra Moss-Thorne.
They were joined by guest artists and master teachers Caroline Fermin, Ellie Goudie-Averill, and Erin Pasko. Fermin, a choreographer from New York City, is creating a new work for Stockton's dance program, and Ellie Goudei-Averill of New York City, a co-director of the Stone Depot Dance Lab.
Participating students came from throughout New Jersey and Philadelphia. Several area high schools brought groups of students, including the Ocean County Vocational School Performing Arts Academy, Gloucester Institute of Technology , Vineland High School, Atlantic County Institute of Technology, Absegami High School, Egg Harbor Township High School, Cedar Creek High School, Oakcrest High School, and Union City High School.
"I feel like I just got here two minutes ago," a student said as her dance session ended.
Ross led a question and answer session for the students, explaining that they could major or minor in dance. Stockton also has a dance team which has traveled to national competitions.
"Even if you major in business, you'll still dance a lot," Ross said. She said some dancers major in physical therapy and plan to study dance therapy.
The dance program also takes transfer students.
"We see you all as individuals and we will work with you," Ross said.
More information on the dance program is online at Stockton.edu/dance.
# # #
Contact:
Diane D'Amico
Director of News and Media Relations
Stockton University
Galloway, N.J. 08205
Diane.DAmico@stockton.edu
609-652-4593
609-412-8069
stockton.edu/media