Hughes Center Hosts Esports Summit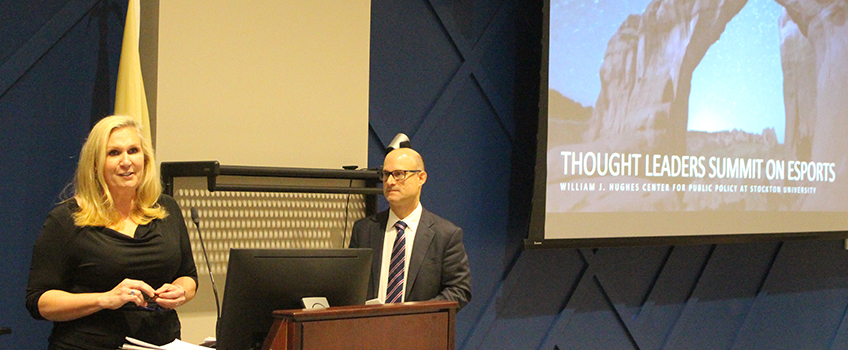 Atlantic City, N.J. _ The potential for Atlantic City to become a mecca for esports was discussed at a Thought Leaders Summit on Esports hosted by the William J. Hughes Center for Public Policy at Stockton University at the new Stockton Atlantic City campus on Oct. 18.
More than 70 representatives from esports, government and businesses attended the summit to discuss how esports could benefit the city and the potential challenges. The event was co-hosted by Porzio Governmental Affairs.
A panel of representatives from nine esports companies discussed the current state of the industry and what Atlantic City would have to do to become a part of the rapidly growing esports economy. Legislative and business representatives discussed the legal and economic potential and pitfalls.
Public Policy Panelists were: James E. Johnson, Special Counsel to Gov. Phil Murphy on Atlantic City; Braxton Plummer, Senior Advisor, N.J. Department of Community Affairs; Marshall Spevak, Deputy Executive Director, Casino Reinvestment Development Authority; Lauren Moore, Executive Director, Atlantic County Economic Alliance; and Joseph Kelly, President, Atlantic City Chamber of Commerce. Barbara DeMarco of Porzio Governmental Affairs, a consultant to Continent 8 Technologies, moderated.
Esports Panelists were: John Fazio of Nerd Street Gamers, Ari Fox of Casino/eSports Conference, Anthony Gaud of INGAME ESPORTS, Blaine Graboyes of GameCo, Bai Ng of Neomancer, Seth Schorr from Fifth Street Gaming and a consultant to Ocean Resort and Casino, Matty Kirsch from UMV, Joe Kurts, an eSports Marketing Executive, Dana Kawar and Hector Rosario from Flipside Pro eSports Team, Mike Dalton from Unikrn, and via Zoom, Ian Smith, eSports Integrity Commissioner and Gregg Zinone of 514 eSports. Angela Bernhard Thomas of INGMAE ESPORTS, a consultant to MEET AC moderated.
Smaller panel discussions addressed Technology, Infrastructure and Labor Needs; Economic Development Past, Present and Future; Community Engagement and Esports; Safety and Security; Education and Workforce Development; and Licensing, Legislation and Regulation.
The summit is part of a new initiative by the Hughes Center to study and provide insight into the esports industry, its potential for economic development in Atlantic City, and policy-related issues. Michael Klein, interim executive director of the Hughes Center, will issue a briefing paper on the results of the summit in the next few weeks.
View a photo gallery of the event on flickr.
# # #
Contact:
Diane D'Amico
Director of News and Media Relations
Galloway, N.J. 08205
Diane.DAmico@stockton.edu
609-652-4593
609-412-8069
stockton.edu/media