Documentary Promotes Passage of Equal Rights Amendment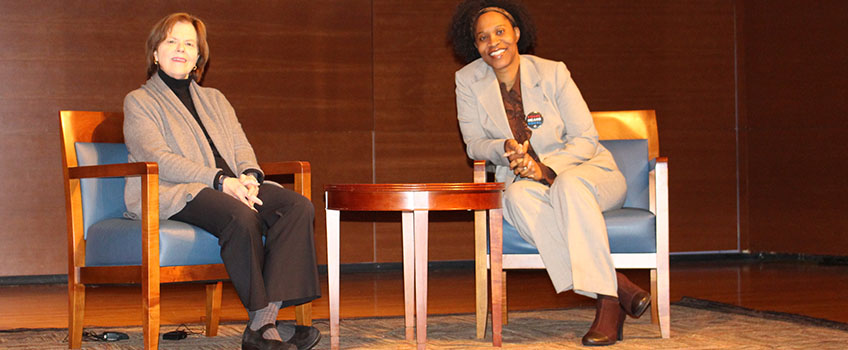 Galloway, N.J. – The Equal Rights Amendment came three states short of ratification in 1982.
But speakers at a showing and discussion of the documentary Equal Means Equal said many people believe it did pass, or isn't needed, making it even more difficult to bring it back today.
"But the ERA is still needed, now more than ever in the Trump era," said Professor of Political Science Linda Wharton, who is featured in the film.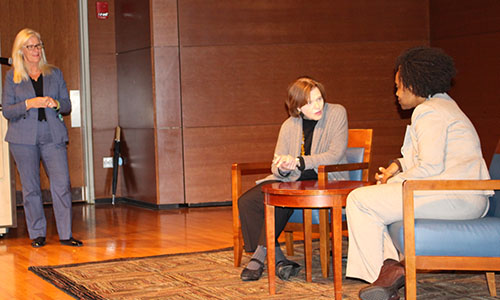 The 90-minute film by Kamala Lopez outlines the ongoing unequal treatment of women in the United States through issues such as pay, sexual harassment, domestic violence and human trafficking. It shows how women have struggled to get equal treatment under laws, and includes a clip of the late U.S. Supreme Court Justice Antonin Scalia talking about how the U.S. Constitution does not guarantee equal protection for women.
"The danger is that (Trump) will get more U.S. Supreme Court appointments," Wharton said.
Wharton got involved in the film through her scholarly work on state equal rights amendments and her equal rights advocacy for women before she came to Stockton. As the Managing Attorney of the Women's Law Project in Philadelphia, she litigated gender discrimination cases under Pennsylvania's Equal Rights Amendment. Lopez asked her to advise on legal issues for the documentary.
Wharton said the ERA has been introduced again in Congress, and a bill in the N.J. Legislature urges Congress to support it. But it has few sponsors.
"The original ERA had bipartisan support," Wharton said. "It sailed through Congress in 1972."
But by 1982 only 35 states had ratified it, three short of the 38 states required to amend the Constitution.
After the film, Wheaton and Professor of Communications Donnetrice Allison talked about the film and the ERA. Allison said every inequality suffered by women hits women of color even harder.
"For every challenge, the challenge is that much harder," she said. "Seventy-five percent of women in poverty are women of color."
About 100 people attended the event, and some asked what they could do to help pass the ERA today.
"I'm from the Gloria Steinem era," said Dr. Theresa McReynolds of Galloway Township, citing the renowned feminist who helped lead the fight in the 1970s. "I worked really hard on the first ERA. It was so disappointing when it did not pass. It's time to start it up again."
McReynolds said women do have more choices today, but there is still a lot to do.
"This is your opportunity to spark the conversation," said Eileen Conran-Folks who moderated the discussion.
Wharton and Allison suggested people write their state and national legislators and even consider running for public office to increase the number of women in power.
"Legislators are not going to get on board unless they hear from you," Wharton said.
# # #
Contact:
Diane D'Amico
Director of News and Media Relations
Galloway, N.J. 08205
Diane.D'Amico@stockton.edu
609-652-4593
stockton.edu/media