'Engage Atlantic City" Addresses History, Future of the Resort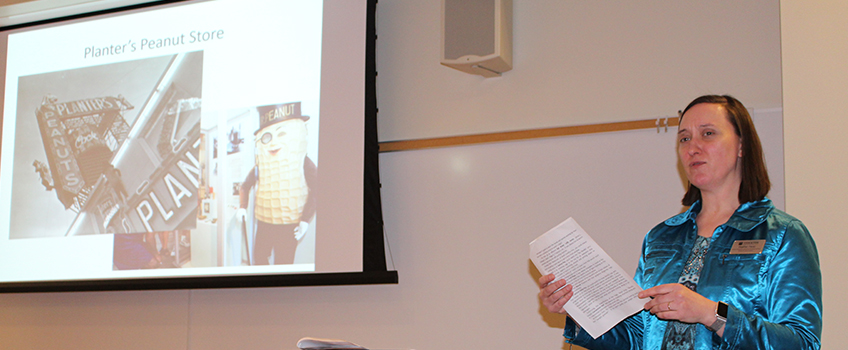 Galloway, N.J. - From its earliest beginnings as a resort for the Lenni Lenape Indians to its heyday as "America's Playground," Atlantic City has had a colorful and interesting history.
Stockton faculty and staff have been sharing their research and expertise on the city in a series of lectures designed to introduce and familiarize faculty, staff and students with the city where Stockton will open a new campus in the fall.
Stockton archivist Heather Perez led the "Engage Atlantic City" series Feb. 8 with a slide show on the Atlantic City Experience. The former archivist for the Atlantic City Library, Perez shared slides and stories from when the Leeds family settled the city in the late 1700s to Jonathan Pitney's efforts to market the city as a health resort in the mid-1800s.
"I have a passion for Atlantic City," she said. "It is an amazing town with an interesting history."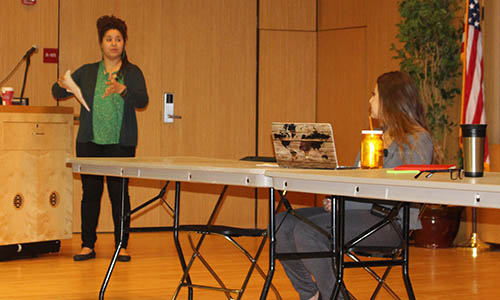 Perez shared how the early Boardwalk was built to keep sand out of the beachfront hotel lobbies, and how the city largely ignored the Prohibition Era regulations on alcohol.
"People came here to have a good time," she said.
The city became "Camp Boardwalk" during World War II when the military used the hotels for training and recovery. But after the war the city began to decline and it took casinos to bring it back in the late 1970s.
While the city is known for tourism, it also has a core population of year-round residents.
"It really is a small city with a huge influx of visitors," Perez said. She talked about the different neighborhoods and how residents lived the summer tourism lifestyle of "three months to hurry and nine months to worry."
The second "Engage Atlantic City" lecture addressed race, ethnicity and politics, featuring panelists Michael Rodgriguez, associate professor of political science, Christina Jackson, assistant professor of sociology, and student Alejandra Londono, a senior majoring in sociology, anthropology and Spanish language and culture who grew up in Atlantic City.
Rodriguez talked about Atlantic City as a gateway city for immigrants who could come and get entry level jobs in hotels and restaurants.
Different groups settled in different parts of the city, and Jackson talked about research she is doing on segregation and "redlining" in the city which prevented residents, often black, from obtaining mortgages and services.
"People liked living in the Northside," she said of the predominantly black neighborhood. "There was a self-sustaining neighborhood of businesses and a booming cultural life."
But social boundaries and redlining made it hard for people to get loans and sustain the area.
Londono said many Hispanics came to Atlantic City to get jobs and live the immigrant life of "work hard, make money."
But Hurricane Sandy and the casino closures fractured the population, and while new residents come in from many countries, some are undocumented, and there is a lack of unity among Latinos as a group.
Two more programs are planned.
" 'Voices from Atlantic City': Revitalizing Community in a Changing Economy" will take place from 6-7:30 p.m. on Monday, April 9 in the Campus Center Theater. The event will feature a screening of the documentary "Voices from Atlantic City" followed by a panel discussion with Deborah M. Figart, distinguished professor of economics; Ellen Mutari professor of economics; Merydawilda Colon, executive director for the Stockton Center for Community Engagement; and Evan Sanchez co-founder, Authentic City Partners and ThisIsAC.
"Deliberative Dialogue on Public Health in Atlantic City" will take place in two sessions from 10:30 a.m.–12 p.m. and 12:30–2 p.m on Tuesday, April 17in the Campus Center Event Room. The event will feature interactive sessions where students will engage in guided discussion and deliberation about different policy ideas for improving public health outcomes in Atlantic City.
The "Engage Atlantic City," series is being coordinated by Stockton's Political Engagement Project. All events are free and open to the public.
# # #
Contact:
Diane D'Amico
Director of News and Media Relations
Galloway, N.J. 08205
Diane.D'Amico@stockton.edu
609-652-4593
stockton.edu/media