Elizabeth Alton - A Lasting Legacy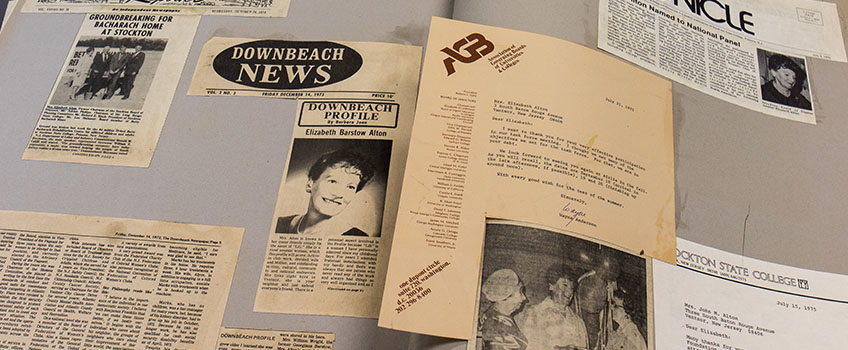 Galloway, NJ - As a child, Karen Alton's grandmother, Elizabeth Barstow Alton, instilled in her granddaughter the value of having an education.
"She always told me growing up: Go to college, get an education, and you can do anything you want," Karen recalled. "She mentored me in many ways; beyond just education."
Elizabeth and her daughter wanted Karen to attend their alma mater, Syracuse University. "My grandmother would bring out books on how to get scholarships. She would highlight scholarships for me to apply, so I could attend college," said Karen, who graduated from Atlantic City High School, studied at Atlantic Cape Community College and then received a degree in Diagnostic Imaging from Thomas Jefferson University.
It was not until later in her life, after Elizabeth wrote "The Stockton Story: A History of the Founding of Richard Stockton College," that Karen learned about her grandmother's immense influence, advocating for a college in South Jersey.
"My grandmother, Elizabeth Alton, fought tirelessly to bring education into South Jersey at a time it so desperately needed it," Karen explained. "She made it her own personal mission in the 1960s to place the next New Jersey college in the southern portion of the state."
Born into a prominent family in Atlantic City, Elizabeth Alton graduated from Atlantic City High School and Syracuse University and later married her high school sweetheart, John Alton. The couple settled in Ventnor and had two children. Her husband supported her active roles in many community and state organizations. She was even invited to attend tea at The White House by First Lady Eisenhower.
"She had a lot of her experiences because of her family and that molded her into the activist [that she became]," Karen explained.
Elizabeth's quest to bring a college to South Jersey evolved from remarks she had made during a meeting of the Atlantic City Kiwanis Club. She had been invited to make a presentation about the bicentennial anniversary of Rutgers University. During the speech, she had mentioned that South Jersey needed its own state college. Soon, Elizabeth was presenting at various groups and writing hundreds of letters and lobbying for a college in South Jersey, eventually gaining the support of State Sen. Frank S. Farley.
"During a cultural revolution when women were still fighting for a voice, she would drive to Trenton and sit in the governor's office for hours until someone spoke to her. Some nights she arrived home to her family after midnight, a daring feat in those days," Karen said. "She believed in her heart what she had to say was important; that education should be an opportunity for everyone, not just for those in the more densely populated north segment of the state."
In 1969, legislation was passed, establishing the new college. In 1971, Stockton held its first academic semester at the Mayflower Hotel in the Atlantic City before opening its new campus in Galloway in January 1972.
"She was truly ahead of her time," said Karen about her grandmother. "She never took no for an answer. She was a true leader."
Over the years, Karen Alton, who owns a consulting service in Maryland, has known many friends who have graduated from Stockton. In 2004, Karen received the dedication of the Elizabeth Alton Auditorium on behalf of her grandmother.
In recent years, Karen and her family have reconnected with the University following the establishment of The Elizabeth Alton Endowed Memorial Scholarship and Harvey Kesselman's presidential appointment.
Kesselman opened the door for the Alton family to continue to keep Elizabeth Alton's legacy alive, explained Karen.
"As soon as I met Harvey, I went to my aunt and uncle and said we had to contribute to the scholarship and become involved with the University," she said. "He's the right person to be leading this University. His passion was infectious. He gets it. He is real a mover and shaker. He really spoke to me."
In 2016, Karen joined the Vision Tour during Kesselman's stop in Washington, D.C. She described how the president's message really resonated with her, and she left the presentation "buzzing with energy."
"As I left the Presidential Vision Tour, I felt a magnitude of Stockton's educational growth and success, its overflowing desire for community involvement, and dedicated alumni. Stockton University is a very special place. I am proud to be part of its distinct heritage and look forward to its bright future."
--Reported by Meaghan Haugh Resta