Picture Stockton ... Students Get Hooked on Ecology One Cast at a Time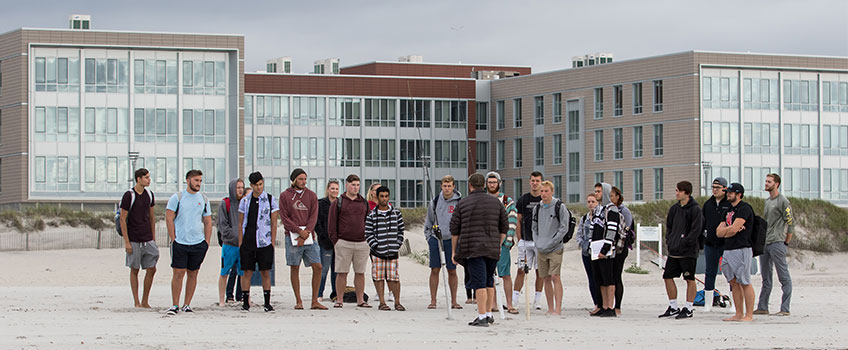 With fishing rods in hand, students cross Atlantic Avenue on their way to the beach in front of Stockton's new residential building on the Atlantic City Boardwalk. They are on their way to class.
Adam Aguiar, assistant professor of Biology, takes full advantage of the beachfront campus where he teaches his general studies course that explores the ecology behind saltwater fishing.
Shoes are optional once the students reach the sand.
Aguiar teaches molecular biology, genetics and evolution, but he's also an avid fisherman, so he created "Ecology and Saltwater Fishing" as a general class for students to learn more about angling technique, how species interact with their environment and the conservation of marine life.
As the fall semester begins, the Atlantic striped bass, a predatory species with dark, distinctive stripes running across its metallic body, begins to chase bait. Students head to the surf for a front row seat as one of the East Coast's most anticipated fish wonders unfolds.
Aguiar was introduced to angling and the marine environment by his grandfather at age 8, and "the number of adventures and stories I have accumulated from my passion, specifically for striped bass, seems infinite," he said.
That passion is evident in his enthusiasm as he provides one-on-one instruction and encouragement to each student as they practice their casts on the beach with both spinning and standard reels.
For some students, it's their first fishing experience, while others are already hooked on fishing and seeking more advanced skills.
A tackle box and a variety of lures fill one student's backpack. Ryan Tozour, a Biology major, began fishing for flounder in the back bays with his family before he was old enough to go to school and is excited to have the opportunity to learn the ecological connections between the species he's grown up catching. He points to the birds feeding just offshore, a sign that fish are nearby, and heads over to check out the feeding frenzy.
Raul Flores, a Criminal Justice major, plans to pursue a career as a game warden and is taking as many wildlife courses as he can. He works as a dispatcher in Princeton, N.J. and fishes frequently out of Belmar.
Jillian Hollberg, a Marine Science major, has always been fascinated by marine life, but the art and science of angling is new to her. Kyle Gentek, a Finance major who transferred to Stockton after living in Florida, is used to catching Florida species like snapper and drum, but New Jersey's coastal waters are offering a new variety of species to explore.
Luck is only a small variable in fishing. On the beach, Aguiar encourages students to take note of the tide, moon phase, wind direction and temperature—all factors that affect how fish behave.
Knowing what fish are feeding on and where the bait is headed are questions that Aguiar is always thinking about. "Problem-solving, pattern-recognition and behavioral understanding of the targeted fish species is an ongoing learning experience," he expalined.
Dante Soriente, owner of Magictail Bucktails fishing lures, has been a role model to Aguiar and supporter of the learning experiences he is creating for his students at Stockton.
Aguiar's course is inspiring students to get outside, appreciate New Jersey nature and conserve our natural resources for future generations to enjoy fishing.
Note: Aguiar has written for The Fisherman magazine about peanut bunker blitzes, sand eel raids and plugging for fall stripers (plugs are lures that mimic swimming prey with a life-like wobble when reeled in). He also tags striped bass for the American Littoral Society to help gather data to better understand their migration habits.
View the photo story by Susan Allen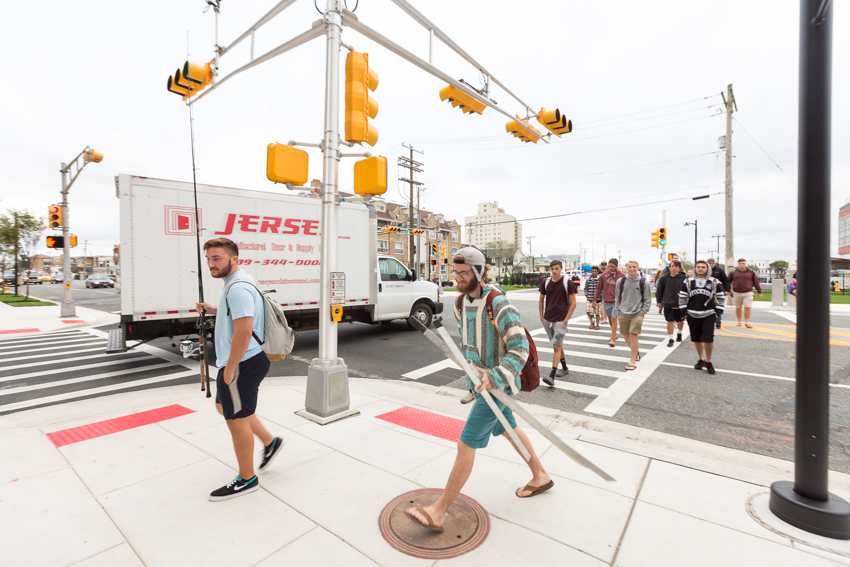 Students head to their classroom on the Atlantic Ocean.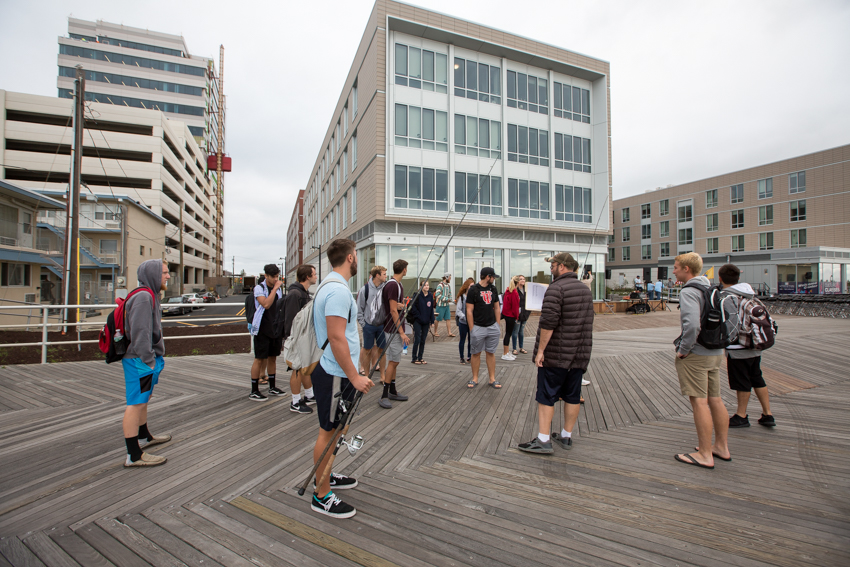 Adam Aguiar tells students to note the environmental conditions as they head to the beach.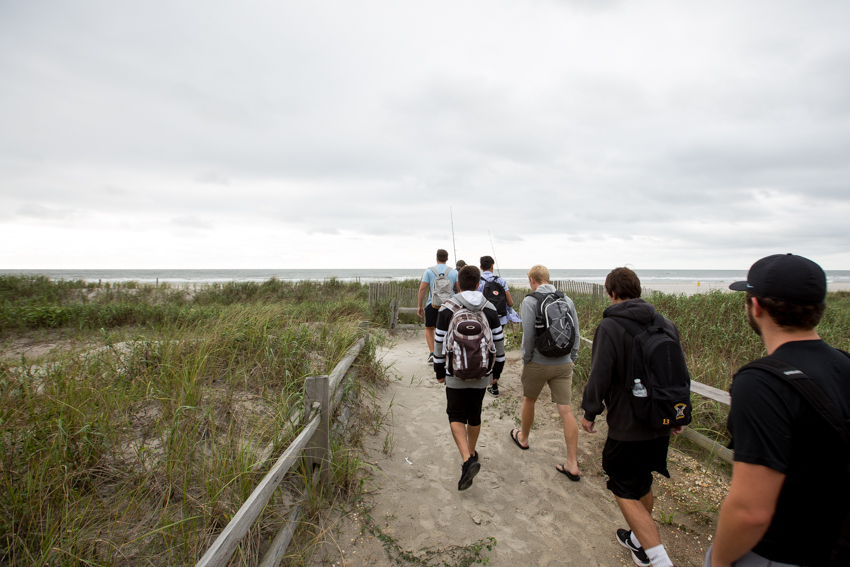 The Stockton Atlantic City campus provides unique learning opportunities.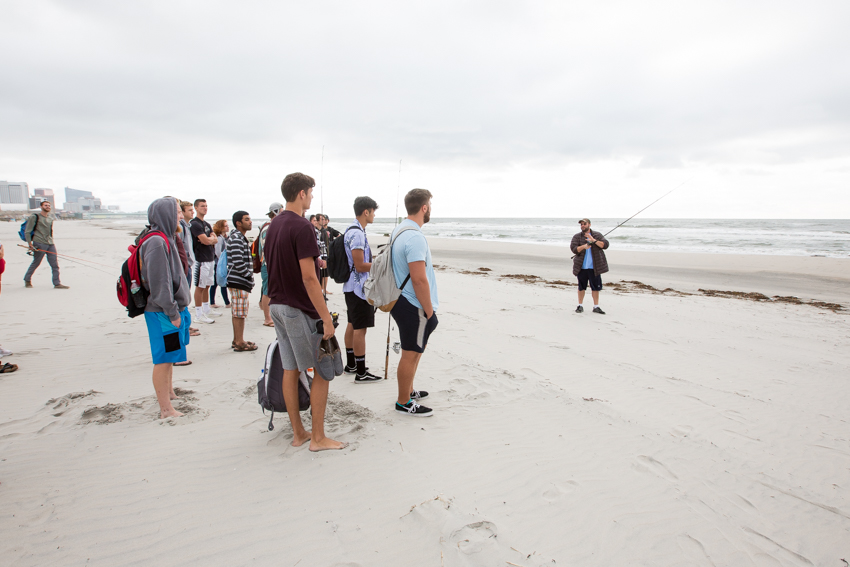 Adam Aguiar demonstrates casting safety and technique.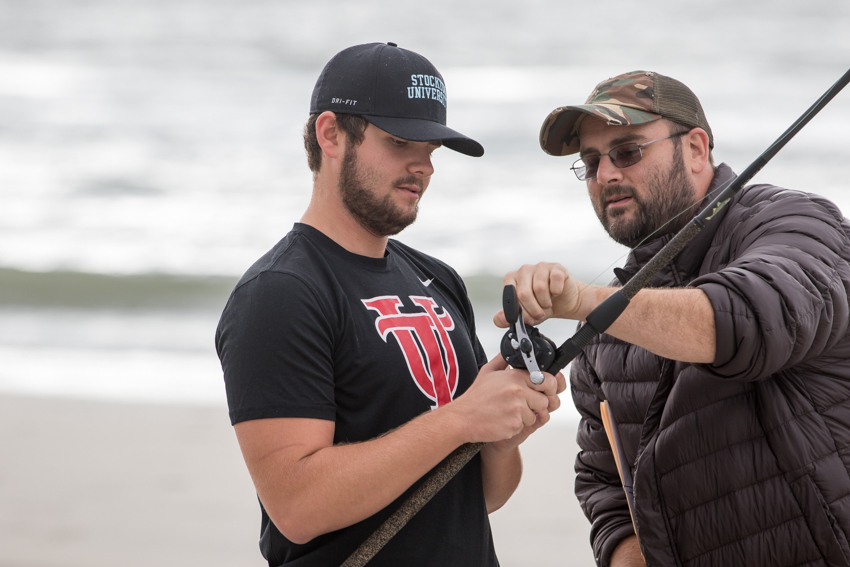 Students get one-on-one instruction.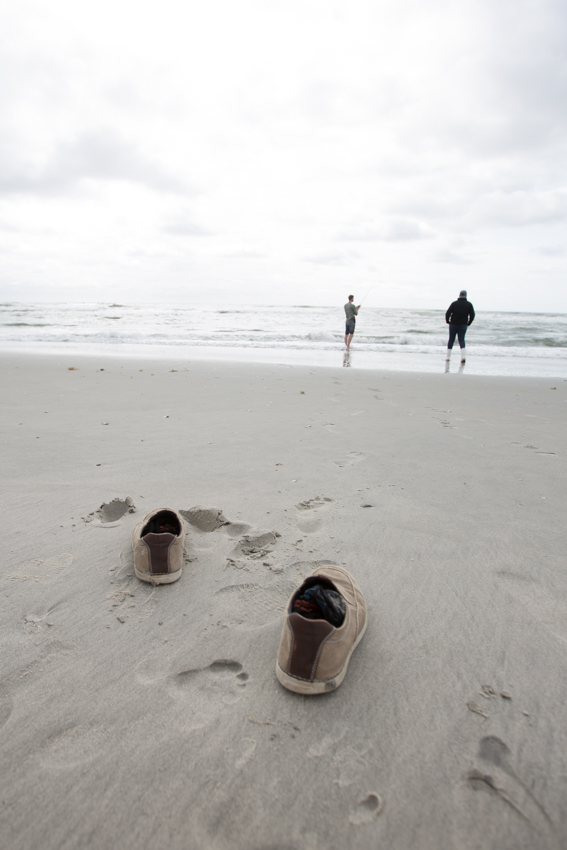 Shoes are optional.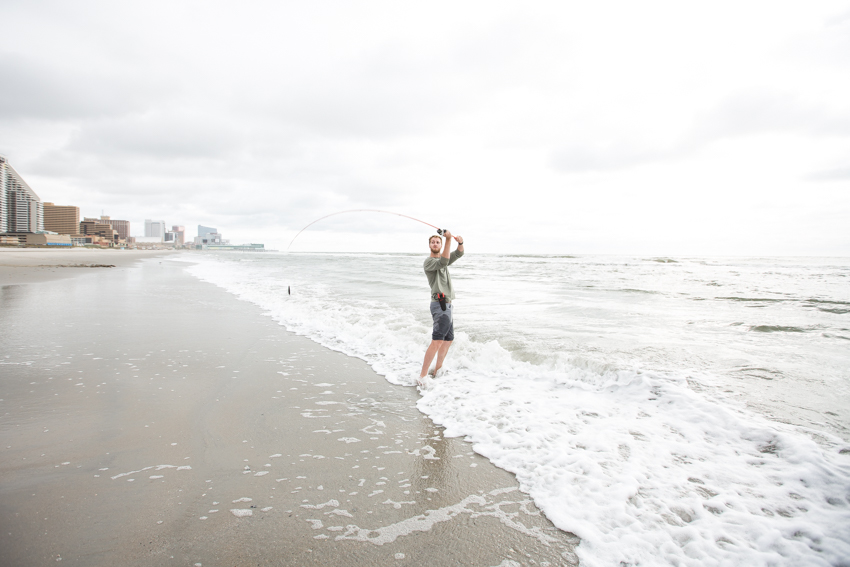 Students can choose to get their feet wet.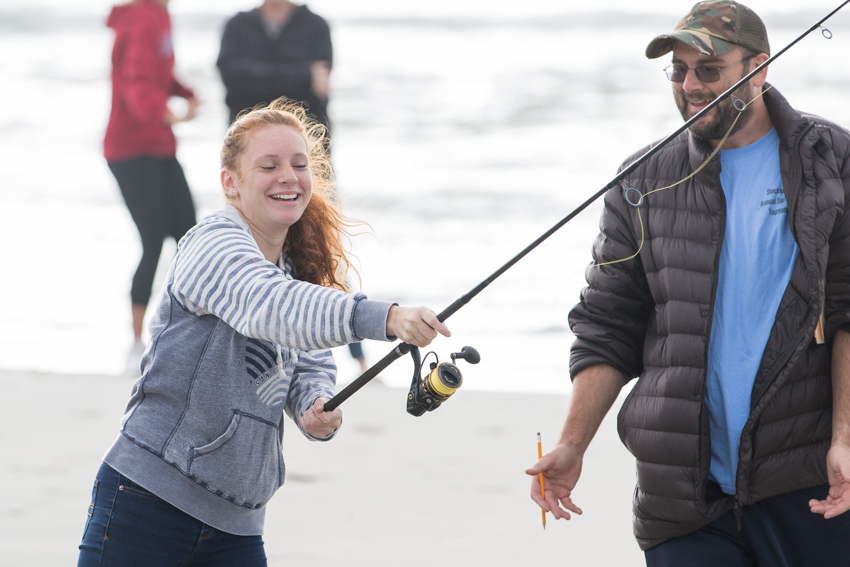 Adam Aguiar cheers on a student as she throws a cast.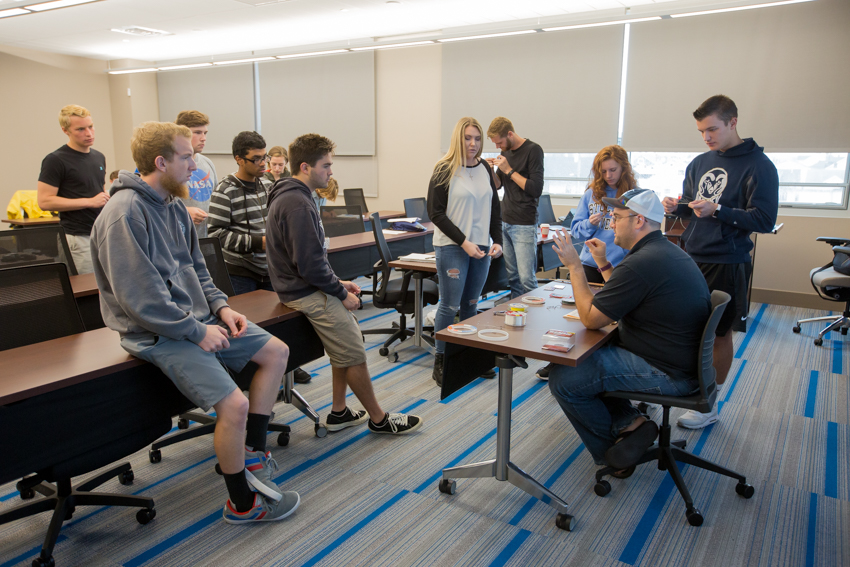 Adam Aguiar leads a knot typing demonstration.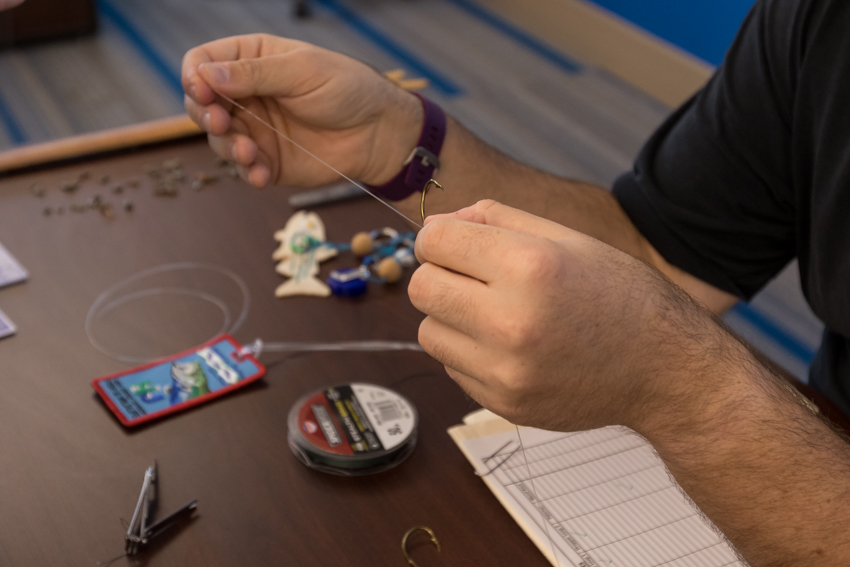 Students learn multiple knots such as the clinch, snell and uni-to-uni knots.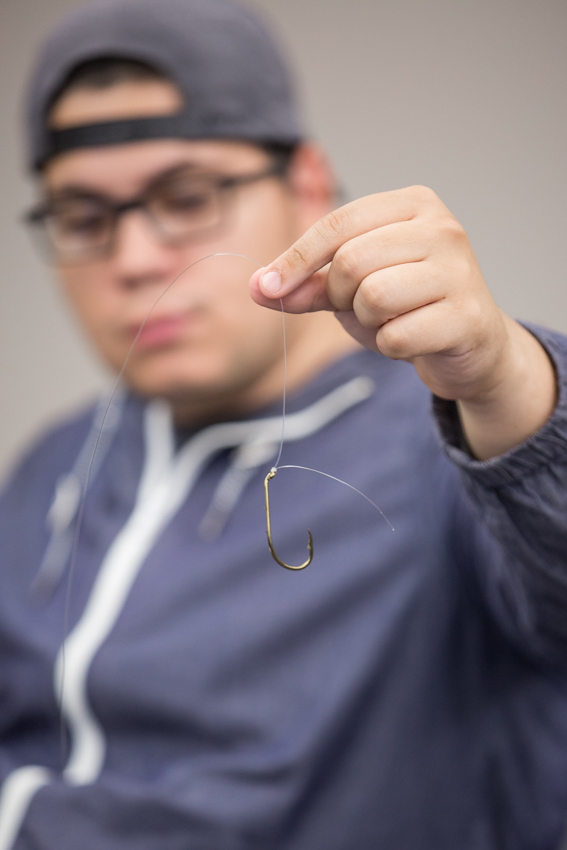 A student shows off a knot.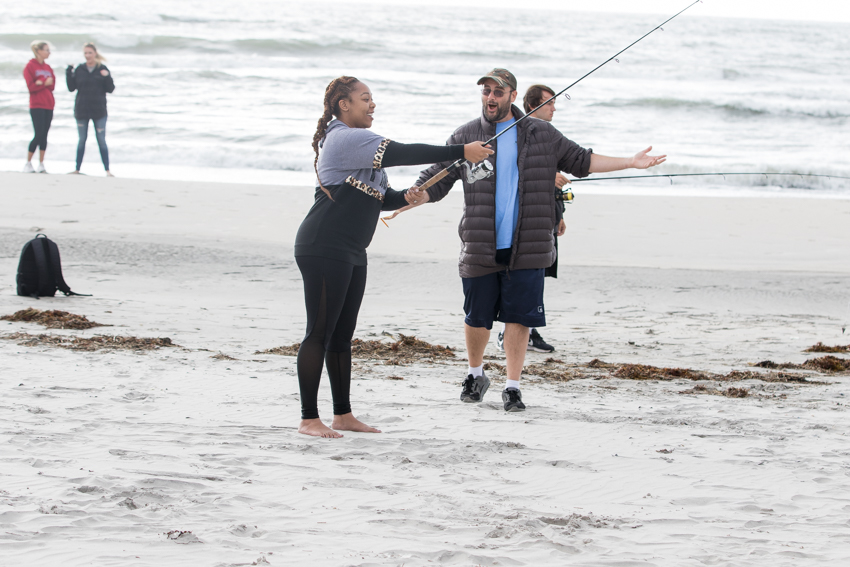 How can you not smile when the beach is your classroom?