Dylan Fest AC Coming to Dante Hall Aug. 25
Galloway, N.J. - Dylan Fest AC, the celebration of all things Bob Dylan and his connection to the Jersey Shore, returns to Mississippi Avenue in Atlantic City with a street fair, art show and live-music concert on Saturday, August 25.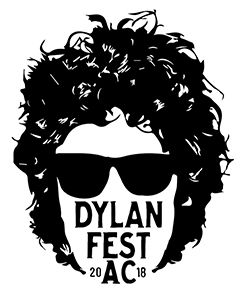 The festival will open with a free street fair from 3-6 p.m. at the Noyes Arts Garage and outside of Dante Hall Theater
The 4th annual Dylan Fest AC concert, presented by Formica Bros. Bakery, will feature an opening act by Bottle of Bread, a Dylan and the Band tribute act from Central New Jersey, at 6 p.m. at Dante Hall. Cash bar will be hosted by Ducktown Tavern. Other artists featured at the concert include Just Like the Women and the 5 Believers.
The festival will also feature Dylan memorabilia and artwork by the festival's organizer, Jeff Schwachter, as well as artwork by area artists at the Noyes Arts Garage.
"Each year we've had special guests and people coming from all over the region just to give a nod to Bob. It gains more steam each year," says Schwachter.
Tickets for the concert are $20 online or $25 on the day of the event.
The 2018 Dylan Fest AC sponsors include Formica Bros. Bakery, WZXL 100.7, the Noyes Arts Garage, Mainstay Marketplace, John Crotty Stringed Instrument Repair, N&R Communications and the Ducktown Tavern. The event is produced by JBS Productions in partnership with Stockton University.
"This is the fourth time around," says Schwachter. "And we're so excited to be working with Formica Bros., WZXL, Stockton and all of the entities and people who make this event happen each year."
All ticket information can be obtained at dantehallstockton.org or by calling the box office at 609-626-3890. For more information and to see video and photos from previous years, visit dylanfest-ac.com

For media inquiries only, contact Jeff Schwachter at jbschwa@gmail.com or 609-233-3804.
# # #
Contact:
Diane D'Amico
Director of News and Media Relations
Galloway, N.J. 08205
Diane.D'Amico@stockton.edu
609-652-4593
stockton.edu/media