Stockton Hosts Diversity and Inclusion Conference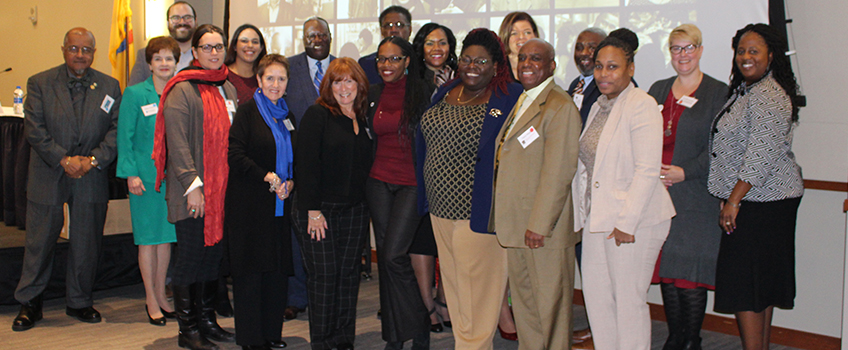 Galloway, N.J. _ "You never know how your past will affect your future until it shows up in your present."
Elizabeth Williams Riley, president and CEO of the American Conference on Diversity, used that phrase several times during the 2018 Diversity in Higher Education Conference as speaker addressed how issues of diversity and inclusion have persisted through the generations and affect people today.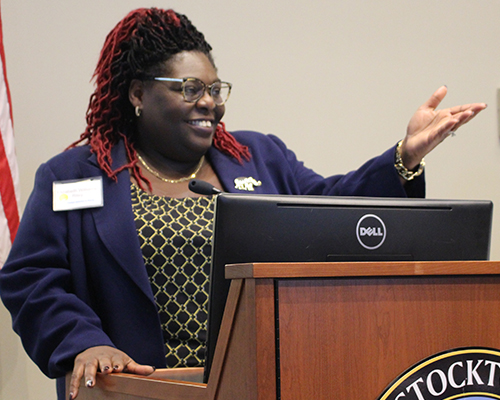 The conference, held Nov. 16 at the Stockton University Campus Center, marks the 70th anniversary of the ACOD. This year's theme was "Diversity and Inclusion: Life and Death Matters" and Riley said the work is needed today more than ever.
"We live in a time when even places of worship are not safe," Riley said. "How uneasy it is to live in a time of hate and bigotry."
The conference addressed issues of diversity and inclusion across race, culture, sex, age, socioeconomic status, health, and citizenship.
President Harvey Kesselman welcomed the more than 150 participants from colleges around the state, noting that educating citizens who are engaged and have the capacity to adapt to change is part of Stockton's mission. He said as a public institution in a very diverse state, Stockton must cultivate an environment of diversity and inclusion and promote human and civil rights.
"This work is never complete," he said. "I encourage all of us to engage in courageous conversations about local, national and global issues."
Keynote speaker Wayne Boatright, Vice President, Diversity and Inclusion at Hackensack Meridian Health, talked about inequities in health care among professionals and patients, and the importance of understanding and relating to patients, not just treating them.
"A patient begins to be treated when you make them feel part of what is happening, not when the doctor begins the exam," he said. He said medical professionals must understand different cultures and customs to effectively treat patients.
Boatright said one way to accomplish that is to encourage more people of different races and ethnicities to become doctors, but surveys have found that minorities in health care fields often feel denigrated and not treated as professio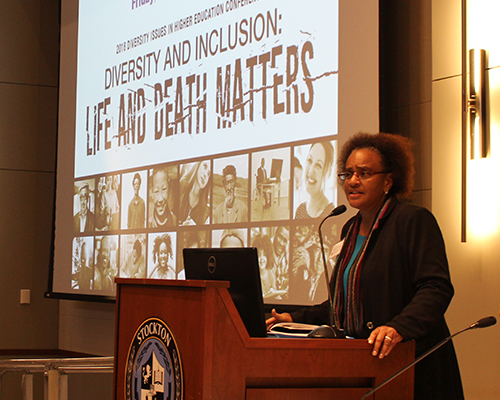 nals.
During a panel discussion, professionals in different fields discussed how to achieve more diversity and inclusion at all levels. The relationships between older and younger workers is an issue for businesses.
Stockton Associate Professor of Health Science Amee Shah said getting people to actually listen to each other and communicate can break down barriers and generated better understanding.
Hester Agudosi, appointed by Gov. Phil Murphy as New Jersey's first Chief Diversity Officer, said the public sector can lag the business world because it's good business to embrace diversity and businesses want a competitive advantage.
"Diversity has to be intentional," she said. "It won't just happen."
Atlantic City Councilman Kaleem Shabazz said diversity has to marketed as being desirable, just like any product. He said politics can be more divisive because the goal is to win votes and candidates will appeal to whatever will get those votes.
Tyree Oredein of Garden State Equity said no policy decisions should be made without the participation of those it will affect. She used the phrase to do "nothing about them without them."
She said simply being ignored can be a life or death situation.
"But when only those who are affected speak out, that won't work," she said. "If we ignore something because it is not happening to us we are pushing others to their deaths."
Breakout panel discussions featured speakers from business and higher education. Their topics included Safe Spaces, Hate Crimes and Violence, Politics, Diversity in Business, and Social Issues on Campus. Discussions ranged from recruiting employees to create more diversity, to working with undocumented students on college campuses, and becoming politically active.
"The political landscape won't change until people change," Shabazz said. "Everyone has to get involved, feel they can make a difference."
He appealed to young people to take up the challenge to push elected officials to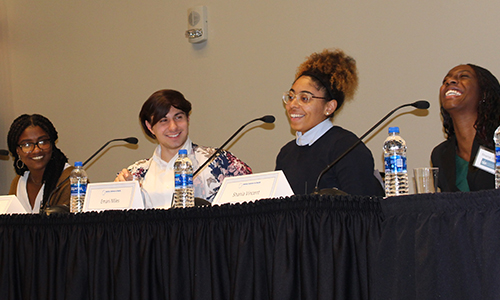 respond.
A final panel included students from Stockton and Seton Hall University who spoke about facing discrimination, racism and micro-aggressions, and working against them.
Sa'Miyah Wright, a Stockton senior who wants to be a teacher, said she has learned that not everyone has her best interests at heart. She is active in the Unified Black Students Society and active in Greek Life. She said in her student teaching she has seen that not all teachers treat minority children the same, and she hopes to empower minority students through teaching.
Students from Seton Hall spoke about the challenges of being gay or a minority on campus, and recent protests they have supported through "Concerned 44" that harken back to the Civil Rights era.
"We are walking in the footsteps of our elders," said Seton Hall senior Emani Miles, a founder of Concerned 44, which she said represents the 44 percent of Seton Hall's entering class that identified as "people of color."
Speakers said while diversity is a laudable goal, it is not the same as inclusion. Boatright quoted diversity consultant Verna Myers definition: "Diversity is being invited to the party; inclusion is being asked to dance."
The conference was coordinated by Stockton's Chief Officer for Institutional Diversity and Equity Valerie Hayes.
View a gallery of photos from the event.
# # #
Contact:
Diane D'Amico
Director of News and Media Relations
Stockton University
Galloway, N.J. 08205
Diane.DAmico@stockton.edu
609-652-4593
609-412-8069
stockton.edu/media