Diversity Celebration Dinner Emphasizes Power of Education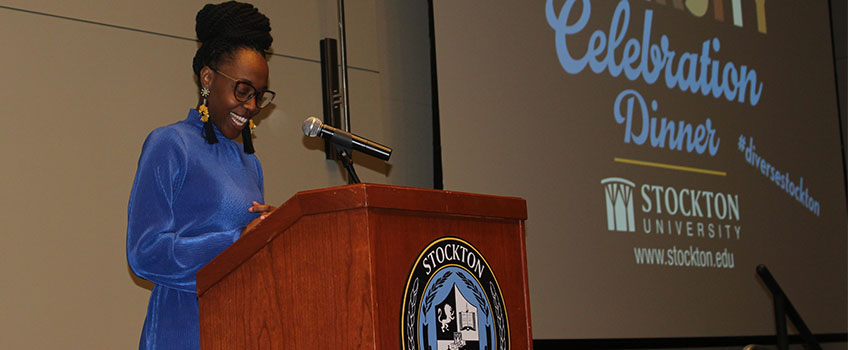 Galloway, N.J. - The message was simple, but powerful: Education is the great equalizer. That outlook was repeated often and woven into the theme of Stockton University's first Diversity Celebration Dinner on March 16, where dozens of prospective students from across New Jersey heard from faculty, staff, students and alumni about their own experiences at Stockton.
"In my mind, I just wanted to graduate high school and work in a casino," said alumna Aneesah Kelsey, who recounted her childhood in Atlantic City, which changed when a friend's family took her in and showed her she could do more with her life. "Then my Stockton family saw something in me that I didn't see in myself," said Kelsey, who has since earned her Master's in Criminal Justice and now works for the Department of Homeland Security.
"I don't think it's enough just to acknowledges one's differences. I think we need to take value and stock in those differences and celebrate one's own uniqueness," said Ryan Terrell, assistant director of Admissions, who organized the event. "We want to give you a voice. We want to give you the tools to bring back to your community and help others. What good is education if you don't use it to empower others?"
Speakers Atlantic County Freeholder Ashley Bennett and Atlantic City Mayor Frank Gilliam, a 1998 graduate, also echoed the impact their education had on the path their lives took.
"It will break down doors for you. We need you to keep going. We need your voice to be heard," Bennett told the nearly 200 people in attendance.
Among them were Atlantic City High School seniors Kyle Hill, Janisa Middleton and Charlie Wilson, who have received their Stockton acceptances. They attended the Diversity Celebration Dinner as they contemplate their choices for the future.
They said they enjoyed the speakers' messages of strength, which inspired them to keep pursuing their education.
"At the end of the day, it's you personally and you alone who has to pull yourself through," said Hill, who is considering a career in computer science.
"We understand that students will live in and navigate a multicultural, multigenerational society," said President Harvey Kesselman to the crowd. "Our unwavering commitment is to develop engaged citizens. To provide an environment of academic excellence, we genuinely believe to our very core that diversity and inclusion must be intentional."
Many in attendance already believed Stockton University is the right place for them.
Yamilee Nova and Emily Alas, both seniors at Liberty High School in Jersey City, attended the dinner because "it was another excuse to come to visit" Stockton.
The pair learned about Stockton from Terrell at a college fair last spring. After a campus visit, they were sold on Stockton. "The environment is just very friendly. We are still in New Jersey, but not too far or too close to home," Nova said.
Jamiles Eusebio will earn her associate degree from Camden County College in May, and she is weighing her options on where to transfer. She knows she wants to earn her bachelor's in accounting, a master's degree and Certified Public Accountant designation and was impressed by Stockton's Business Department. She said Stockton program "is exactly what I'm looking for"
Misael Ortiz attended the dinner with his daughter, Abigail, who is a senior from Winslow Township. The family was impressed by Friday night's event.
"We like the area and the safety of the campus," Ortiz said. "Stockton is a good fit for Abigail."
A gallery of photos is online at Diversity Celebration Dinner. View Ryan Terrell's closing statement here.
# # #
Contact:
Stacey Clapp
Director of Digital Engagement
Galloway, N.J. 08205
Stacey.Clapp@stockton.edu
609-626-3645
stockton.edu/media