Day of Service Encourages Students to Give Back to Community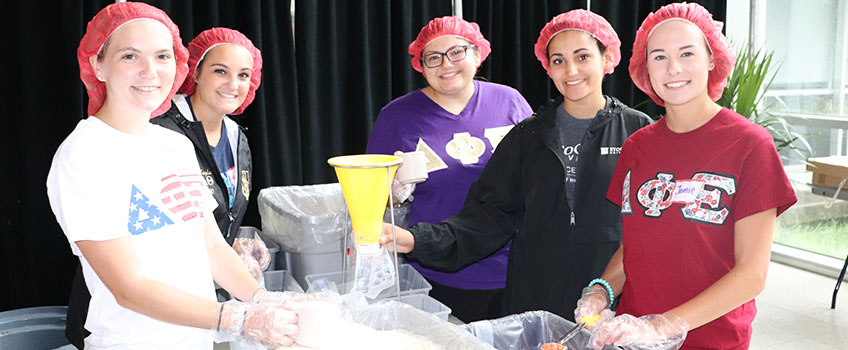 Galloway, NJ - Freshman Tori Wilhalme of Parsippany efficiently assembled a peanut butter and jelly sandwich, sealed it and put it in a pile destined for Atlantic City Rescue Mission as she considered why she was there.
This stop at the Campus Center was her second on a rainy Saturday morning, where the new Osprey was hoping to make connections and learn about Stockton's service organizations during the Fall Day of Service, Sept. 8.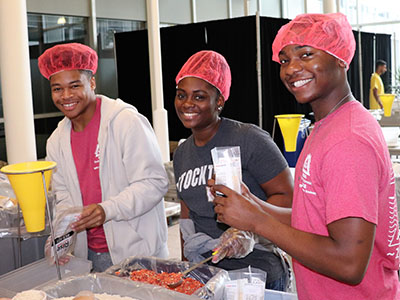 "I'm trying to get my foot in the door. I know I want to sign up for Habitat for Humanity and the Community Garden, she said. "I like packing food. It is unfair people don't have enough food."
In addition to making PB&J sandwiches, the nearly 350 student who turned out for the fall Day of Service sorted and boxed books for Books Without Borders, packed meals for Rise Against Hunger and designed inspirational signs and buttons with the Active Minds organization.
Cole Sorge, a senior from Holland Township, specifically came out to assist with the Books Without Borders project.
"This is a chance to give individuals the opportunity to read books that have been influential to me," Sorge said. The Stockton BWB has donated thousands of books to South Africa with the assistance of volunteers at Day of Service events.
Another returning organization, Rise Against Hunger, aimed to prepare 42,000 meals that will be shipped to countries in need. Students worked in teams to weigh ingredients, package and label each bag and surpassed the goal by the end of the day, packing 42,684 meals.
Freshmen Mario Ruiz and Danica Crenshaw said they were having fun packaging the dried rice, vegetables and soy.
"I came out today because I wanted to have the opportunity to help other people," Ruiz, of Atlantic City, said.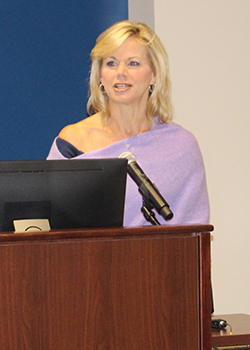 This year's even also included a workshop by All in Together and the Gretchen Carlson Initiative that encourages women to get involved in politics and in their community to improve gender equality and reduce sexual harassment.
Carlson, chair of the Miss America board of directors, was involved in a highly publicized sexual harassment complaint against Rogert Ailes at Fox News. She welcomed the participating women and said they should use their power to be heard. Attorney Martin Hyman provided a legal perspective of #meetoo movement issues including arbitration clauses. Lauren Leader, Co-Founder and CEO, All In Together, talked about the state of gender eqaulity.
The event also included a panel discussion featuring Pamela Jacobs, Executive Director, New Jersey Coalition to End Domestic Violence; Maureen Kern, Vice-Chair, Atlantic County Board of Freeholders; Tamu Lane, Director of Social Justice Programming, Avanzar; Hon. Susan Maven, Judge, Atlantic County Superior Court; and Jyoti Venketraman, Capacity Building Manager, The New Jersey Coalition Against Sexual Assault (NJCASA).
Stockton also hosts a community-wide Day of Service in January on Martin Luther King, Jr. Day. The fall event, traditionally held on the first weekend of classes in September, introduces students to service learning at Stockton.
See our photo gallery from the event.
# # #
Contact:
Stacey Clapp
Director of Digital Engagement
Stacey.Clapp@stockton.edu
609-626-3645
stockton.edu/media