Hospitality Students to Sharpen Skills in Atlantic Cape Kitchen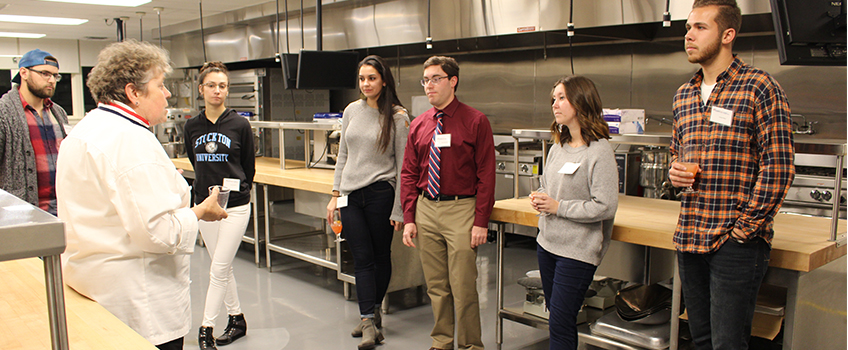 Atlantic City, N.J. _ Most college students do not get welcomed to class with hors d'oeurves and "mocktails."
But students and faculty at the Academy of Culinary Arts at Atlantic Cape Community College pulled out all the stops to welcome 14 Stockton University Hospitality & Tourism Management students who will take a new Advanced Food and Beverage Management class this spring in the commercial teaching kitchens at Atlantic Cape's Worthington Center in Atlantic City.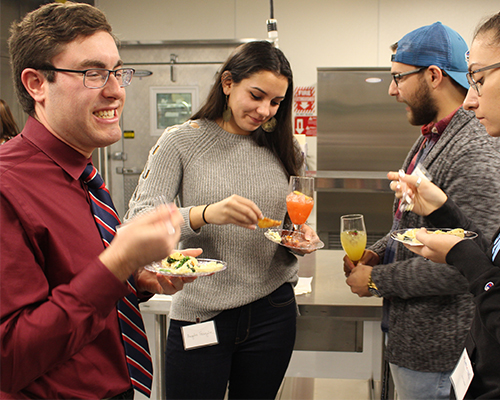 The new partnership will give students the opportunity to get hands-on experience in "back of the house" operations.
"We have been talking about a collaboration for years," said Stockton Associate Professor of Hospitality and Tourism Management Donna Albano. "Now that we have our new campus nearby in Atlantic City, we were able to make it work."
Students previously had some learning opportunities at Stockton Seaview Hotel and Golf Club, which the university sold this year, but Albano said it was challenging to coordinate classes with a working hotel kitchen.
The reception gave the 14 Stockton students a chance to see the kitchens where they will work, and learn more about the class, which will be taught by ACA chef-educators.
"We are really excited about this." said ACA Dean Kelly McClay. "This is such a great fit. People who are the most successful in the business have had this experience. You need exposure in designing a menu, inventory and purchasing."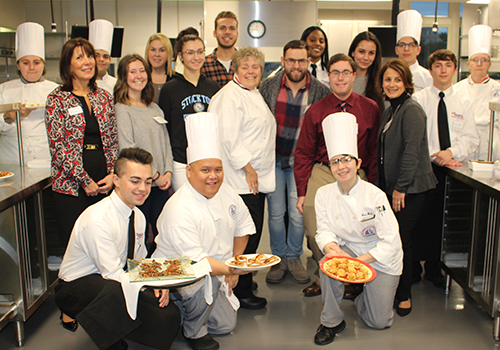 Atlantic Cape Vice President of Academic Affairs Josette Katz said the culinary program is one of Atlantic Cape's signature programs and the class is an opportunity for students from both colleges to become familiar with each other's programs.
"We have a lot of transfer pathways for students," she said.
The Stockton class will meet once a week on Fridays for four hours to give students ample time in the kitchen. McClay said the Stockton students will learn sanitation procedures, knife skills, and some basic cooking techniques. Their final project will be setting up and running a "live" restaurant.
Stockton students Breanna Betts from Manchester and Austin Rabut from Harleysville, Pa. said they can't wait to develop and run their restaurant.
"It's really going to be a lot of teamwork," said Betts, who plans a career on the beverage side of the industry.
"But you also have to understand food and how they go together," she said.
Rabut has already worked in the restaurant business and has learned enough to know that to be successful he must understand all aspects of the operation.
"And this kitchen is really nice," he said of the Atlantic Cape facility, which opened in 2014.
Gary Rosenberg of Bridgewater, who did an internship on a cruise line, said he is looking forward to getting some experience in pastry and baking.
"This is a unique opportunity to actually work in a kitchen," he said.
# # #
Contact:
Diane D'Amico
Director of News and Media Relations
Stockton University
101 Vera King Farris Drive
Galloway, N.J. 08205|
Diane.D'Amico@stockton.edu
(609) 652-4593
www.stockton.edu/media