Gloucester City H.S. Students Investigate "Murder" at Stockton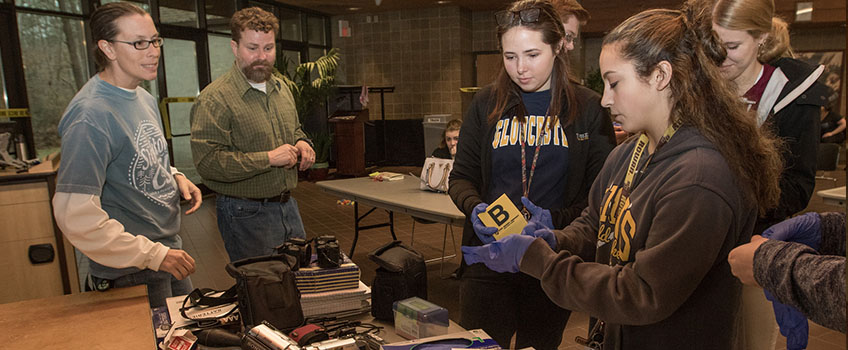 Galloway, NJ _ Twenty high school students from Gloucester City High investigated a "murder" at Stockton University on March 1 during a mini-CSI reenactment that showed them crime scene investigations are much different than what they see on television.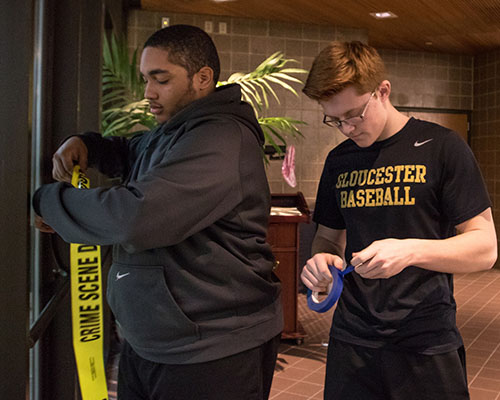 "It is much more difficult than on TV," said Francis King, 18, a senior. "It gave us a real-life look at a crime investigation."
Gloucester City High School is offering a new course in forensics as a science elective. Teachers Sandy Baczewski and Neil Rossiter brought the class to Stockton to give them some insight into how what they are learning might translate into a college major or career.
"We have a lot of students with family members in the military or law enforcement, and they really love this," Baczewski said.
Professors of Criminal Justice Christine Tartaro and Josh Duntley, who also organize Stockton's annual summer week-long CSI camps, organized the one-day workshop for the students. The class arrived at Stockton's Lakeside Lodge to find a mock murder scene ready for them to process and investigate. They discussed their findings, then saw a short video depicting how the murder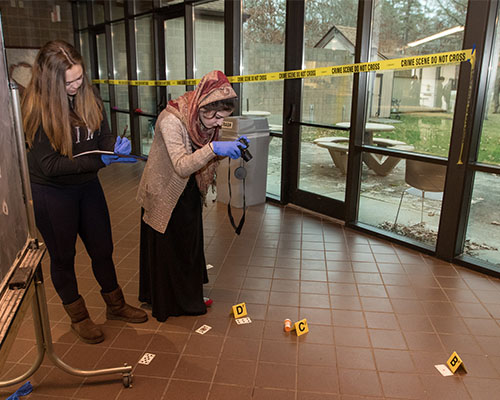 actually happened.
Tartaro and Duntley also talked about Stockton's criminal justice program, and careers that are directly and indirectly related to law enforcement, ranging from police and FBI to lawyers, psychologists, corrections officers, air marshals, social workers and probation and parole officers.
"This was a great experience for them," said Baczewski.
"And it showed us it's not like TV," said William Cooper, 18, a senior, who said he appreciated the insight into careers.
More information on Stockton University's summer weeklong CSI camps for high school students is at stockton.edu/csi.
A gallery of photos of the workshop is on flickr.
# # #
Contact:
Diane D'Amico
Director of News and Media Relations
Galloway, N.J. 08205
Diane.D'Amico@stockton.edu
609-652-4593
stockton.edu/media