CSI Campers Learn Crime-Solving Skills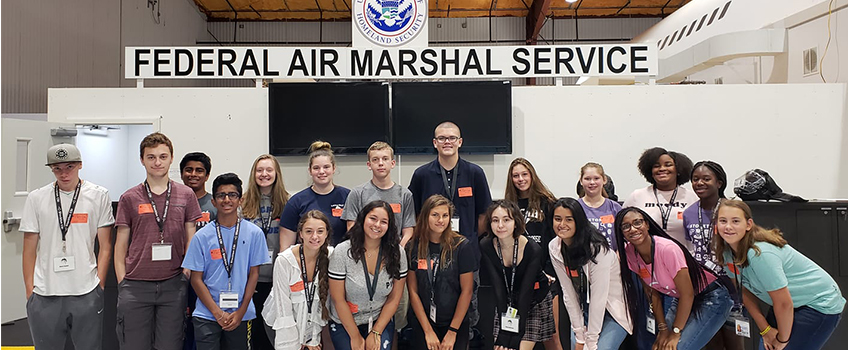 Galloway N.J. – Campers at Stockton's CSI camp learned that figuring out who committed a murder, then having that person convicted in a trial, is not an easy task.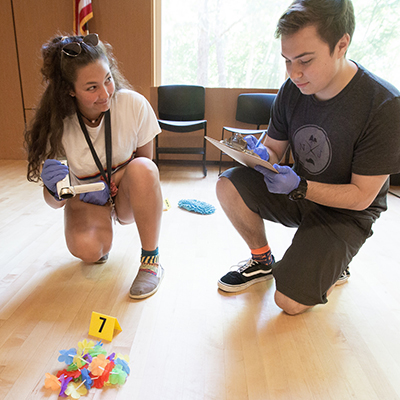 Now in its 12th successful year, Stockton University's CSI Summer Camp is a non-profit program where high school students work as part of an elite team of investigators and professionals to solve a murder. Campers gain knowledge and get hands-on-experience with behind the scenes of a murder investigation as well as a high-stakes murder trial.
Last week on campus, the CSI campers attempted to solve the "murder" of two victims found in the Alton Auditorium. The object was to collect enough evidence to convict a suspect and take them to trial. Over five days, they had a multitude of responsibilities and each camper played a significant role in the process. The tasks included:
Collected evidence at a mock murder scene
Took fingerprints and collected other samples of evidence
Filed evidence requests and analyzed results
Interviewed witnesses and possible suspects
Prepared a case for a criminal murder trial
Tried the case in a court
The campers had the opportunity to work closely with university professors, State Police, Federal Air Marshals, a K-9 Unit and others who assisted the campers in gathering and testing techniques such as DNA analysis, forensic odontology, fingerprints, and blood typing.
After all of the evidence was gathered, both the defense team and prosecutors had to prepare for the trial.
"As defendants, we had to come up with an order of witnesses and evidence for an opening statement" said CSI camper Victoria Goldschmidt.
Students learned jury selection techniques, strategies for presenting their cases, and what life is like in prison.
In this case, one of the suspects, Courtney, was put on trial. The jury ultimately found Courtney not guilty on the grounds that there was a possibility that a different suspect, Gwendolyn had committed the murder.
Who really did it? Campers in one last session from July 29-Aug. 2 will get to put their skills to the test. For more information, go to Stocktoncsi.com.
View a gallery of images on Flickr.
_ Reported by Annie Levine
# # #
Contact:
Diane D'Amico
Director of News and Media Relations
Galloway, N.J. 08205
Diane.D'Amico@stockton.edu
609-652-4593
stockton.edu/media