Seminars will Share Fundamentals of Craft Beverages
Galloway, N.J. –The Office of Continuing Education at Stockton University will host a series of four seminars in November on craft beverages and craft beverage tourism in New Jersey.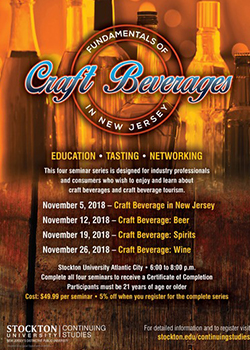 The Fundamentals of Craft Beverage in New Jersey seminars will be held at the Stockton University Atlantic City Academic Center, 3711 Atlantic Ave., Atlantic City, and are open to industry professionals and anyone interested in craft beverages. Participants must be at least 21 years of age.
The series curriculum has been designed by industry professionals from the faculty of Stockton's Hospitality and Tourism program. Each seminar will feature an expert instructor from that particular specialty.
The cost for each seminar is $49.99. Those completing all four sessions will receive a 5% discount (cost $189.99) and certification of completion.
All seminars will run from 6-8 p.m. Seminar dates are:
Monday, Nov 5, 2018: Craft Beverage in New Jersey
Monday, Nov 12, 2018: Craft Beverage: Beer
Monday, Nov 19, 2018: Craft Beverage: Spirits
Monday, Nov 26, 2018: Craft Beverage: Wine
For more information call (609) 652-4227. Registration is available online at stockton.edu/continuing-studies.
# # #
Contact:
Diane D'Amico
Director of News and Media Relations
Galloway, N.J. 08205
Diane.D'Amico@stockton.edu
609-652-4593
609-412-8069
stockton.edu/media