Stockton Hosts CSTA-SNJ Computer Science Competition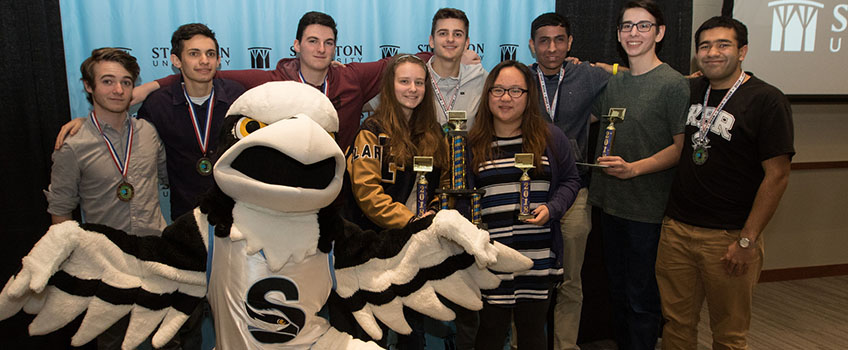 Galloway, N.J. – More than 200 high school students put their computer science skills to the test at Stockton University's third annual Computer Science Teachers Association-Southern New Jersey Computer Science Competition on Friday, March 16.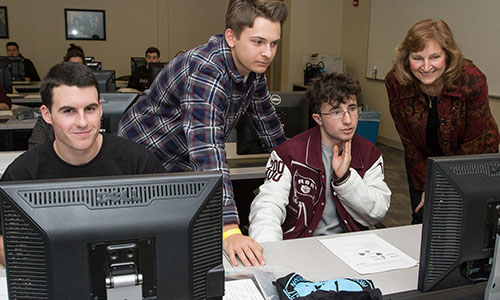 But after more than two hours, just one team successfully solved all eight problems
The Freehold High School team of Melissa Hoff, Kaitlyn Laohoo and Mike Chunko took first place in the competition, winning trophies for themselves and their high school.
"We split up the problems based on our strengths and then helped each other," Laohoo said. "The problems were challenging, but not so hard we couldn't do them."
The Red Bank Regional High School team of Harry Jain, Damanbir Sahi and Stephen Zacks took second place.
The Freehold team of Jack Shea, Sal DiMaggio and Zachary Isaacson took third place.
Eighteen high schools participated in this year's event, which was almost double the size of last year.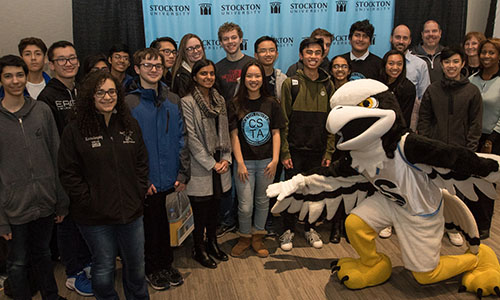 The competition is coordinated by Demetrios Roubos, associate director of information systems and security administrator at Stockton, who develops the problems with his students. He said they try to find a balance, so that problems are challenging but still at the skill level that high school students could solve at least some of them.
"It's very heavy on applied science this year because we wanted to have problems that were practical and that these students might actually have to do one day," he said.
Freehold Computer Science Magnet Program teacher James Gill said he and his students were impressed with the problems.
"They really were excellent," he said. "We just had a discussion about it. It gave them a chance to try things that were a little more difficult."
The 18 participating high schools were: Absegami in Galloway Township, Brick Memorial, Burlington Township, Egg Harbor Township, Freehold, James Caldwell High School in West Caldwell, Mainland Regional, Middle Township, Oakcrest in Mays Landing, Ocean City, Ocean Township, Raritan, Red Bank Regional, River Dell Regional, Toms River High School East, Toms River High School North, Toms River High School South and West Deptford.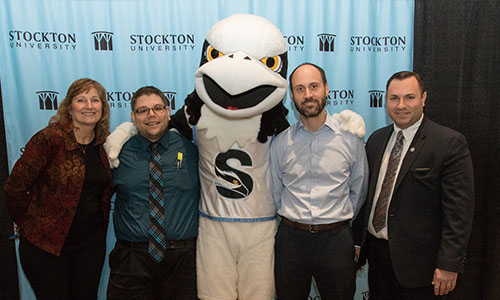 Stockton Chief information Officer Robert Heinrich cited Gov. Phil Murphy's initiative to expand computer science programs in high school and a new state law requiring high schools to offer computer science.
"Computer science is an incredibly important skill today," he said. "Competitions like this one give you a way to take your skill set to the next level."
Egg Harbor Township High School computer science teacher Adam Swift, president of the CSTA-SNJ, said the questions were a nice balance of challenges.
"This is a good opportunity for students to challenge themselves against other schools," he said. "And it's also a good opportunity for them to visit Stockton."
He said more students show an interest in computer science once they realize it includes areas like video game design and robotics. In EHT students are introduced to the field in middle school.
Stockton's First Lady, Lynne Kesselman, a former computer technology teacher at EHT High School, helped organize the first competition at Stockton. She was thrilled to see how many more schools are participating and said a teacher told her a student enrolled at Stockton after participating in a previous competition.
Stockton offers bachelor degree programs in Computer Science and Information Systems and a Master of Science in Data Science and Strategic Analytics.
Dean of Enrollment Management John Iacovelli invited the students to return for the April 8 Open House or for tours held Monday through Saturday.
More information about Stockton is online at Stockton.edu
PHOTO CAPTION: Computer Science Competition third place winners Sal DiMaggio, Zachary Isaacson and Jack Shea of Freehold High School; first place winners Melissa Hoff, Kaitlyn Laohoo and Mike Chunko of Freehold High School; and second place winners Damanbir Sahi, Stephen Zacks and Harry Jain of Red Bank Regional High School with Stockton University mascot Talon.
# # #
Contact:
Diane D'Amico
Director of News and Media Relations
Galloway, N.J. 08205
Diane.D'Amico@stockton.edu
609-652-4593
stockton.edu/media