Gov. Murphy Tells Graduates to Be 'Doers" Who Change the World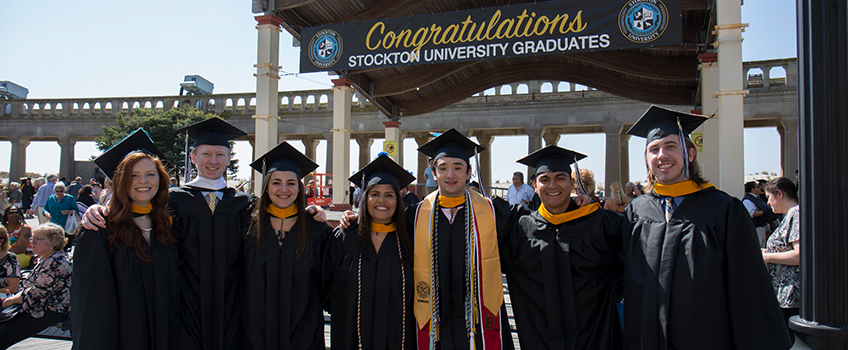 Atlantic City, N.J. _ New Jersey Gov. Phil Murphy told the more than 2,000 graduates at Stockton University's Commencement Friday to be the "doers" who will become the state and nation's next leaders.
"It is simply not enough to tweet and consider that as actual participation in our cultural, political and social dialogue," he said to a crowd of some 13,000 graduates and guests in Jim Whelan Boardwalk Hall. "In these times, perhaps more than ever in our history, we need doers of deeds, not people who take their comfort in lobbing memes from their smartphones."
Friday was the second commencement in Boardwalk Hall and the first that combined the graduates from summer and fall 2017 as well as spring 2018.
Murphy said he welcomes this generation of graduates as they take their place of leadership. He said upheaval is part of change and moving forward, but they can all make a difference in their chosen careers.
"Your generation is showing that it is ready to lead," he said, citing young people involved in gun safety, political campaigns and entrepreneurial business ventures.
"Your generation is not letting anyone tell you to sit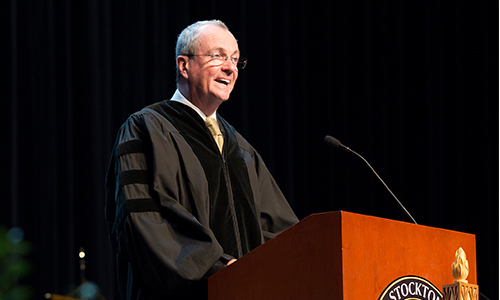 and wait your turn," he said. "I look forward to watching you change our world. "
Stockton President Harvey Kesselman paid tribute to the late Jim Whelan, a former Atlantic City mayor and state Senator who was last year's commencement speaker, and after whom Boardwalk Hall has been named. Whelan's wife, Kathy, attended the ceremony.
Kesselman told the graduates that success is not a destination, but a journey, and they must have vision to stay on track.
"On the road to achieving your dream, you've got to see it before you live it," he said. "Vision is essential to keeping you on the path."
He warned them that the path to success, the "in between" time, may sometimes be ordinary, or even boring, but they need to use their vision to say on the path to success.
"Musicians don't start out playing Beethoven's Fifth Symphony," he said, as Professor of Music Beverly Vaughn began softly playing scales in the background. "Musicians go through a period of simply perfecting the scales. And that's pretty similar to the 'in-between' place you'll experience on your way to the extraordinary."
As Vaughn's music built to a crescendo, Kesselman said so to, would the Class of 2018 Ospreys lives build to reach their dreams.
"You've got loyalty and royalty in your Stockton DNA," he said paraphrasing Pulitzer Prize winning musician Kendrick Lamar and earning a laugh from the graduates. "Your flight is about to begin," he said.
Student speaker Brittney Welch, who received a BA in Communications, said she knows that it is overwhelming to be graduating into a world of protest and uncertainty.
"Our society seems to be both completely complacent and utterly in upheaval at the same time," she said. "We often see miles between us in our disagreements rather than the quirky connections we have with each other than make us human."
Welch, who will attend law school in the fall, said Stockton has given the graduates the tools they need to bridge the gap and find the commonalities to work together toward a common vision. She likened the university to the fictional Hogwarts as a place "that will always welcome you home."
"My experiences in the classroom and beyond have left me with the enduring belief that when the world around you does not live up to your expectations, you must set your expectations for yourself even higher," she said.
She also addressed the journey that faces the graduations, quoting Indiana Jones saying "It'snot the years, honey it's the mileage."
"It doesn't matter how long it takes us to get to our dreams," she said, "what matters is the mileage along the way, the laugh lines and friendships and new places and sometimes difficult lessons we have collected on our journey as we make room in our hearts for something bigger, something more than us."
Two graduates participated in the program. Danielle Quinn sang the national anthem for the fourth year, and Luke Leifken sang the Alma Mater "Ospreys on Parade."
Quinn, of Mays Landing, who received a BA in Psychology, will work as a research assistant at the Children's Hospital of Philadelphia Center for Autism Research as she works toward a PhD in Developmental Psychology. She said singing at her own commencement, knowing it will be the last time, is bittersweet.
"I am sad that I will no longer be able to serve in this capacity as a student at Stockton, but I am so thankful for the honor and privilege to work alongside the incredible people who make Commencement happen," she said.
Leifken, of Green Township, plans to continue working on his original songs, come out with an EP, and apply for music related jobs in New York City.
Several faculty were also recognized with emerita status: Professor of Theatre Arts, Pamela Hendrick, Professor of Writing and First Year Studies GT Lenard, Professor of Education Joseph Marchetti, Associate Professor of Chemistry Louise Sowers, Associate Professor of Computer Science and Information Systems Jill Gerhardt, Associate Professor Criminal Justice Larry E. Nutt, Professor of Hospitality and Tourism Management Studies Cliff Whithem and Dean of the School of Social and Behavioral Sciences Cheryl Kaus.
Kesselman also recognized 78 graduates who have served or are active duty in the U.S. military.
List of Bachelor Degree Candidates
View a Gallery of more than 1,000 photos
View a gallery of photos on flickr
# # #
Contact:
Diane D'Amico
Director of News and Media Relations
Galloway, N.J. 08205
Diane.D'Amico@stockton.edu
609-652-4593
stockton.edu/media