Coast Day Offers A Look at Life Above and Below the Jersey Shore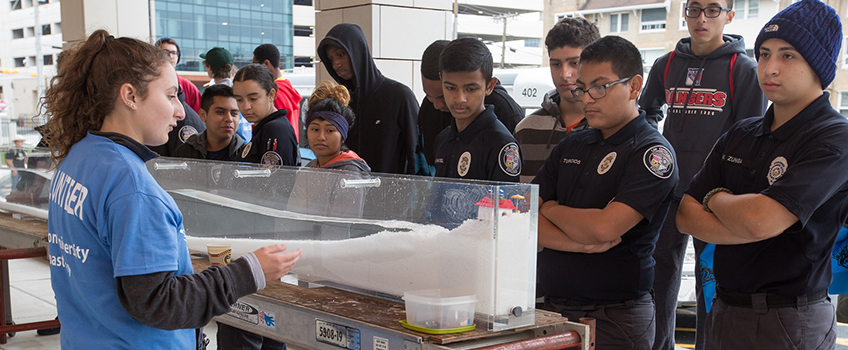 Atlantic City, N.J. - From a virtual trip to an offshore wind turbine, to an example of how oysters grow, visitors to Stockton University's first Coast Day at the Stockton University Atlantic City Academic Center got both a bird's eye and a fish eye view of science along the Jersey Shore.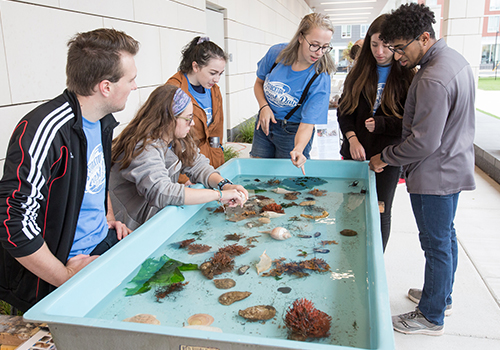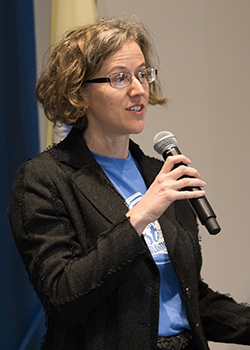 "We wanted to plant a seed this year," said Susanne Moskalski, associate professor of marine science, who coordinated the family event, which is modeled after her alma mater, the University of Delaware's Coast Day. "We hope to get bigger each year."
About a dozen exhibitors lined the Fannie Lou Hamer Event Room, which also hosted educational talks about the status of New Jersey's beaches by Kim McKenna of the Coastal Research Center at Stockton, and maritime history by Stephen Nagiewicz. Dr. Levi Fox, performing as politician Nucky Johnson, provided an entertaining history of Atlantic City.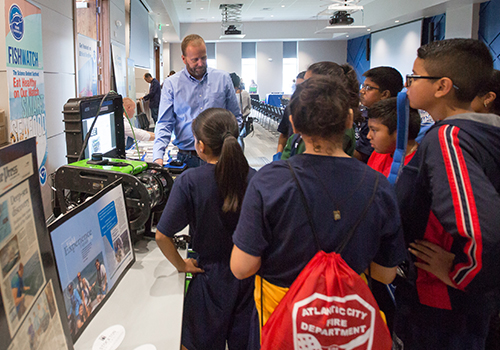 Bass Pro Shops hosted a series of kids' workshops on marine debris, fishing, wetlands and pinelands, led by Greg Casey, a Stockton sustainability major who also works at Bass Pro Shops.
Ocean Wind offered a popular virtual tour to the top of an offshore wind turbine.
Outside the Campus Center marine biology major Heather Bariso used a wave simulation machine to explain how waves cause erosion. There was a touch tank, and a display of how oysters are being grown to restore the Southern Barnegat watershed.
Matt Talavera, a Stockton graduate who now works for the Atlantic City Police Department brought students from the Police Explorer Post to the event.
"They really loved this," he said.
Moskalski said this year's exhibitors were all invited, but she is hoping next year to have an application process and possibly add vendors.
View a gallery of photos from the event on flickr.
# # #
Contact:
Diane D'Amico
Director of News and Media Relations
Galloway, N.J. 08205
Diane.DAmico@stockton.edu
609-652-4593
609-412-8069
stockton.edu/media